We put off buying a baby playmat and baby playpen because we couldn't find something stylish enough to match the minimalist look of our home as most baby playmat options have childish patterns all over them. Finally, we came across Little Bot and their non-toxic, reversible playmats, which come in minimalist patterns. We researched far and wide, and the Little Bot playmat is by far the best baby playmat we came across for quality, style, and price. Read on for our Little Bot Ofie Mat review.
View this post on Instagram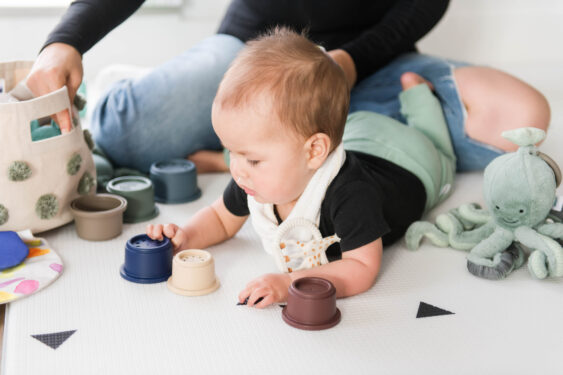 Because a baby play mat takes up so much visual space in a room, finding a baby play mat that matched with our home decor was important to us. As you know, having a baby means their things completely overtake your living space, so we made an extra effort to find a minimalist baby play mat to match our home.
First of all, we were looking for a one-piece baby playmat. We were advised to NOT buy a baby playmat with interlocking puzzle pieces because teething babies can chew off the edges and the cracks in between each piece means its harder to clean spills and other messes. We love the Little Bot Ofie Mat because it's soft and comfortable, cool to the touch, and feels cushioned, and premium. The mat measures 1.5cm (0.6 inches) thick and it's super comfortable to sit or lay on. I've heard stories of babies and parents falling asleep on the mat, that's how comfortable it is!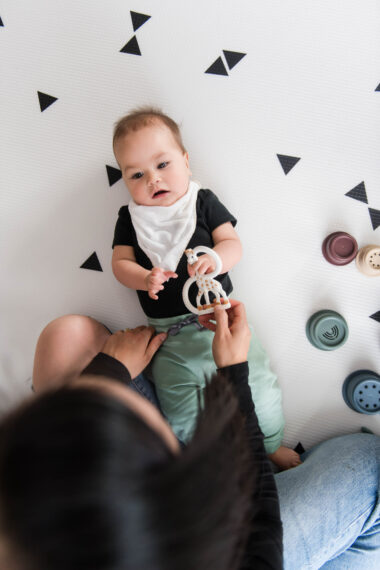 The Little Bot Ofie Mat only comes in two shapes: rectangle (6.5ft x 4.5ft) and round (4.5ft in diameter). There's a limited selection of styles and patterns, which is great if you don't want to be overwhelmed by choice. For us, we chose the rectangular mat because the surface area was larger, maximizes the playspace in our living room, and would work best eventually with a baby fence.
Every playmat is reversible, so you are getting two patterns rather than one. We chose the "Triangle" pattern (think black polka dots but with mini triangles instead) on one side and the "Zen Line" grey and white pattern on the other side. The other patterns are Country Road (a modern take on a road map), Oracle, which looks like a rug, and EZE, a pattern with black and yellow lines.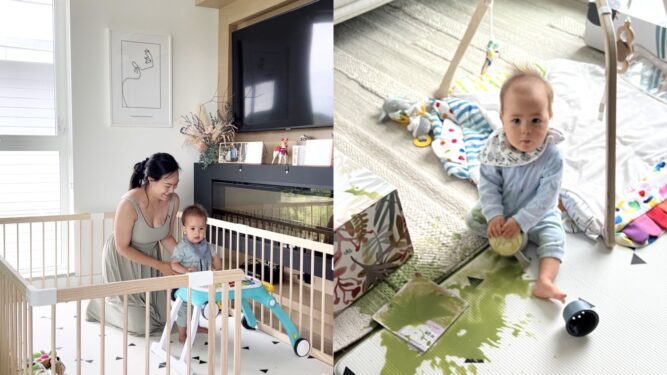 From a cleaning perspective, I've cleaned green tea latte spills, dog vomit, and lots and lots of drool off the mat. It doesn't stain (even though we have a predominently white mat pattern) and you can even vacuum on it.
From a materials safety perspective, Little Bot play mats are tested in U.S. certified labs. They are free of heavy metals, BPA, Lead, Formaldehyde, Phthalate, Formamide, fire retardants, PVC foam and EVA foam.
The Little Bot Ofie Mat is probably one of the baby products that I get asked the most questions about. Feel free to reach out to me in comments or on Instagram if you have any questions about my experience with the Little Bot Ofie Mat.
—
As an Amazon Affiliate, if you buy from clicking the links shared in the post, I may get a small commission from the sale.