DAUB, a local handmade, small-batch activewear and wardrobe basics clothing company, hosts its second in-person warehouse sale ever, offering great deals on favourite pieces, June 17-18 at 1282 Franklin Street in Vancouver.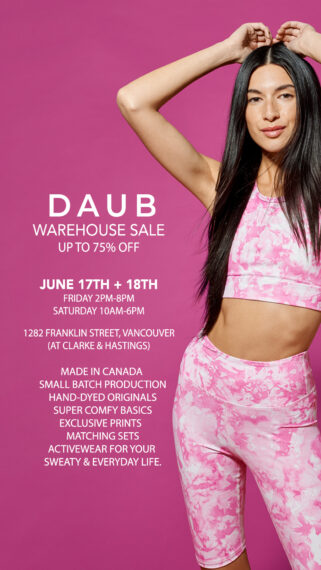 At the DAUB Warehouse Sale, you'll find leggings, tank tops, sports bras for your active lifestyle, cozy bamboo sweatshirts and sweatpants, tee-shirts and jackets for yoga, wherever your day takes you running, barre, fitness and all the moments before and after. DAUB focuses on quality fabrics, made in Canada clothing and one-of-a-kind pieces. Since its beginnings in 2010, many items have been hand-dyed in the Vancouver studios and locally made. DAUB is designed to inspire confidence, comfort and movement.
"It's been some time since our last warehouse sale in 2020. We've inviting all our DAUB friends and family from over the past 12 years to visit us as we're offering massive discounts on popular DAUB items, including our current collection, which will be 20% off." – Lexi Soukoreff, Owner and Creative Director, DAUB.
DAUB Warehouse Sale Event Details:
When: Friday, June 17, 2:00 pm – 8:00 pm and Saturday, June 18, 10:00 am – 6:00 pm
Where: 1282 Franklin Street (at Clarke, north of Hastings before Powell)
Parking: Limited street parking available
Transit: Accessible by the 04, 16, 20, 07, 14 buses.
All are invited to pop by for discounts as deep as 20-75% off retail prices, with samples starting at $10.00 per item. All purchases are final sale; debit, credit card, and cash payments accepted. Facebook event page link: here