On Saturday, May 7 at 6pm, join Heritage House, Massy Books, and author Teoni Spathelfer for the Vancouver launch of Abalone Woman, the third book in the Little Wolf series. The free event will be hosted at the Massy Arts Gallery, at 23 East Pender Street in Chinatown, Vancouver. Registration is required, click here for details.
The Little Wolf series (written for ages 4 to 8) — Little Wolf, White Raven, and most recently, Abalone Woman — presents themes of racism, trauma, and family unity through relatable, age-appropriate narratives. At the event, Spathelfer will celebrate the power of First Nations storytelling. Through simple, heartfelt text and vivid illustrations that combine contemporary and traditional Indigenous motifs, the series is also an engaging teaching tool.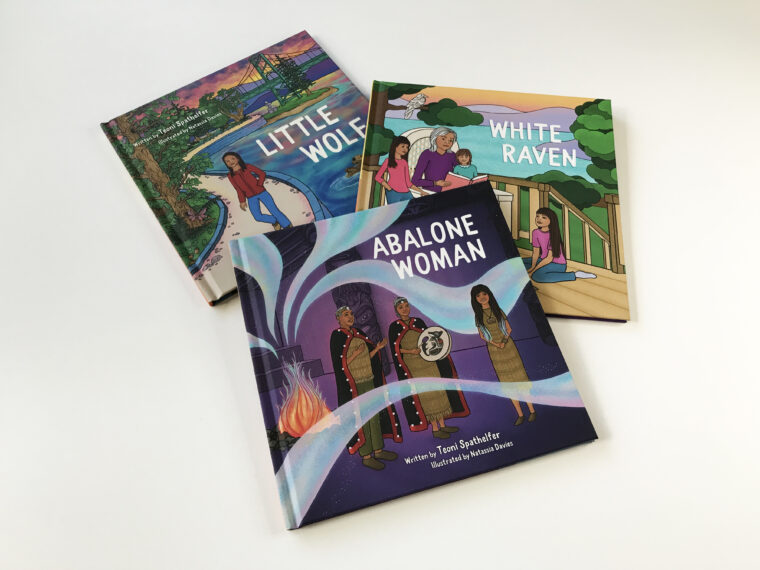 Throughout her life, the series protagonist Little Wolf has been troubled by the injustice she sees all around her. When she was young, she was bullied for her Indigenous heritage. Her mother, White Raven, spent ten years in a residential school, separated from her family and isolated from her culture. Little Wolf's own children are growing up in a different, more open society, but hatred and racism still exist. Little Wolf worries about the world her daughters will inherit.
Told with powerful imagery and symbolism, the Little Wolf series presents a relatable narrative about difference and the impact of intergenerational trauma on families. Based on the author's own life and her mother's experience at St. Michael's Residential School in Alert Bay, BC, the central messages of these book is one of healing and family unity.
The author, Teoni Spathelfer, lives on Vancouver Island (Sooke, BC) and has previously lived in Vancouver and on the Sunshine Coast. The illustrator, Natassia Davies, recently moved to the Lower Mainland (Burnaby) from Victoria, BC.