Humble Potato Chips has introduced the Canadian snack food industry's first certified organic potato chips packaged in certified plastic-free, compostable bags. Motivated to transform the world into a healthier place for their son, Wilder, owners Alicia and Jeff Lahey are on a mission to offer sustainable snacking alternatives while paving the way for other food companies to offer planet-friendly foods and packaging.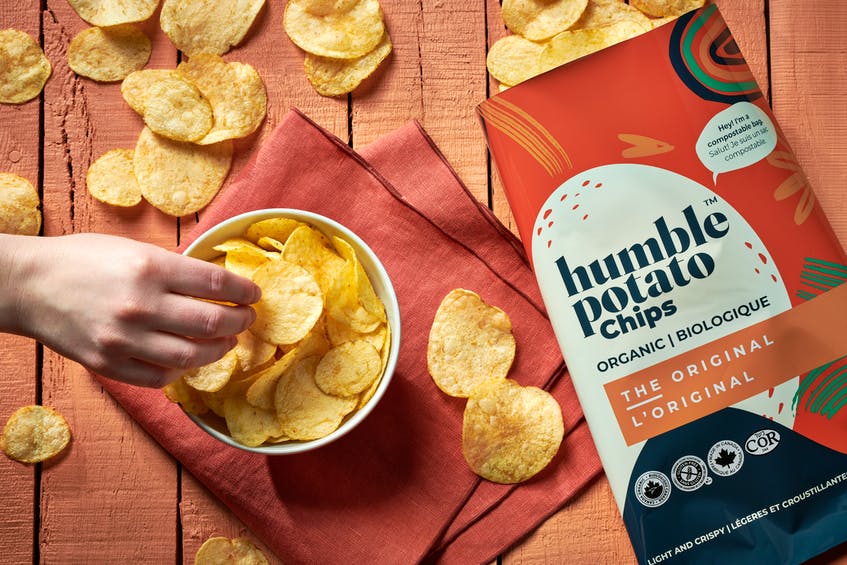 Alicia and Jeff spent 15 years working in the snack food industry, growing increasingly alarmed at the slow adoption of sustainable packaging. When their son was born, they realized they had an opportunity to create an impactful legacy – one that started with offering consumers a seemingly small choice that could lead to global change. As a result, the couple started Humble Snacks, an eco-minded business committed to making a difference in the health of consumers and the planet, without changing the snack buying experience.
Humble Potato Chips Canada
Humble Potato Chips are crafted from locally farmed, certified organic potatoes. Light and crispy, they're traditionally cooked (not kettle cooked) in organic sunflower oil, with skins on to enhance taste and reduce waste. The final product is lightly dusted with organic seasonings, then packaged in certified plastic-free bags made from renewable plant-based materials. The bags are also certified compostable and will break down into non-toxic elements like carbon dioxide, water, and biomass within 90 to 180 days of arriving at the compost facility.
Committed to preserving taste and satisfaction, the brand's organic potato chip line-up includes family favourites like honey mustard, sea salt and apple cider vinegar, smokey BBQ, and creamy dill. All seasonings are made using natural and organic ingredients, resulting in a flavourful chip that has less sodium, and sugars than competitors.
"Our humble goal is to provide consumers with the option to choose perishable food in perishable packaging. If enough people start making that choice, we can make a dramatic difference, one snack bag at a time. Plus, if Humble starts the ball rolling, others in the packaged food industry, as well as regulators and waste management operators, might be willing to follow suit. And that will create a snowball effect, inspiring people to make sustainable, healthful choices every day, for the planet and for the future of our children." – Alicia Lahey, co-founder, Humble Snacks.
Humble Potato Chips is the first brand of Humble Snacks. The chips are available for purchase in grocery stores across Canada including London Drugs, Loblaws, Choices Markets, Well.ca, Spud.ca, Healthy Planet and Thrifty Foods.