Looking for an eco friendly phone case? Pela Case is the world's first 100% compostable phone case. With more than 1 billion plastic phone cases sold every year, tens of thousands of pounds of plastic waste are filling up our landfills every year. At Pela Company, which is based out of Kelowna, BC, their mission is to reduce plastic pollution by offering consumers a more environmentally friendly alternative to the traditional phone case, without compromising the style or protection of your phone.
The signature Pela Case material is "Flaxstic", a combination of Canadian Prairie flax straw waste, plant-based biopolymers, and recycled materials. On average, Pela products use 30% less carbon emissions, 34% less water usage, and 80% less waste production than conventional plastic. The material has been tested to be safe and free of phthalates, BPA, cadmium and lead and is verified to meet child safety standards in Canada, and are therefore deemed "family safe".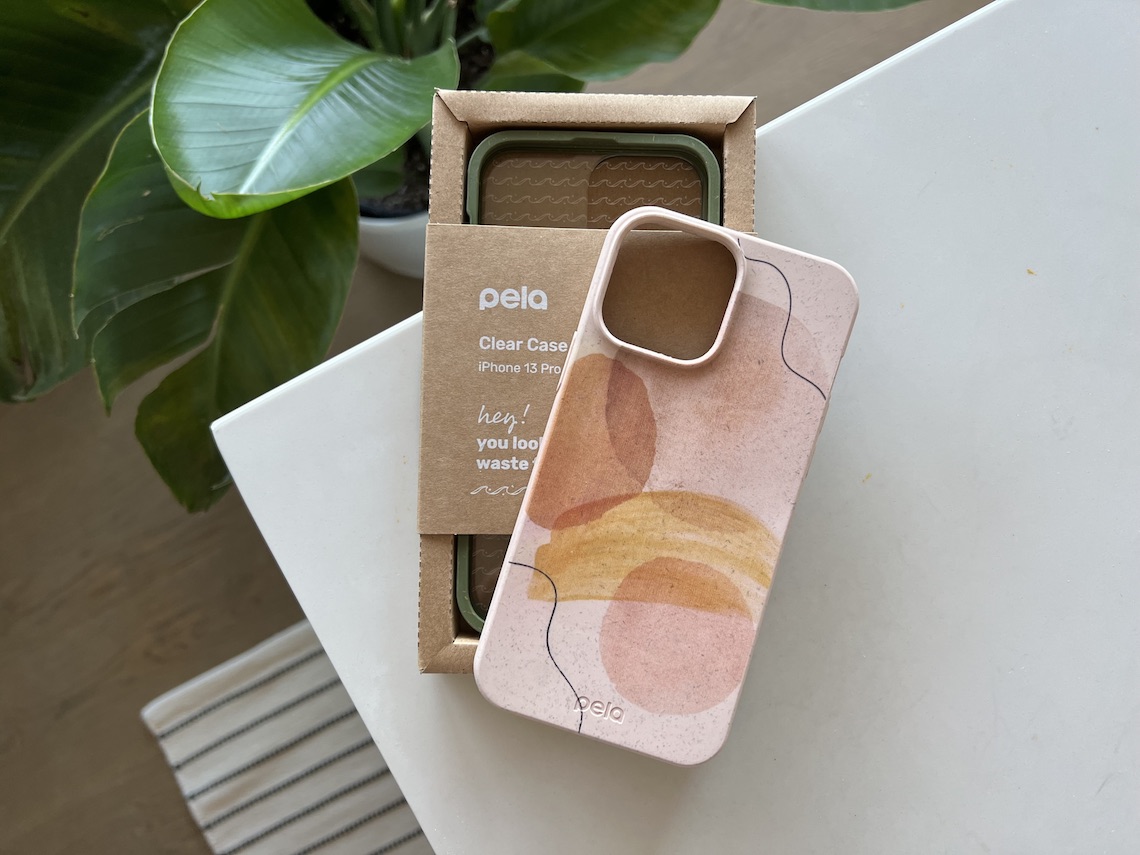 I recently purchased a new iPhone and have been looking for an eco friendly phone case to protect it. I was gifted two eco friendly iPhone cases from Pela Case Canada, here's my Pela Case review:
Pela Case Review: Compostable iPhone 13 Pro Max Case
On the Pela Case website, their compostable phone cases are categorized by either iPhone cases or Android cases. I was looking for an ecofriendly phone case for my new iPhone 13 Pro Max, and thought there was a reasonable selection of plain colours as well as designs with avocados, florals and botanicals, animal prints, and patterns like terrazo or watercolour-inspired designs.
I ordered Seashell Expression, a watercolour-inspired pink and peach abstract design. Your don't always notice it in on the website photos, but when it arrived, I saw tiny little specks engrained into the phone case design. These are the flax shive pieces which provide strength and natural shock absorption and gives it that ecofriendly look. The full-protection case is lightweight, soft to the touch, flexible, but sturdy. All the buttons work with the phone case on top. There's a gap in the case for my phone's three(!) backside camera lenses; that extra ridge from the phone case helps protect my exposed lenses, especially when I am putting my phone camera-side down onto a table.
My only complaint about the case is that I found that parts of the printed design scratch off easily. Because of that, I would recommend sticking to the plain cooured phone cases or those with engraved patterns, not a printed-on design. Or go with the clear compostable phone case – which I've also reviewed below!
Compostable Phone Case with Card Holder
If you're looking for a compostable phone case with card holder, Pela also has a phone case card holder which sticks on to the back of most phone cases and fits up to two ID or credit cards. Like the Pela compostable phone cases, their card holder is also 100% compostable and eco-friendly.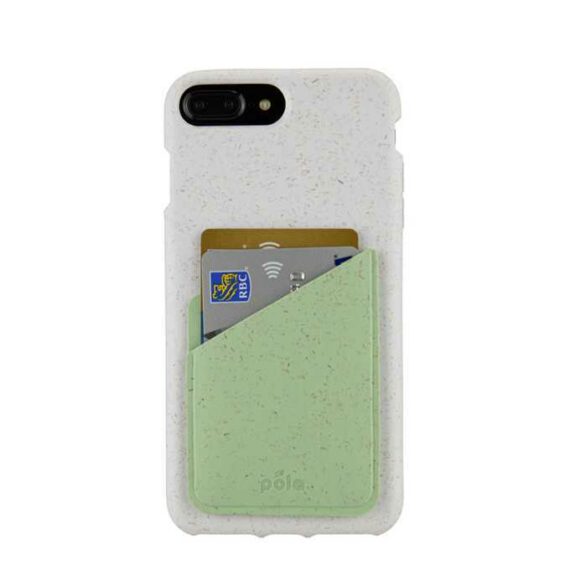 Pela Case Review: Clear Compostable Phone Case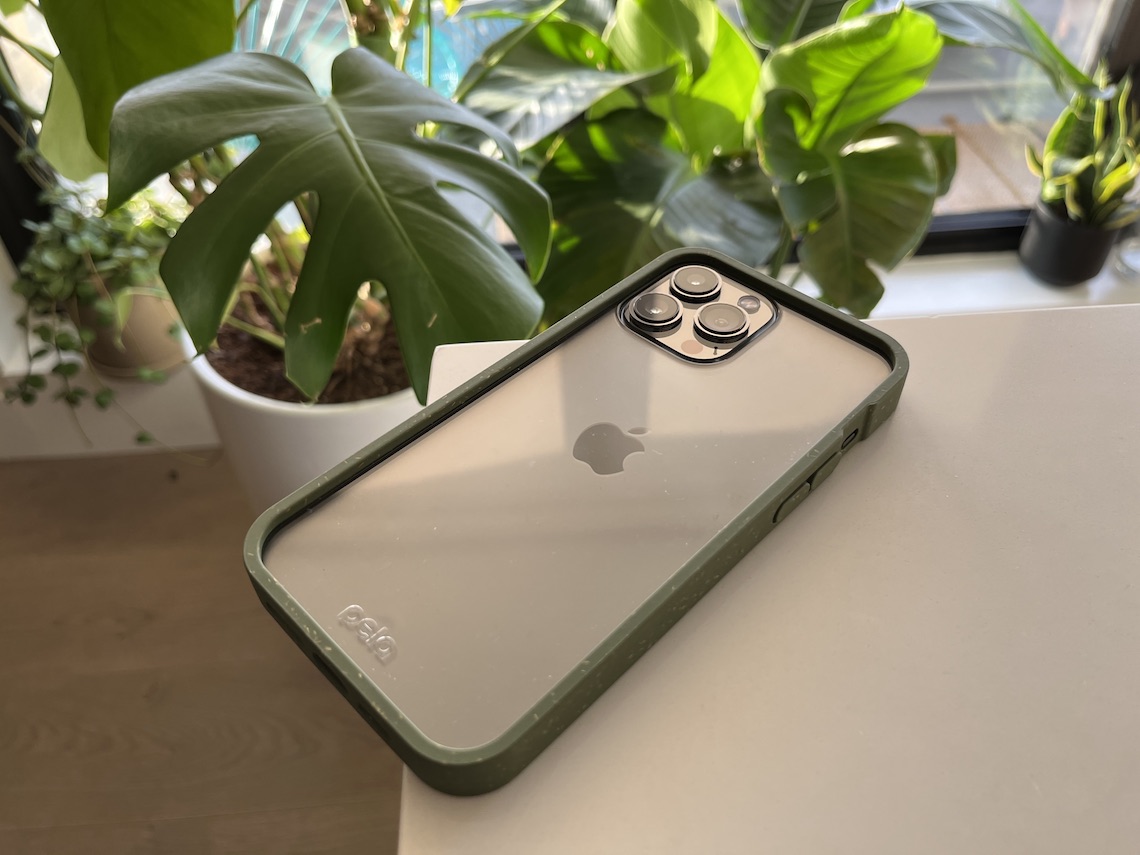 New to the Pela lineup of compostable phone cases is their clear compostable phone case. The minimalist design is a coloured bumper around your phone — made of the same Flaxstic material — with a rigid and transparent back that's made with a compostable 100% bio-based polymer. There are no patterned designs, only a handful of plain colours to choose from. This simple look is designed so that you can show off the natural look of your phone, yet it offers protection from bumps and scratches. With a transparent back, you could slip photos into the case or press petals and leaves into the back.
How to Compost Pela Phone Case
When you're done with your Pela Case, don't toss it into your garbage, assuming that it'll compost. Industrial landfills typically don't give bioplastics or compostable materials all the elements it will need to breakdown.  Instead, compost it in your backyard compost or compost bin, provided that your city allows for compostable bioplastics (not all municipalities will accept them). There's an informative article here on compostable plastics.
Pela also has a Pela 360 program where you can mail them your old Pela Cases, for them to upcycle and craft into another generation of Pela products, making Pela yet another example of a business committed to promoting the circular economy.