Youswim is a one size swimwear company based out of the UK. Their ethically-made, one size swimsuit is designed to be a timeless "one swimsuit for life" fit, catering for seven sizes in one as it adapts to fit every body's unique curves and natural state of flux; it can even be a pregnancy swimsuit!
I was looking for a new swimsuit for our trip to Hawaii; Youswim was unlike anything I had seen in Vancouver or Canada, so I shopped 'across the pond' and ordered a Youswim Eva one piece swimsuit for our upcoming vacation!
Buying a Youswim swimsuit was significant for me in a few ways: it's my first post-pandemic swimsuit purchase, it's my first post-partum swimsuit purchase, and, I bought it online, without the ability to try before buying.
Youswim: One Size Swimwear Styles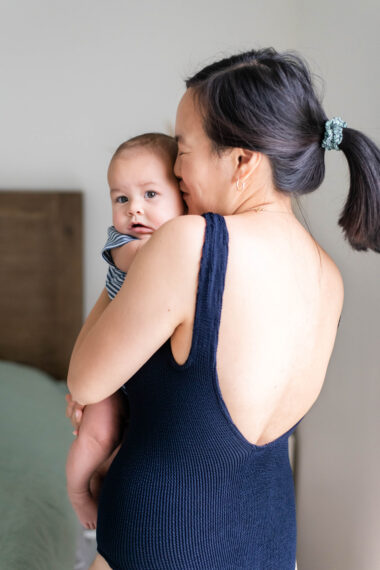 Youswim currently has four different styles of one size swimsuits: Verve, Eva, Aplomb, Poise. Each style of swimsuit differs from one another in their strap style and coverage, and comes in different cut options like: one or two-piece, high or standard waist, boyshort or standard bottoms, etc. All are made with the same thick, luxurious scrunchy material that expands to seamlessly fit your body.
For years, I've wanted a one-piece swimsuit but I felt they always fit me too tight at the hips and belly. Prior to buying, I had scoured the Youswim Instagram page for photos, not only looking at their lifestyle marketing images, but of real customer who had tagged the brand in their own, real photos. Satisfied with seeing a ton of different body types, ages, and ethnicities wearing the YouSwim Swimsuit (including women wearing YouSwim as a pregnancy swimsuit), I decided I fell comfortably into their size range, pulled the trigger, and spent the most I ever had on a swimsuit.
I decided to go for the Eva one piece swimsuit style. From the Youswim website:
Eva has a flattering low V front and deep scoop back, offering a little less coverage up top than our classic Aplomb without compromising support. The bottom is the same flexible cut you're familiar with on our other styles — medium coverage and mid-rise, but stretching and firmly holding in your preferred place. High-cut or covered up, it's up to you.
Every Youswim swimsuit style comes in over a dozen colour options but note that multiple colours are often out of stock.  I went for "Ink", a classic navy blue colour.  It was $139 USD ($180 CAD) plus taxes and duties into Canada, the most I've ever spent on a Swimuit, eek!
Youswim Review: Youswim Eva One Piece Swimsuit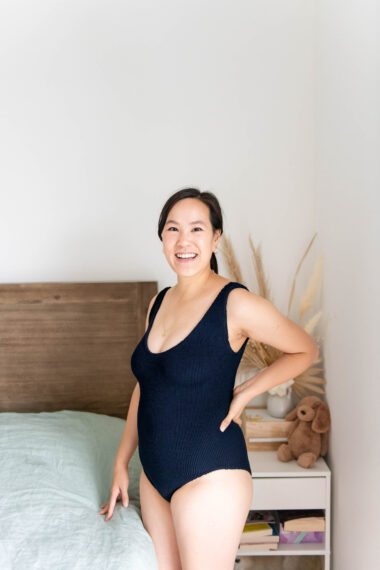 I ordered the Youswim Eva swimsuit online and it came super quickly in a few days. Youswim offers free global shipping, but duties were unfortunately not covered. In addition to the $139USD / $180 CAD YouSwim swimsuit price, I paid an additional $37.41 CAD for customs into Canada which is too bad, but that's the price you pay for cross border shopping.
The packaging was 100% plastic-free, recyclable, home-compostable, reusable and made in the UK and EU using natural inks and sustainably sourced materials.
Trying on the Youswim Eva at home, I was immediately impressed with how comfortable this magical swimsuit was, as it molded to my body shape and smoothed out all my natural lumps, bumps, and rolls, with no pinching or tightness anywhere. The material is a thick, luxe scrunchy material. I put it on and it fit like a glove. The low back reminds me of a gracefully worn ballerina leotard. The straps were a teeny bit loose on my shoulders but eventually, when I put this swimsuit to the test in water, getting the swimsuit wet helped the material cling even better to me.
How do you care for Youswim?
Because of the special scrunchy swimsuit material, care of the Youswim swimsuit takes a bit more effort: it's hand wash only. Also, no twisting, wringing, scrubbing, and definitely no machine washing or drying. The only thing you are suppose to do is scrunch the swimsuit into a ball to get rid of excess water, then hang to air dry. I found it a bit challenging to get it to the dryness I would for a normal swimsuit before hanging, I ended up scrunching each section of the swimsuit to get out the water, sometimes putting it between two towels to absorb excess water.
There's an entire page on the Youswim website dedicated towards swimsuit care: youswim.com/pages/care.
Is Youswim Worth It?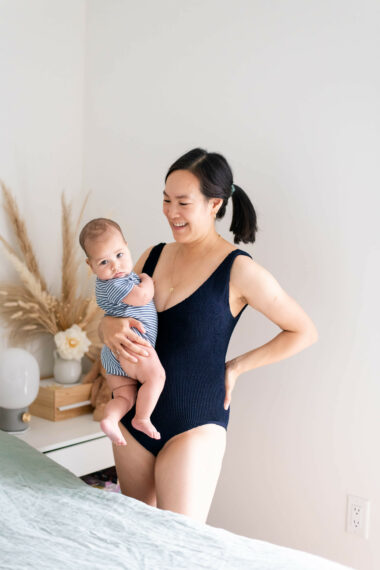 Overall, I LOVE my Youswim swimsuit and thought it was worth the price.I love the thick and luxurious high quality feel of the swimsuit and how there's only a handful of basic styles but many colours to choose from. The company's values in creating an ethically made swimsuit that's flexible to changing bodies has a very practical purpose — it's a timeless swimsuit that'll last for years. This is one of those wardrobe staples where if you love the fit of one swimsuit, it's easy to rebuy in multiple styles or colours.
I would love for Youswim to design some sort of halter top version of their suits to better fit those with narrow shoulders like myself, and maybe one day set up a Youswim Canada / North America distribution center so we can shop without paying additional duties.
Feel free to leave me a comment below if you ave any questions about my Youswim swimsuit!