Portland Pet Food is fresh, human-grade, never-frozen and made with ingredients sourced from farms across North America. In 2014, founder Katie McCarron noticed that her 14-year old pet poodle Rosie was losing her appetite.  Determined to find something healthy that Rosie would love, Katie began cooking meals for her at home. She used locally-sourced, natural ingredients, and Rosie loved it. She regained her appetite and stayed strong for two and a half more years, living to over 16 years old! Just like that, Portland Pet Food Company was born, helping dogs thrive with the same nutritious meals and treats that were formulated in Katie's kitchen years ago, with the same focus on fresh, local ingredients and sustainability.
This summer, the company is expanding their food and treats to the Canadian market, beginning in BC where Katie is originally from.
My pup Teddy Bear was gifted samples of Portland Pet Food's farm-to-bowl treats and meals. This delivery came at the perfect time for Teddy, who is turning 12 years old this fall. We received their Bacon Brew Biscuits, which are made with repurposed spent grains harvested from breweries in Portland and good for pups of any age, and their Rosie's Homestyle Dog Meal, which are especially popular with senior dogs.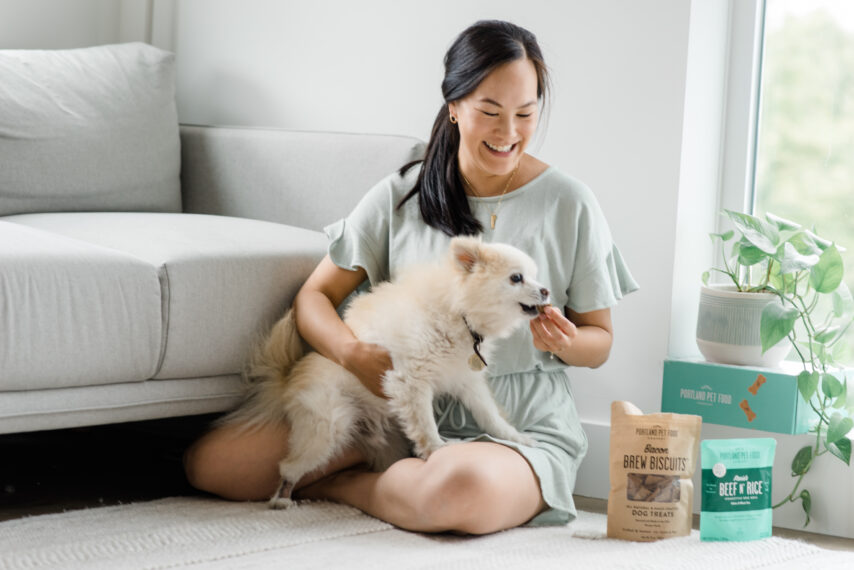 Portland Pet Food's Homestyle Dog Meals come in several flavours including Chicken N' Yams, Beef N' Rice, and Salmon N' Rice, and Pork N' Potato. The meal texture is soft and stew-like and comes in shelf-stable pouches that are easy to open and serve. You can even heat up the pouch in the microwave as a warm treat for your dog! The meals contain no meat by-products, preservatives, artificial colors and flavors, or supplements.
We've been mixing in the meal topper in Teddy's kibble; given that older dogs typically have teeth problems (which hinders their ability to chew hard kibble) this soft mix-in encourages Teddy to finish his meals. Because Teddy can't finish an entire pouch in one feed (the product is meant for supplemental feeding), we like how the package can be refrigerated for up to four days after opening.
Coinciding with Portland Pet Food's entry into BC (Katie's 'home turf'), the company has partnered with local non-profit Thank Dog I Am Out, donating a percentage of upcoming Canadian sales and providing food and treats for the foster packs that the organization provides to animal foster families.
Portland Pet Food is now available at Pet Value and Tisol stores in BC. For more information, visit: portlandpetfoodcompany.com.