Plumme is a baby gift company, based out of Montreal.  With items catered towards a baby's first year of life, this Canadian-mom founded business curates age-specific gift boxes, customizing each box with products for different growth stages. No two Plumme boxes are the same, but there are four standard themes to ensure you're receiving items appropriate for the baby's stage of development.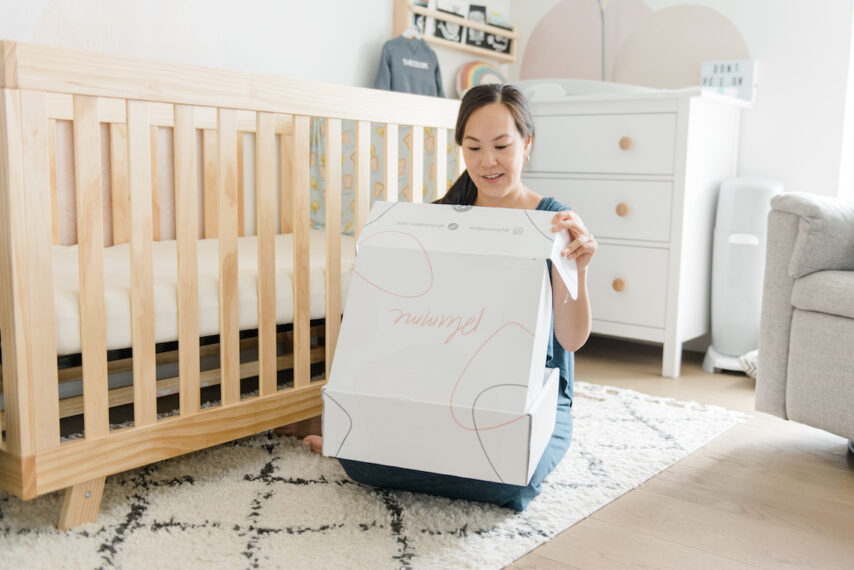 Here are the themes of the four Plumme boxes:
The Snooze Box (0 to 3 months) – This box has everything your newborn needs to feel safe, warm, and comfortable while experiencing life for the first time.
The Feeding Box (3 to 6 months) – From puree feeders to silicone bowls, this box will help make feeding time simple and fun.
The Bubbles Box (6 to 9 months) – Full of skin-loving lotions, towels and toys and perfect for babies who love splashing about in the tub, this box will be your bathroom BFF.
The Discovery Box (9 to 12 months) – This box will help babies enjoy the sensory experiences that come with playing and learning as he begins to crawl, or even walk!
Each Plumme Box can be purchased on its own, or, conveniently subscribed to, where the recipient will receive four quarterly boxes throughout baby's first year, designed to grow with your little one from birth to their first birthday. The Plumme subscription is completely customized to a mom's due date too, as there's no a set shipping schedule.
Unboxing: The Plumme 'Snooze' Box Review
When our baby was six weeks old, I was gifted the Plumme Snooze box, which contained eight items that I could start using right away.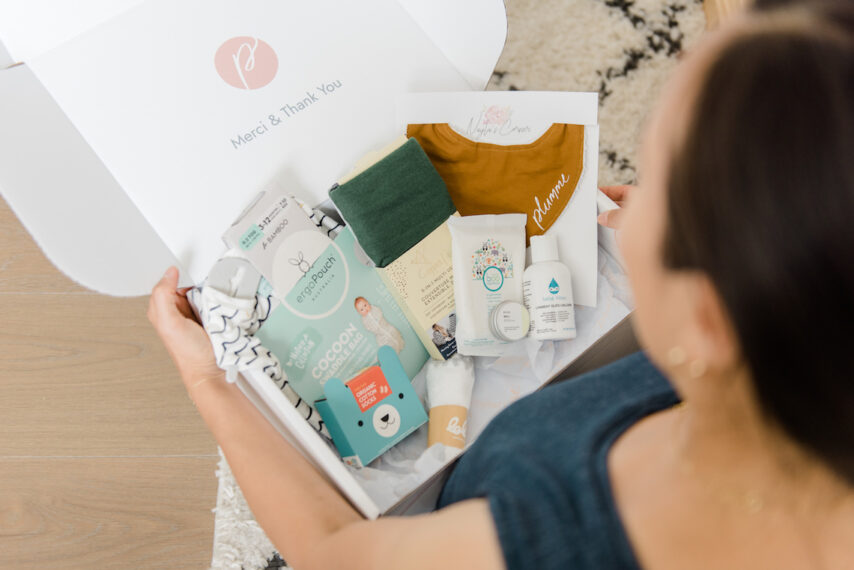 The most substantial items in my Plumme 'Snooze' Box were the versatile Copper Pearl multi-use cover which I've mainly been using as a nursing cover, and the ergoPouch bamboo Cocoon Swaddle Bag, that has 'armhole poppers' for transitioning from an easy-to-use zip-up swaddle to a sleep sack with your baby's arms out.
Even though the Plumme 'Snooze' Box is catered towards babies 0 to 3 months old, I was pleasantly surprised that most of the items can be used way past the three month mark.  For example, the multi-use cover can be used also as a shopping cart or highchair cover, for when your baby begins to sit up and start on solid food, while the swaddle sleep sack can be used up until your baby is 12 months old.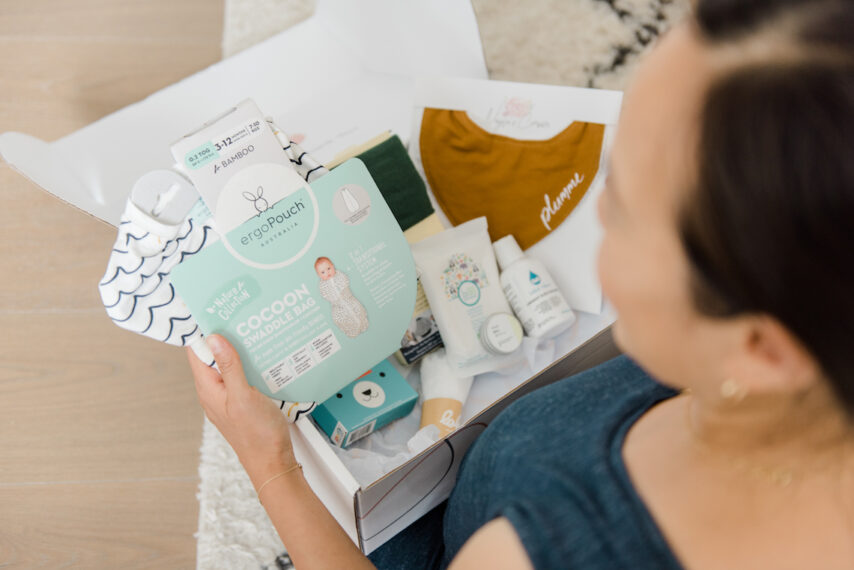 For changing, there was a pack of Baby Boo biodegradable bamboo baby wipes and a no-rinse oil cleanser by Bebe Hibou for cleaning and soothing baby's bum during diaper changes, which could be used with the Lolo et Moi washcloth also included in the box.
Other items included cute organic cotton socks with bear faces on them and a Plumme-branded bib.
Last but not least, for mom, a vanilla and coconut lip exfoliant – an item that's completely unrelated to the baby. Why? As shared by Plumme: "In every of our boxes, you will find a product for the mom that has nothing to do with pregnancy as a reminder to have some me time. We often forget about ourselves to make sure our family is taking care of."
An individual Plumme box is $120, or subscribers can opt for a 4-Box prepay for $408 (a discount of 15%). For more information about this Canadian baby gift box company, visit: plummebox.com.