New Baby, Who Dis? is a collaborative baby gift box between Canadian TV personality Jessi Cruickshank and Sweet Peas Baby Box. As a mom to twin toddlers and a newborn, Jessi shares her adventures on her online show "New Mom, Who Dis?"  Her partnership with Sweet Peas Baby Box features some of her favourite products for new moms and their baby, with an all-Canadian line-up of nine items.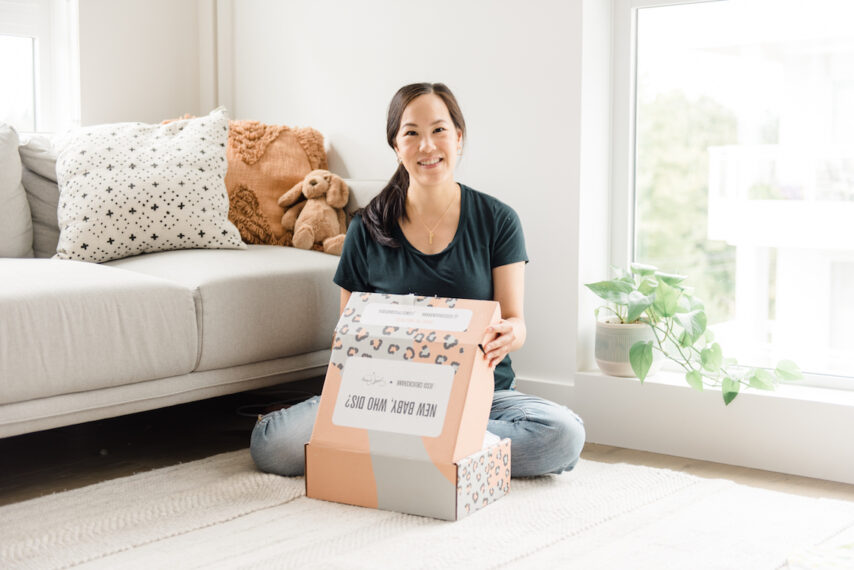 Sweet Peas is a baby gift box company started by two sisters, Brooke and Kristy. Inspired by their own journeys through motherhood, they started Sweet Peas Baby Co. to help others celebrate becoming a parent with helpful items that are needed during different seasons and developmental phases, along with cool products currently trending in the mommy markets.  After hours of researching and testing products, they found the very best Canadian vendors that are creating buzz in the industry with hot new baby gear, beautiful handmade artisan items, and pampering products to comfort mom.
Sweet Peas offers single gift boxes or a subscription-style service where you are sent four quarterly boxes each year. They even have an option for when you have 'two peas in a pod' – twins!
Unboxing: New Baby, Who Dis? Sweet Peas Baby Box featuring Jessi Cruickshank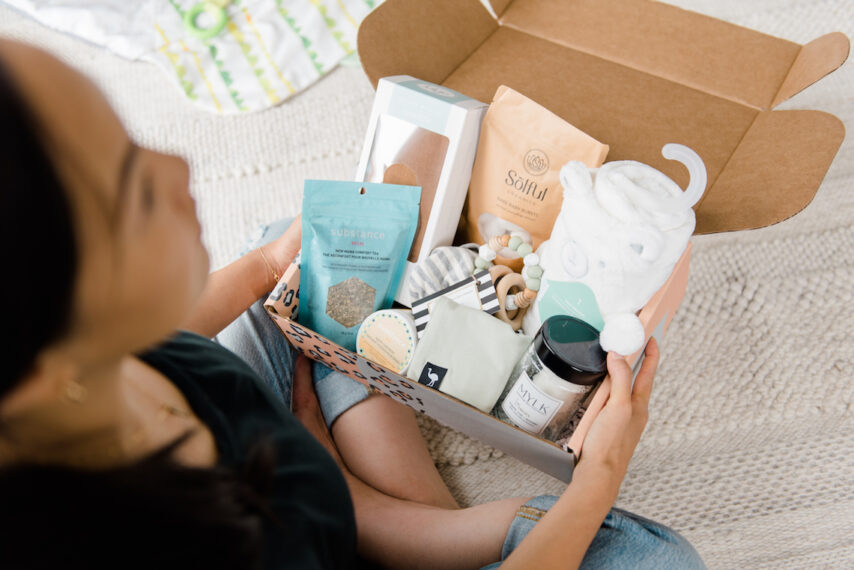 The New Baby, Who Dis? limited edition gift box in partnership with Jessi Cruickshank aligns perfectly with Brooke and Kristy's efforts to highlight Canadian vendors in their boxes, with an emphasis on unique, natural, or eco-friendly products. The box includes $176 worth of items for $98, including staple items like a muslin swaddle and blanket, a cute gender-neutral outfit, a sensory teether-rattle, baby body items, and two self-care items for mom.
My favourite item from the New Baby, Who Dis? box is the super soft Lulujo Swaddle (recipients get to choose between Terracotta Tan or Leopard for pattern options). As the mom of a newborn, I can never have too many easy-to-grab lightweight cloths and blankets for bundling up baby, wiping up spills, or to use as a nursing cover.
I also love the organic cotton Mini Mioche Bundler — it's an easy-to-put-on  footless outfit with sleeves — and appreciate the gender neutrality of the heather grey stripes. To top off the outfit, there's also an Os & Oakes organic beanie to keep your little one's head warm. Both are Canadian baby apparel brands that I've seen online, but haven't had the chance to try yet until now!
Baby gift boxes are a thoughtful baby shower gift, and the partnership with Jessi Cruickshank is even more special; a lovely gift for a new mom you care about or just to treat yourself and your new baby. To find out more about Sweet Peas Baby Box and their current offerings, visit: sweetpeasbaby.com.
And if you haven't had a chance to watch New Mom Who Dis yet, I recommend starting with his hilarious interview of Justin Trudeau by Jessi Cruickshank.