When I ask other moms about the most helpful post-partum support they've received, the number one answer across the board is: food. Bring new moms food for us to eat. 
New moms are known to be tired and busy, and often don't have enough hands to do even the simplest tasks around the home, much less grocery shop or prep and cook elaborate healthy meals. In our first few weeks of being new parents, my husband and I had a sudden interest in freezer casseroles and anything else that could be quickly heated up or eaten between baby naps. 
After nine months of pregnancy and an 'anything goes' attitude with food, I was determined to get back to my pre-pregnancy healthy eating habits that incorporated healthy grains, lots of veggies and good fats.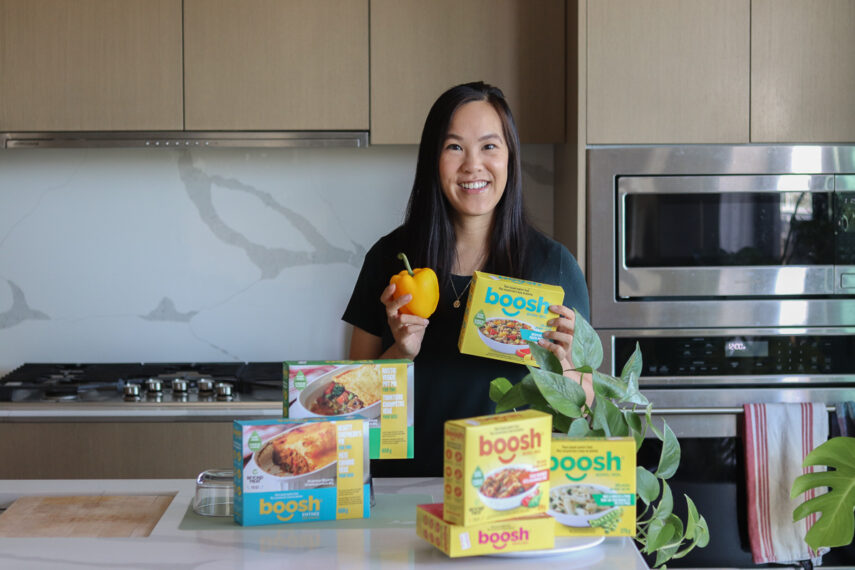 Six weeks post-partum with a newborn who requires round the clock care, my collaboration with Boosh Food couldn't have come at a better time. Thanks to this Vancouver-based frozen food company, my freezer is now stocked with healthy comfort meals that can be conveniently heated up in the microwave or oven. 
The founder of Boosh Food is celiac and wanted to create healthy and convenient meals that could be enjoyed even by those with dietary restrictions. All the meals from Boosh are 100% plant-based, dairy-free, gluten-free, non-GMO and free of any artificial ingredients.

Boosh Food Flavours
Boosh Food's heat-and-eat meals currently come in two size formats: single-portion bowls, or entree-sized meals for two. 
For the bowls, there are four flavours to choose from: Veggie Bolognese with Beyond Meat, Coconut Curry Cauliflower, Mac & Cheeze & Peas, and the Mexican Fiesta brown rice and quinoa bowl (pairs well with a scoop of non-dairy sour cream).
For the entrees, there are two styles of vegan pie: the Rustic Veggie Pot Pie (love the oven-baked flakey crust) and the Hearty Shepherd's Pie with Beyond Meat.
Where to buy Boosh Food

Interested in trying Boosh Food for yourself? They can be found in the frozen food aisle at retailers throughout Vancouver including Nester's Market, Safeway, Stong's Market, Thrifty Foods, IGA, and other independent or specialty stores across the Lower Mainland. For more information, visit: booshfood.com.