Burgerland Smash Up is a burger kit takeout shop in East Vancouver that specializes in DIY kits so burger fans can conveniently cook burgers from the comforts of home.
The Burgerland Smash Up lineup features a variety of four-pack kits that pay homage to some of the most classic and beloved regional burger styles and recipes, including the In-N-Out-Burger-inspired California UP-N-DOWN, the Classic American Cheese, Oklahoma Fried Onion and Cheese and Big Mac-inspired Big Smash. Beginning June 30, they'll be adding the award-winning, 100-per-cent plant-based Impossible™ Burger and vegan and vegetarian ingredient alternatives to its ever-growing lineup of Smashburger recipes.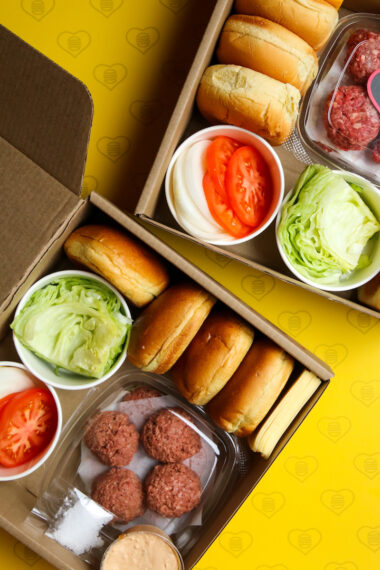 Launched earlier this year by burger aficionado Bodhi Valentine — who nimbly turned a COVID layoff in the tech sector into a culinary pivot and quest to help fellow burger obsessives raise their at-home burger game — Burgerland's new menu additions offers burger lovers the same fun, speed and flavour of their traditional Smashburger Kits but with a plant-based twist.
"I tested a lot of plant-based options but was absolutely blown away by how the Impossible™ plant-based protein looks, cooks, and tastes — and Smashburger lovers of all stripes will be, too. It has to be experienced to be believed. It's our mission at Burgerland to help everyone make better burgers, whether you want to eat less meat or no meat whatsoever." – Bodhi Valentine, Founder, Burgerland Smash Up.
Regardless of protein preference, all of Burgerland Smash Up's kits are made fresh to order and ready for pickup or delivery in zero-waste packaging. As an additional nod to its earth-forward stewardship focus, Burgerland Smash Up is partnering with TreeEra to help offset its carbon footprint and donating $1 for every kit ordered — the cost to plant one tree through the TreeEra planting program.
Each Smashburger Kit includes recipe cards with video links and all the pre-measured premium ingredients to cook up plant-based Smashburger feasts for four in the backyard, on the beach, or at the park for $39.99 per kit. For more information or to order your burger kit, visit: burgerlandsmashup.com.