Tradle is a Vancouver-based baby clothing subscription company, where subscribers receive gently used clothing, delivered on a seasonal, as-need basis. Items are shared among a community of families with Tradle at the center of the service, curating  'capsule wardrobes' unique for each baby, along with faciliating for delivery and exchanges.
Delivered seasonally (or whenever your baby outgrows the items), Tradle sources from an impressive inventory of high quality, eco-friendly, and on-trend Canadian baby clothing brands, including Parade Organics, Jax & Lennon, Haven Kids, Little & Lively, Greige, and Nudnik.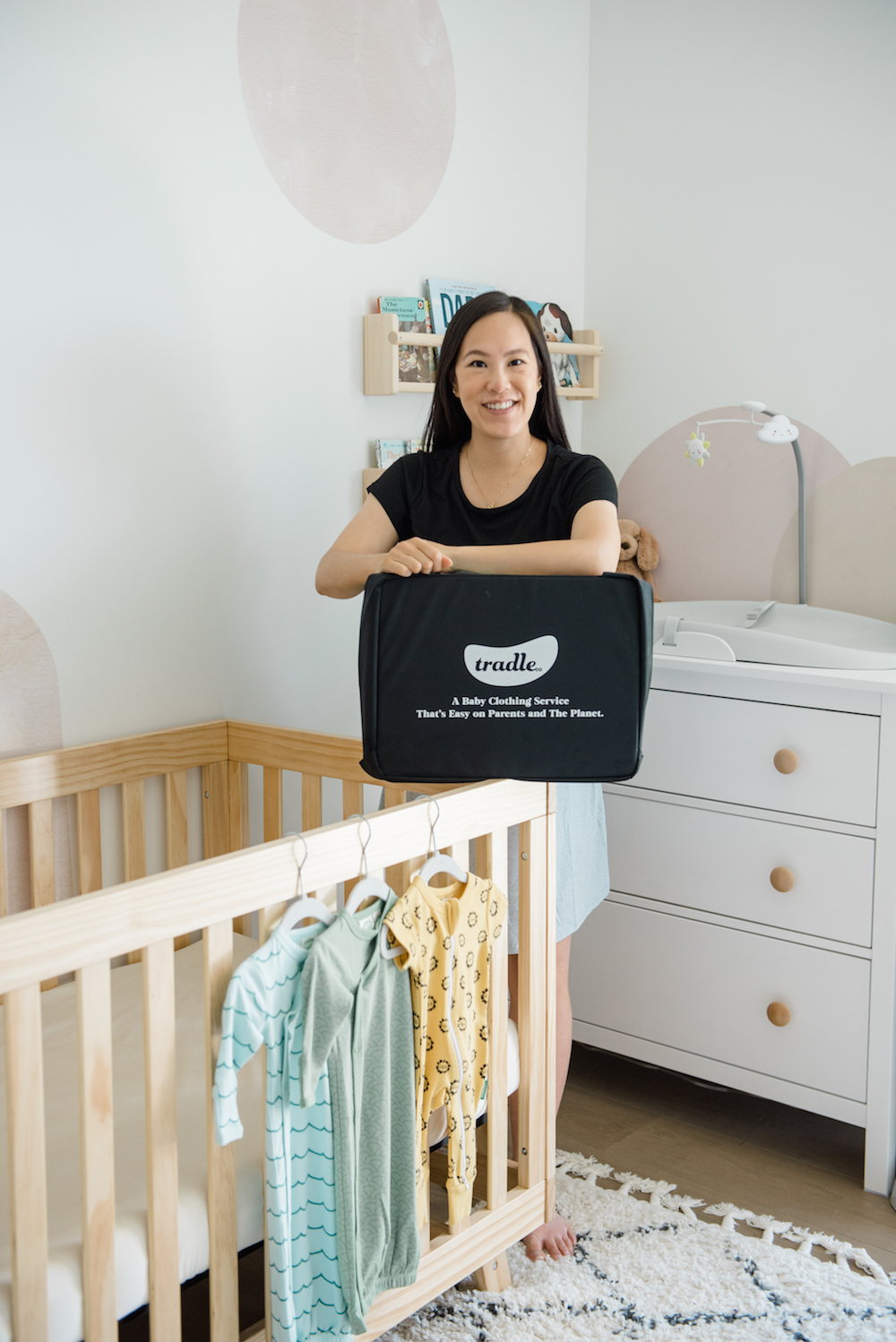 Buy less, choose well, and make it last.
I recently had a conversation with a mom-to-be who shared with me that she already has enough clothing for her baby for the next two years…and she hasn't even given birth yet! In the world of fast fashion, it seems like baby clothing is something new parents always end up with an excess of.
As new parents, it can be tempting to buy everything — especially if it's cute and cheap. But with babies going through growth spurts every few weeks, how many times can your baby really wear that item before it's outgrown? You can either save money and buy something cheap, cheerful, and disposable, or invest in higher quality items — but no matter what you buy or how much or little you spend, baby will still inevitably outgrow the items in a few weeks.
Also, if you've ever done any browsing on Facebook marketplace, you'll know that the resell value of baby clothing is terrible — you barely get anything back when you resell. Unless you know someone else to pass on baby clothes to, most baby clothing items are still as good as new when they get tossed out after being worn only a few times.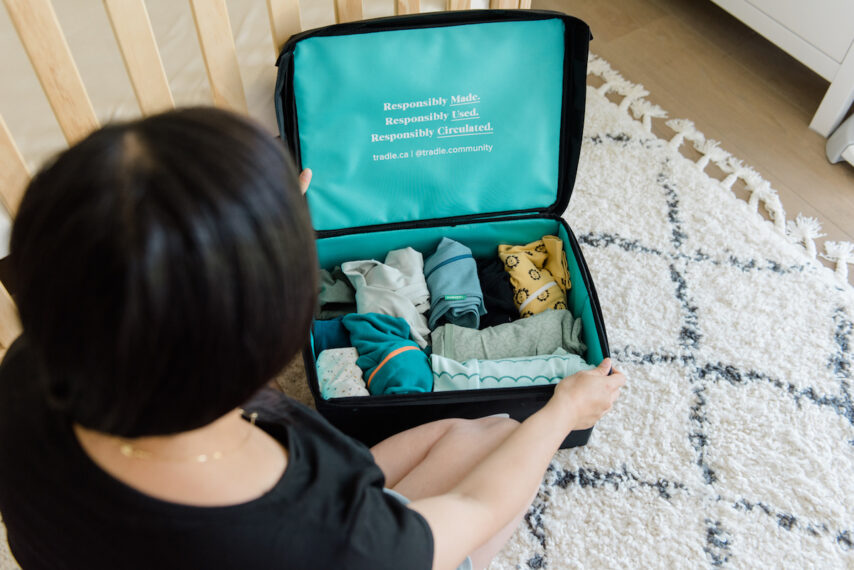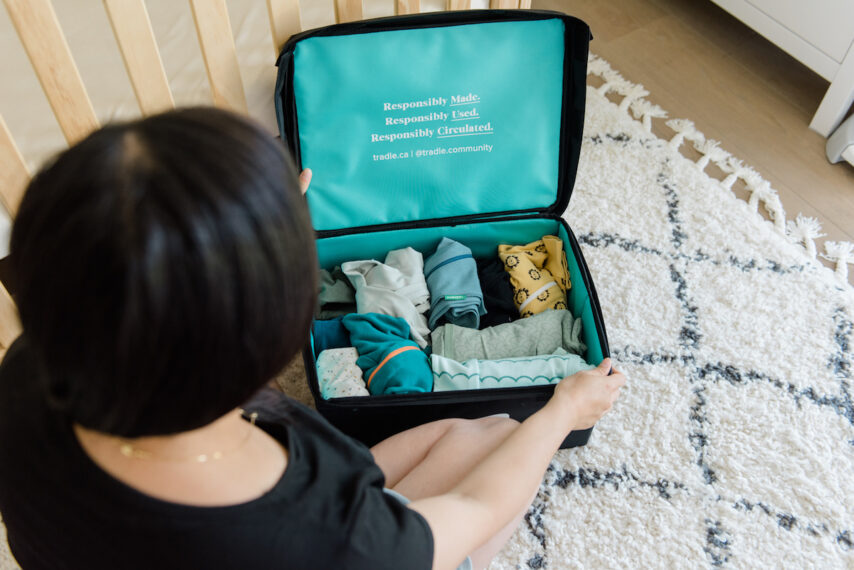 Consume less, and share better.
I've always been a believer of quality over quantity, and that's why Tradle's baby clothing subscription service makes so much sense to me. The Tradle concept supports the 'circular economy', a sustainable business model that uses methods like sharing, leasing or re-using to increase the longevity of a product. Items (like baby clothing) are shared or traded within a community, thereby extending the use of a product while reducing waste.
As a subscriber, I love how Tradle allows me to receive new styles without feeling guilty about being wasteful by sharing gently loved clothing. Initial market research done by the Tradle team showed that most parents are open to gently used baby clothing (agree) but not stains (also agree). So whenever items get stained, Tradle will remove those items from their inventory.
If there are any items you want to keep instead of returning, you have the option to purchase from Tradle's inventory.
My first delivery from Tradle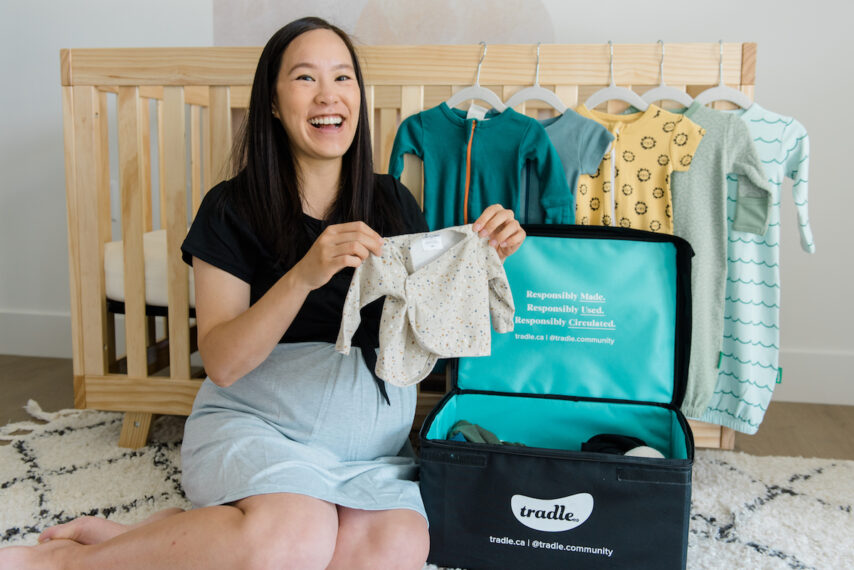 A Tradle subscription begins with a $50 deposit to 'reserve' your spot. You answer a survey of colour and style preferences, and then are invited to a personal one-on-one phone call with someone from their team to introduce you to the service. As an early stage start-up, they like to know who is part of their community and are very open to feedback and suggestions.
Shortly before the delivery of my first order, I was sent an email to confirm my capsule wardrobe bundle, which was essentially a sneak peek of the items I'd be receiving. If I had any issues or wanted something replaced, I had the option to reply to the email and make a suggestion. With each order, you are given the new, retail value of each item.  In my first delivery alone, I received $400 worth of items (in newborn and o-3 months sizing) from coveted, high-quality Canadian brands including Parade Organics, Jax & Lennon, and Lil Boop Boop.
Quality-wise, the items I received were as good as new with no patches or stains. As the Tradle service is still so new, there's a high probability that some of the items actually are new! The only way I could tell a few of the items were gently used, were maybe a couple of the inner tags on a few items looked washed and slightly faded, but everything I received was in better shape than second-hand items we've been handed down from friends and family.
Because my first order came before giving birth, they sent me two bundles at once, with both newborn and 0 to 3 month sizes. The Tradle team was thoughtful enough to know that newborn babies pretty much outgrow their clothing in two weeks, so wanted to make sure I was also equipped with options for the next size up.
I can expect my next delivery in approximately three months or so, but if my baby outgrows anything in the meantime, there's the flexibility for me to opt for an exchange of items sooner. It's advised to wash everything before returning, but Tradle will do a second wash, cleaning, and inspection before sending out the items to the next family.
How much does a Tradle subscription cost?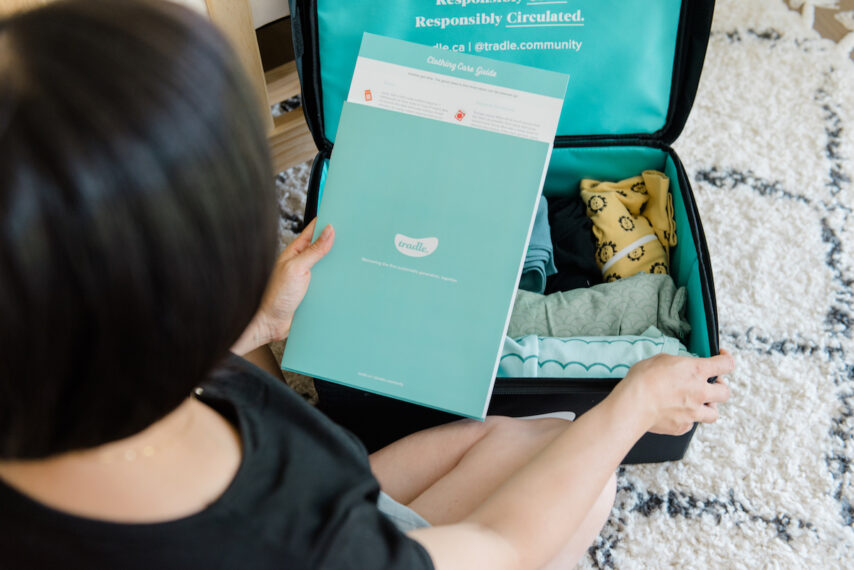 Subscribers can choose between a 12-item half-capsule for $50/month or a 24-item full capsule for $95/month with no minimum time commitment. Considering a Jax & Lennon Baby Gown, or a Lil Boop Boop Romper (both of which were items included in my first delivery) already retails at $50 new, you are getting amazing value from a Tradle subscription. Delivery and exchanges are included in the monthly fee.
You can also put Tradle on an Amazon or your Babylist gift registry. 
I am obsessed with the Tradle concept and I am so happy to have discovered this service to incorporate into my pregnancy journey and beyond. It appeals to me in so many ways! I love being able to receive high-quality clothing from Canadian baby clothing brands, at a fraction of the price, without the guilt of consuming too much and being wasteful.
I cannot wait to dress up my baby-to-be and promise you'll be seeing some baby photos soon! For more information about Tradle, visit: tradle.ca.