For Vancouver brides-to-be (like myself) who had a wedding booked for the 2020 wedding season, chances are, you had to pivot your plans to adapt for pandemic regulations.  Some couples eloped, some scaled down to meet group gathering safety guidelines, and others made the decision to reschedule their event into 2021 with a hopeful outlook that things would be back to 'normal' by this time this year.
Fast-forward to today, a year after the pandemic restrictions were implemented in Vancouver, and there's unfortunately still a continued uncertainty of what the 2021 summer wedding season will safely allow. The couples who postponed their wedding celebration to 2021 are yet again facing the same challenging decisions: elope, scale back, or delay another year?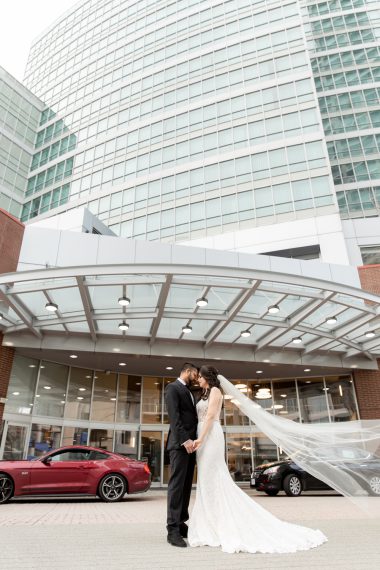 Introducing: "To Have & To Hold", a new all-inclusive wedding package offered by The Hilton Vancouver Metrotown that'll hopefully make things a bit easier for 2021 couples who'd like to safely move forward with a wedding this year and get help navigating ever-changing pandemic guidelines.
What's Included in the Hilton Vancouver Metrotown 2021 Wedding Package?
Hosted in partnership with local event planning companies Events To.The.Nines and Proline Events, the $2,000 all-inclusive To Have & To Hold intimate package includes the following:
A beautifully decorated 10-person ceremony space
A professional wedding coordinator
Wedding music
Complimentary cake cutting set up (table, linens, cake knives)
A champagne toast
An overnight stay in the honeymoon suite at Hilton Vancouver Metrotown (to get ready on the day and overnight stay)
Bridal florals (bridal bouquet, grooms boutonniere)
This bundle of wedding services listed above is valued at $5,000 when booked individually. In addition, couples will also receive a $200 food credit which can be used to transition the event to an intimate dining experience at the Hilton Vancouver Metrotown's restaurant Time & Place or towards an anniversary party in 2022.
If you're a couple who's ready to tie the knot in 2021 in a hassle free, all-inclusive ceremony with Hilton Vancouver Metrotown, check out: tohaveandtoholdvancouver.ca.