Founded in 2017, Nordgreen is a Danish watch design company, whose name is formed from a combination of two words: "Nord" is a nod to the company's Nordic identity, while "Green" embodies its commitment to the environment. Combining the two into a Scandinavian watch design company, and you have a watch brand that designs minimalist watches with a beautiful aesthetic and a big commitment to corporate social responsibility.
For my second edition of #ScandiSundays on Modern Mix Vancouver, I wanted to feature a recent addition to my collection of functional Scandinavian design items: a review of the Nordgreen Native women's watch. Investing in a watch is probably one of the easiest ways to add a touch of Scandinavian minimalism to any outfit, with the bonus functionality of telling time.
Danish Designed Minimalist Watches
Nordgreen's chief designer is Jakob Wagner, who earned his acclaim by designing for Bang & Olufsen, Hay, B&B Italia, and Cappellini, which are all globally recognized European brands, known for their quality and design. For 25 years and counting, his works express his passion for design through aesthetic appeal and practical purpose.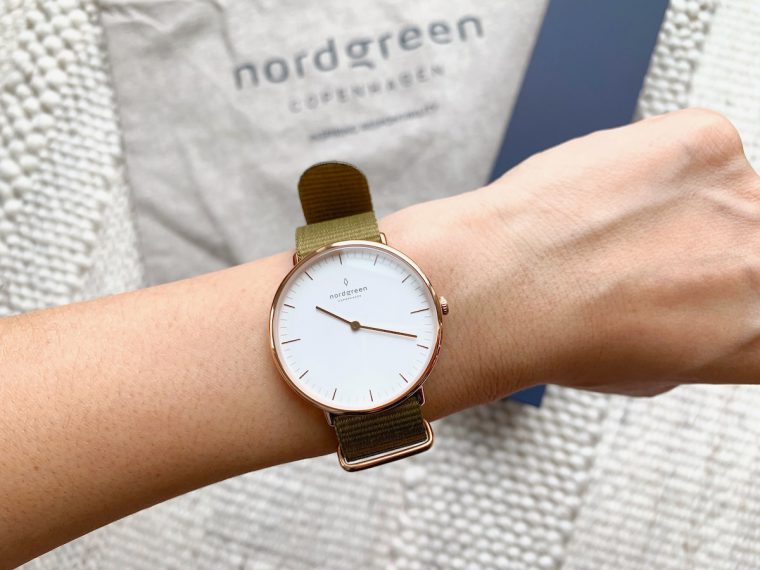 I was gifted the Nordgreen Native Women's Watch, with a minimalist 36mm white face, with rose gold detailing. I love the colour of the olive green nylon strap, and how earthy yet modern it is when paired with the rose gold hardware. The understated look, less flashy, with a tasteful, minimalist aesthetic.  There are a fair bit of customization options available on Nordgreen watches. The dial face for my Native Watch, for example, also comes in black and navy blue, in 36mm or 40mm in diameter; the hardware, in gold, gun metal or silver. The nylon strap on this specific watch is also interchangable with different colours.
In 2020, Nordgreen won the Red Dot Design Award for their men's Pioneer Watch. The name referenced being "Green Pioneers" in Denmark; the tip of the hands on the watch are marked in red to symbolize the end of the first windmill wings.
Nordgreen's commitment towards corporate social responsibility
Beyond its commitment to design aesthetic, Nordgreen also has an incredible commitment towards corporate social responsibility. It is their belief that quality and durablity equates to sustainability, while their strong connection to social and environmental causes to improve life for all.
The Nordgreen head office in Copenhagen is carbon neutral, the company has offest their carbon dioxide emissions from their space by planting thousands of trees, while electricity is sourced from 100% wind power suppliers and LED lighting is used in their offices. In typical Danish fashion, teams are encouraged to cycle to and from work and take public transportation.
From a production standpoint, Nordgreen watches are manufactured in a Danish-owned factory in China meaning the facility has high standards for working conditions based on Danish labour practises. The felt inside their boxes are formed from using up-cycled plastic bottles, instead of typical industry practices of using a toxic foam to create a luxurious feel which is incredibly harmful to the environment.
And finally, Nordgreen has actively invested in giving back programs through partnering with global charities that support their three priorities of health, education, and environment. Every watch purchased will give two months of clean water to one person in the Central African Republic (via Water for Good), provide one month of education to a child in India (via Pratham UK), and preserve 50 sqm of rainforest in Latin America (via Cool Earth).
For more information about Nordgreen and to check out their selection of Danish-designed watches, visit: nordgreen.com.
—
What's #ScandiSundays on Modern Mix Vancouver? Published on Sundays—a day of balance, rest, and relaxation—I'll be sharing one Scandinavian item from my own life—be it a home decor piece or fashion accessory—that's tried tested and true. Then, tying it all back to supporting local, where you can find the item here in Vancouver.