Joining a boutique collection of four simple skincare products (Cleansing Cream, Clay Mask, Mineral Toner, and Moisturizing Cream), Canadian natural skincare brand NENA Skincare has just added a fifth skincare product to its collection: the NENA Mineral Serum.
Use the NENA Skincare discount code "Vanessa15" for 15% off your online purchase at nenaskincare.com.
Two years in the making, NENA Skincare's in-house team of R&D scientists have come up with a thoughtful formulation that benefits you, your skin, and the environment. Using 98% naturally derived ingredients, this serum is EWG Verified, Vegan Friendly, Sillicone and Paraben Free, Gluten Free, Halal Certified, and COSMOS compliant too.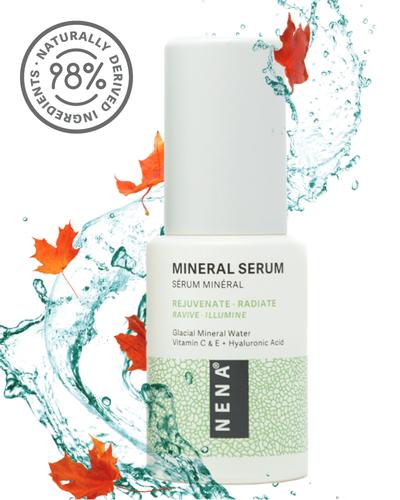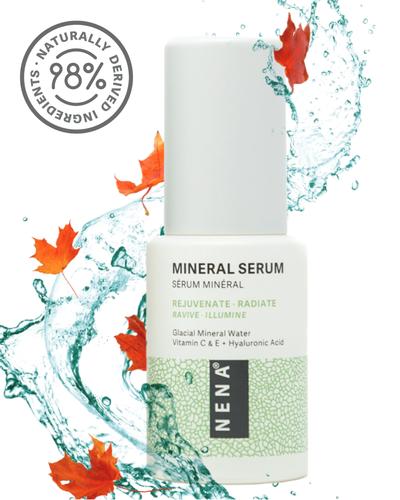 Ingredients in the NENA Skincare Mineral Serum
Every NENA Skincare product is formulated with glacial clay or glacial mineral water, a natural resource with skin-benefitting mineral properties. The NENA Mineral Serum has a base of 76% Glacial Mineral Water, which is then further boosted with Vitamin C, Vitamin E, and Hyaluronic Acid to promote a deep and long-lasting hydration.
The NENA Mineral Serum also incorporates Chaga Mushroom into its formula, a natural ingredient which aids in the restoration of skin elasticity and has anti-aging benefits.
Finally, as a Canadian natural skincare company, they wanted to include a natural, skin healing ingredient that's iconically Canadian, and what's a more classic representation of the true north, than the maple leaf? Making a first-time appearance in any NENA Skincare product, you can now experience the anti-aging effects of Red Maple Bark Extract which helps reduce the appearance of wrinkles and fine lines, and firm the skin, revealing a more youthful glow.
NENA Skincare Review: Mineral Serum
The NENA Mineral Serum can be used both day and night. The overall texture is clean and lightweight, with no tacky residue or hint of oiliness. The serum comes out of a small pump container; it spreads easily and is fast-absorbing, making it the perfect base layer under a moisturizing cream, whenever you need an extra layer of nourishment and hydration.
The NENA Mineral Serum is available online at nenaskincare.com for $34.99.