Getting outdoors with your pup is a great way to lift your mood and I love taking Teddy along on local adventures, but it's not always easy to know where and when your dog is allowed to join.

On a recent visit to Capilano Suspension Bridge Park, I was pleasantly surprised to discover that it's dog-friendly and after a beautiful day out in December, I realized that even in winter, there are many outdoor-friendly trails and attractions close to home that I could bring Teddy with me to. 
With the help of Cheryl Cole from PawSwap app and OhMyDog!, we've compiled a list of 9 winter trails near Vancouver that are perfect for small dogs! Which trails have been to?
This short hike from Mount Seymour is one of the city's most popular snowshoeing trails in winter months, and for only 2 hours of hiking, the views of Vancouver on a clear day are some of the best you'll get.

Due to its short distance and minimal elevation gain, this relatively easy hike is fantastic for smaller dogs who love getting active, and is suitable for beginner snowshoers.
Time:

2 hours

Length: 5km
Dogs Allowed: On Leash
If you want a quick, short snowshoe trail that will work up a bit of a sweat without being too much for your small dog, Bowen Lookout is the perfect choice. 
Located in West Vancouver, near the Cypress Mountain ski area and overlooking Howe Sound, the spectacular views are well worth the steep climb, and your pup will love every minute of it – just be sure to keep them on leash!

The hike is free but requires a BAC-access tag from the Black Mountain Lodge first during winter months, so don't forget to pick it up before setting off.

Time:

1.5 hours

Length: 4km
Dogs Allowed: On Leash
Situated next to UBC, in the Point Grey neighbourhood, just a 10-minute drive from Downtown Vancouver, Pacific Regional Park has over 55 km of trails to walk through beautiful, peaceful woods – and smaller dogs will enjoy any of them.
Not all these trails are leash-optional, but a lot of them are, so check out this map to help you plan your route.

Accessible all year round, the area is very well equipped for dog owners with poop bag stations and red 'poop' bins around the trails. With so many trails to choose from, this is a perfect place to let your dog explore while you enjoy the relaxation of escaping the city for a few hours.
Time:

3 hours

Length:

10km

Dogs Allowed:

Off Leash
This hike is currently worth Triple Points for those taking part in PawSwap's Hikes & Trails Challenge this month. Find more information about the challenge here.
Even the smallest of dogs can have a great time at Capilano, enjoying the lush-forest, Treetop Adventure and Clifftop Walk, all while giving their owners some amazing photo opportunities year-round, rain or shine!

450 feet (137m) across and 230 feet (70m) above Capilano River in North Vancouver, the suspension bridge has thrilled visitors since 1889 and has also been dog-friendly since opening – a big reason why locals go back time and time again.

Unlike their owners, our furry friends don't seem to have any problem with the height so if you're looking for a fun day out with your pup, Capilano is guaranteed to get their tail wagging!

Length:

1.8 km

Dogs Allowed: On Leash
Tickets: $54.95 pp. Available to purchase here.
Whyte Lake is a small, peaceful lake in the hills of West Vancouver above Horseshoe Bay, and the The Whyte Lake Trail leading there is perfect for an easy hike with your smaller pup in the winter months.
This popular short hike is particularly great for those cloudy or rainy days as there's no viewpoint to worry about. Instead you and your pup can enjoy the scenic forest, knowing the pay off will be worth it regardless!
Time:

2 hours

Length: 5km
Dogs Allowed: On-Leash (Permitted off-leash on the Trans Canada Trail section of this hike only)
This short hike located in Mount Seymour Provincial Park is great for swimming in the summer, but is equally beautiful in the winter months. 

You'll climb about 150 meters but the overall distance is short and suitable for little legs.  Not hiked with your pup before? This is a perfect introduction!

Time:

1.25 hours

Length: 3km
Dog Allowed: On Leash
This quick and easy hike in West Vancouver offers an escape into nature through dense forest old Cedar and Douglas Fir trees and makes for a great experience all year round. It's also enjoyable for dogs of all sizes so is a great choice if you have a smaller  breed.

There's two beautiful waterfalls for you to enjoy while your pups can join you off-leash and under control.
Time:

1.5 hours

Length: 3km
Dogs Allowed: Off Leash
Located in Burnaby, this is the perfect trail to do with any sized dog all year round, and is a particularly popular choice for smaller dogs. The trail offers a nice, flat, and easy walk that circles the lake and passes by a beach area, a viewing tower, and pier – all offering great scenery. 
Definitely worth checking out in the winter months! 
Time:

1 hour

Length:

5km

Dogs Allowed:

On Leash
This hike is currently worth Triple Points for those taking part in PawSwap's Hikes & Trails Challenge this month. 
It may be a lengthy trail, but with only 195 meters elevation gain and the promise of a cascading waterfall at the end, this one is definitely worth the time – especially as small dogs will love it as much as you do.
Lush green forests and a stunning waterfall surrounded by mossy rocks will keep your pup happy for hours, and there's plenty of water opportunities along the way too.
Time:

5 hours

Length: 14 km
Dogs Allowed: On-Leash
—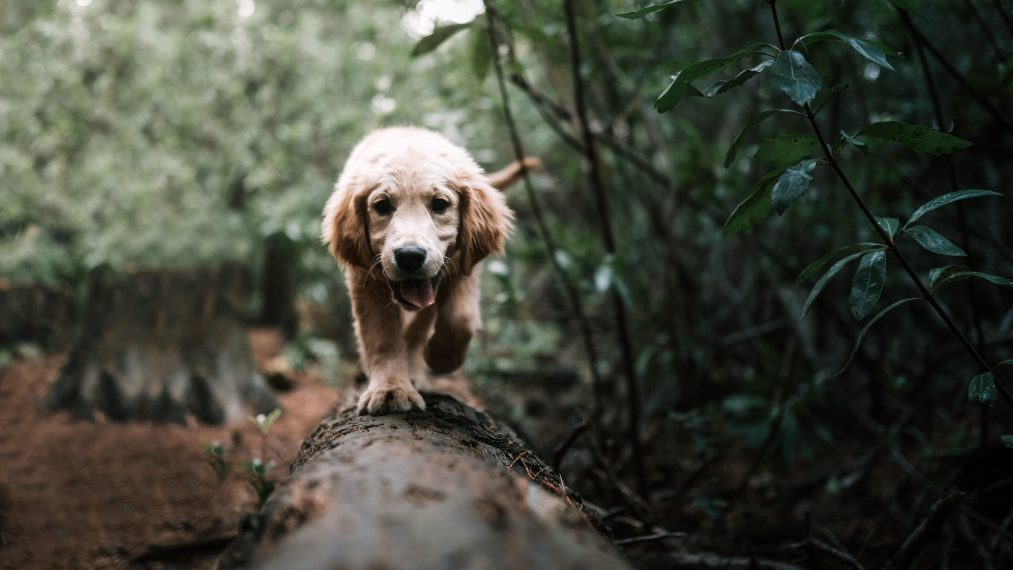 Want to find more dog-friendly hikes near you? PawSwap Premium Members can unlock access to all the hikes and trails in their area, along with dog-friendly details including if they are small dog-friendly, if there are swimming spots, any off-leash areas, and more.
Also be sure to check out PawSwap's Hikes & Trails Challenge, running through January where dog owners have a chance to win a huge prize worth over $1700 for exploring B.C hikes. As always, remember to stay safe, stay close to home, and plan ahead before hiking in snowy conditions.