At a time where so many are stuck at home craving comfort food, bubble tea (BBT) seems to always hit the spot for a sweet and comforting drink. But where can you find a DIY Bubble Tea kit — bubble tea supplies to make your own bubble tea at home — in Vancouver?
Introducing: Bobasaur, a new local small business that sells and delivers DIY Bubble Tea Kits in Vancouver. The Bobasaur team came up with the idea having found no easy and affordable way to grab a bubble tea during the pandemic. Tired of unsatisfied late-night cravings and ridiculous delivery fees, they created a solution: restaurant-quality bubble tea conveniently ready at home in 10 minutes.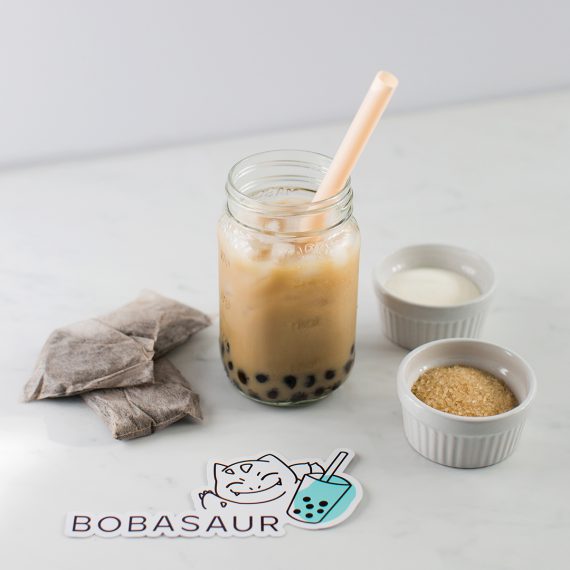 The Bobasaur DIY Bubble Tea Kit comes with everything you need to enjoy at least five servings of bubble tea from the comforts of home in Vancouver: tea bags, frozen pearls, powdered cream, sugar, and even a mason jar with compostable straws. By adding more or less sugar and cream, bubble tea aficionados can enjoy the classic flavour of roasted milk tea with pearls, customized just the way they like. Packaged with a sticker of their cute dinosaur mascot, this kit is perfect for treating yourself and even better for gifting. 
In collaboration with local entrepreneur Wilson K Lee (who has been raising money for charity through his Secret Sauce web series), Bobasaur has pledged all proceeds from the sales of their bubble tea kits between January 19th and February 2nd to Feeding America and Food Banks Canada, to help fight food insecurity in North America. The campaign's overall goal is to feed 10,000 people in need, and they are already more than halfway there with funds raised from Secret Sauce equating to 4,500 meals so far.
For more information or to place a DIY bubble tea kit order, visit: bobasaur.ca. Together we can support local businesses and continue to help fight food insecurity while enjoying a delicious, homemade bubble tea.