After successfully achieving online traction and winning multiple awards for their luxe, green skincare, Vancouver based OKOKO Cosmétiques is moving into a physical shopping experience with the opening of their first-ever retail space in the heart of Gastown.
Located at 162 Powell Street, Atelier OKOKO is the go-to space for all things self-care, offering personalized and holistic consultations from OKOKO'S team of experienced beauty formulators. The 1000 square foot, upscale concept store is home to OKOKO's artisan lab where their ethical wellness products are lovingly made by hand. Think: detoxifying face masks, gentle exfoliators, firming and hydrating serums that garner real results, naturally.
From premium and rare botanical extracts to exquisite oils, the OKOKO range is rich in high-performance ingredients hand selected for their hydrating, brightening, age-defying, anti-pollution, exfoliating and protective skin benefits.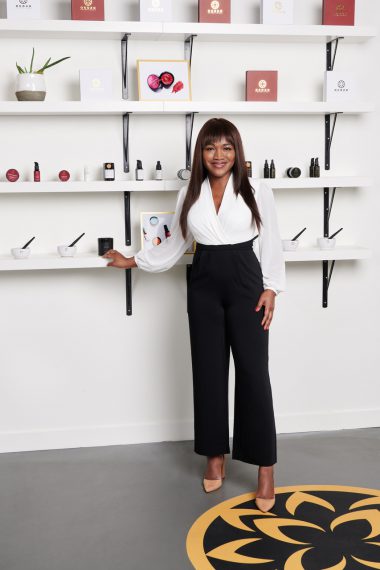 OKOKO Cosmétiques was created by female founder Oyéta Kokoroko who, after moving to Canada from Africa, initially pursued an education in naturopathic medicine in Montreal.
"My vision for the atelier is for it to become a hub for learning and de-stressing, where my team will offer workshops, consultations on wellness topics such as holistic nutrition, creating skincare, DIY beauty, and much more. I think it was critical for us to be a part of the brick-and-mortar business model in addition to our robust e-commerce strategy, but I wanted to add layers to the traditional retail concept." – Oyéta Kokoroko, Founder, OKOKO Cosmétiques.
The newly opened space will not only serve as a retail shop, but also as a place to relax, drink tea, and connect with others who share a love of beauty and wellness.  For more information, visit: okokocosmetiques.com.
Photography credit: Eric Saide