Back in Spring of 2020, I backed my first-ever Kickstarter project: a trio of "Magic Puzzles" by The Magic Puzzle Company, brought to you by the co-founder of Cards Against Humanity, Max Temkin.
Being that 2020 was the year of staying at home, it seemed like the perfect time to invest in something like this. Clearly, I wasn't the only one who felt that way. The project was backed by 62,000 people. In total, over $3.4 million was raised to fund the creation of these puzzles! I am not a puzzler. In fact, I've never sat down to do a full puzzle, much less a 1,000-piece one. But everything about this project, from the name of the company, and the thoughtful details that indicated that this was not your average puzzle, intrigued me.
The Magic Puzzle Company Review
Three puzzles are all original artwork, commissioned by independent artists and designed from the very beginning to be used in a jigsaw puzzle. There were three 1000-piece puzzles in the set:
Magic Puzzle Company "The Mystic Maze" by Boya Sun
Magic Puzzle Company "The Sunny City" by Felicia Chiao
Magic Puzzle Company "The Happy Isles" by Sarah Becan
Each puzzle has so much detail, it feels like you're also playing Where's Waldo as you're hunting for pieces. "Easter Eggs" are hidden within each puzzle, and there's a checklist of things to look for in each puzzle—a cat inside a bubble, a barrel full of fish—as you work towards completing it. Each puzzle is custom cut in a way to maximize the details within each individual piece, highlighting the cool art details, instead of cutting them in half.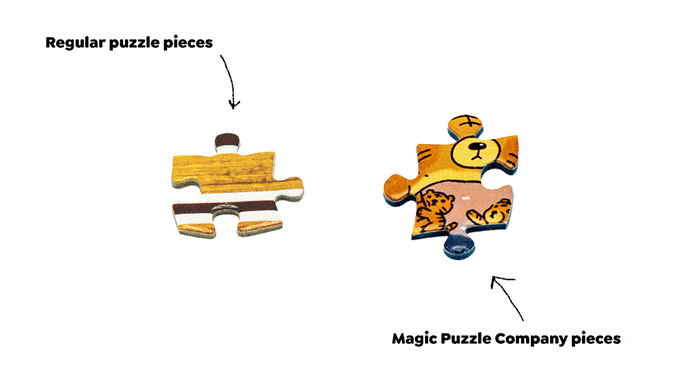 Most intriguing of all, however, is the "magical surprise" ending included in each puzzle. As you can imagine, there were a lot of questions via Kickstarter on what this ending is. I was amused by the cheeky answer The Magic Puzzle Company gave in response to some of the "wild theories" they were receiving.
It's basically an optical illusion and a neat surprise at the end. If you think the puzzle is going to fold itself into a robot and walk about the room you are setting yourself up for disappointment. Please remember it costs $20 and is made of recycled cardboard.
They also clarified that the ending doesn't involve electronics or technology, and it not one of those '3D magic eye' illusions either.
The Mystic Maze puzzle explained: what's the surprise ending? [Spoiler Alert]
The puzzle we opened was The Mystic Maze (we're saving the other two as gifts) and the loose storyline of that puzzle is that the heroine—a girl in a yellow rainjacket—is looking for her lost friend. The puzzle artwork has the girl searching through different rooms and mystical worlds, from outer space to a whimsical forest.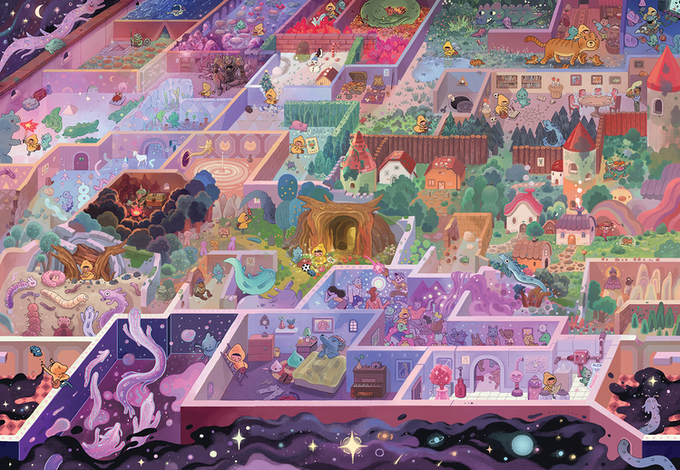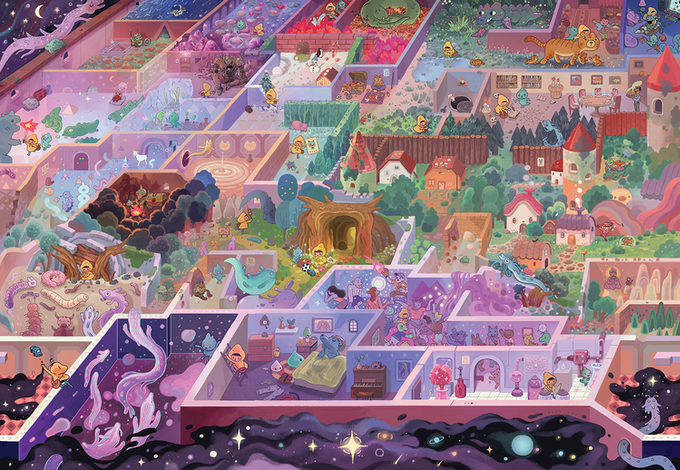 When you're finished the puzzle, there's an envelope with additional puzzle pieces and instructions on what to do next. Basically, the puzzle comes apart in three pieces, and are then rearranged so that a space appears in the middle. Even after rearranging the pieces, the artwork is still continuous! There's probably another 50 puzzle pieces in the envelope, and upon completing the puzzle within the newly-formed space, the heroine is reunited with her friend.
So I wouldn't say it's magical, but it was definitely cool, wholesome, and heartwarming.
Overall, we really enjoyed our first puzzle experience but I'm afraid that we've entered the puzzling world now with high expectations and I'll never be able to do a 'regular' non-magical puzzle again.
Where to Buy Magic Puzzle Company
Initially you could only buy Magic Puzzle Company through Kickstarter, but recently I found it on Amazon Canada. As an Amazon Affiliate, if you buy from clicking the links shared in the post, I may get a small commission from the sale.