Sweet Thea Bakery has popped up on Main x E. 27th Avenue with a holiday shop. Open daily until Sunday, December 27, their brand new store at 4305 Main Street in Vancouver carries a celebrated array of traditional European holiday baking including fruitcake, stollen, plum pudding and lebkuchen. In addition to their baked goods, which are a favourite at farmers' markets and craft fairs throughout BC, Sweet Thea Bakery has also curated a gourmet selection of artisan food products that you'd typically find at holiday markets, like organic organic oils, savoury mustard, award-winning jams, marmalades, and kitchen linens.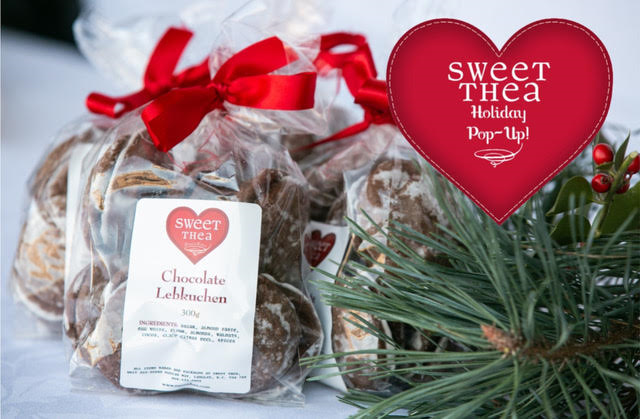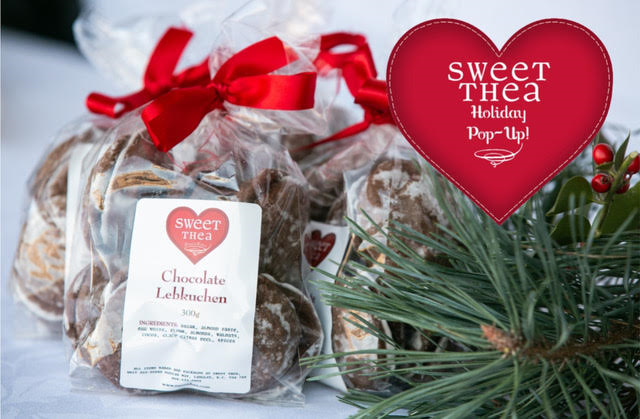 Here's what you can expect to find:
Holiday Baking: Stollen, fruitcake, cookies and more (Sweet Thea Bakery, Langley, BC)
Acclaimed salsas and guacamole (Aji Gourmet Products, Surrey, BC)
Freeze-dried organic garlics (BC Garlic Growers, Aldergrove, BC)
Syrups and cordials (Frostbites Syrup, Squamish, BC)
Freeze-dried raspberries and blueberries (G&D Growers, Chilliwack, BC)-
Infused honeys from the farm (Greendale Herb & Vine, Yarrow, BC)
Award-winning jams and marmalades (Le Meadows Pantry, North Vancouver, BC)
Maple syrups, sugars, and maple products (Maple's Sugar Shack, Squamish, BC)
Hand-pressed organic oils (Ostro Organics, Victoria, BC)
Kitchen fabrics (Rain Goose Textiles, West Vancouver, BC)
Skin and body products (Scentimental Creations, Vancouver, BC)
Hand-crafted chocolates (Take A Fancy Bean to Bar Chocolate, Roberts Creek, BC)
Roasted nuts (The Nut Merchant, Granville Island/Vancouver)
Wild-foraged mushroom products (Untamed Feast, Edmonton, AB)
Organic mustards (WildCraft Organics, 100 Mile House, BC)
The Sweet Thea Holiday Pop-Up is located at 4305 Main Street, (27th& Main) and open daily from 11am to 6pm, except for Fridays, when it's open from 11am to 7pm. For more information, visit: www.SweetTheaPopUp.com.