A new season means another Simply Beautiful Box delivered to my door. If you like surprises, don't read ahead — I'm sharing spoilers on the Simply Beautiful Fall 2020 Subscription Box.
The Fall 2020 delivery contains nine items with a total retail value of $278.49. As always, it's a curated assortment of girly but practical items, with a combination of familiar brands we've seen in previous seasons, as well as new local brands to discover.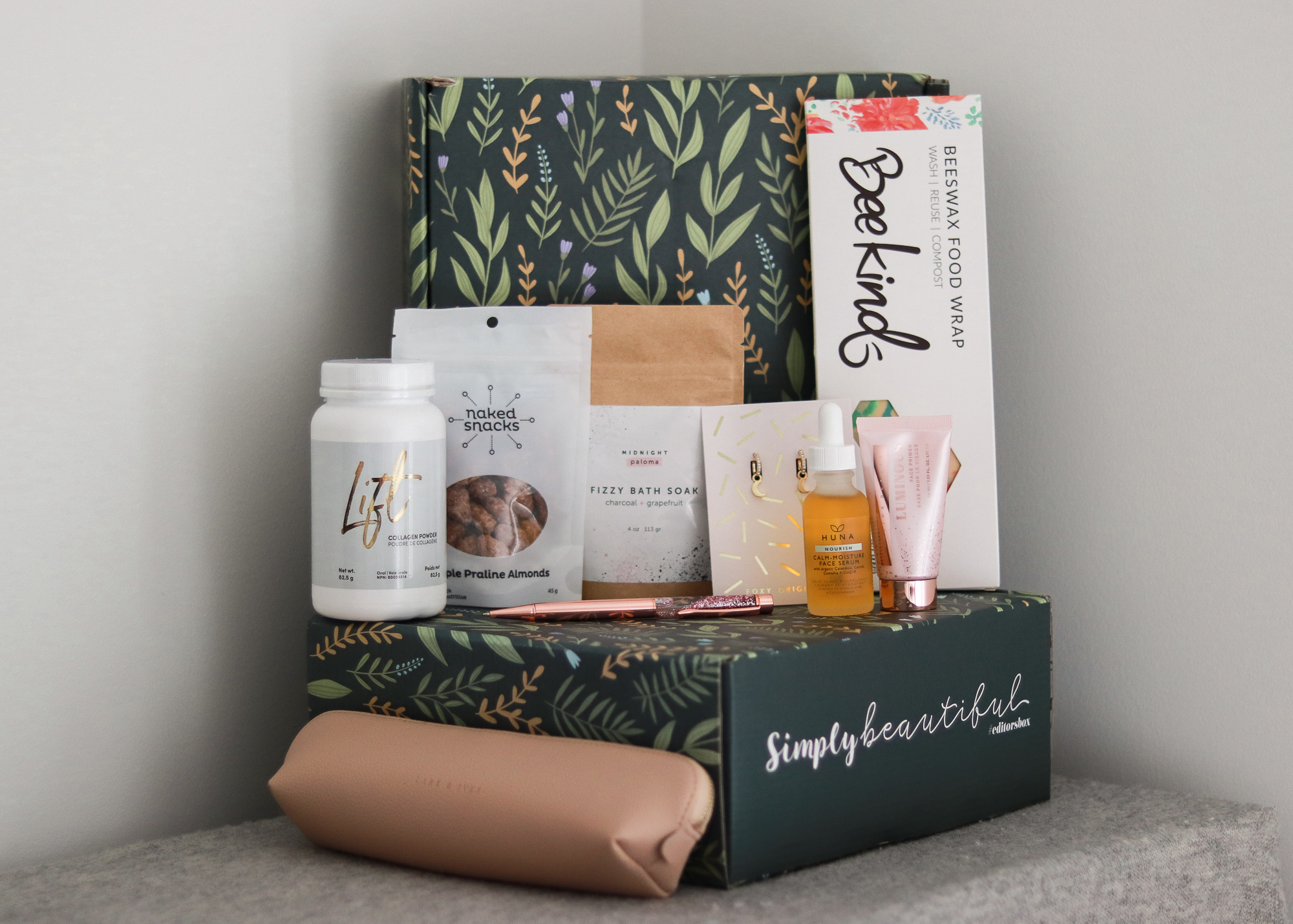 The items inside are a diverse mix of skincare, beauty, home, and accessories:
HUNA Face Serum – formulated to soothe irritated skin and deliver intense moisture.
Foxy Originals Moon Charm Earrings – pave hoops with a dainty crescent moon charm.
Lark & Ives Pencil Case – perfect for back to school or back to work.
Naked Snacks Maple Praline Almonds – a mini pack of a Canadian treat that's the perfect balance of sweet and savory.
Lift Collagen Powder – a supplement that can be added to your morning smoothie to promote healthy collagen production.
Midnight Palmona Bath Soak – a fizzy mix scented with blood orange, vanilla, lime and grapefruit for your next bath.
Evalina Beauty Face Primer – a luminous primer to give your skin a healthy glow.
Blush Peony Pen – a pretty rose gold glitter pen.
Bee Kind Beeswax Wraps – eco-friendly wraps that can be used in place of plastic wrap for storing food in your kitchen.
What were my favourite items? I love items that are both beautiful and practical (which is pretty much everything in the box).
The Beeswax Wraps are something I'll use over and over again. I've often seen these reusable wraps in stores but haven't actually taken the initiative to buy, which is why it's such a nice treat to get it gifted in the Simply Beautiful Box.
I also love the dainty look of the Foxy Original earrings. This brand has been around for ages (since 1998, to be exact), I still remember shopping for Foxy Originals at Blue Ruby while I was in highschool, and I'm happy to see they've managed to stay on trend with modern jewelry after all these years.
Lark & Ives is one of my favourite local brands, for their minimalist designs. I've been using their coin purse keychain wallet ever since I received it in the Summer 2020 Simply Beautiful Box, and now I have a matching pencil case too!
And finally, the Naked Snacks Maple Praline Almonds are delicious, I pretty much finished them as I was opening up the box.
The Simply Beautiful Box begins at $98 and will always contain $200+ worth of products. For more information, visit: simplybeautifulbox.com.