To contain the spread of COVID-19, non-essential businesses in Vancouver have had mandatory closures in an aim to 'flatten the curve'. These closures and shifting circumstances have affected everything from restaurants to fitness studios to creative service-based providers and more; small businesses owners are certainly feeling anxious about the state of their business.
However, with the same tenacity that it takes to get a small business up and running in the first place, it's no surprise that these same entrepreneurs affected are quickly and creatively pivoting to match our new reality. Here are just a few of the many, many, examples I've seen of small businesses in Vancouver making innovative shifts in their business as they do their best to weather the storm.
Feel free to follow and DM me on Instagram at @ModernMixVan if you know of any others!
Canadian restaurants band together with "Breaking Bread" campaign
Breaking Bread was started on March 13, 2020 as an initiative with 23 independent restaurants in Vancouver offering set menus at special price points to encourage patronage at the start of Covid-19 pandemic. But, with escalating health concerns and the ban of dining in at restaurants, the group quickly pivoted to become a Canada-wide directory for people to find out which restaurants and foodservice businesses are now offering delivery, take-out, or pick-up of ready-made meals, along with tips on how to continue to support local during this time. There are now over 150 participating restaurants across 5 provinces.
As another example of quick thinking, I noticed that they switched their website URL from BreakingBreadVan.com to a more-inclusive BreakingBreadNow.com. Thanks to SMC Communications and everyone else involved for getting this up and running so quickly!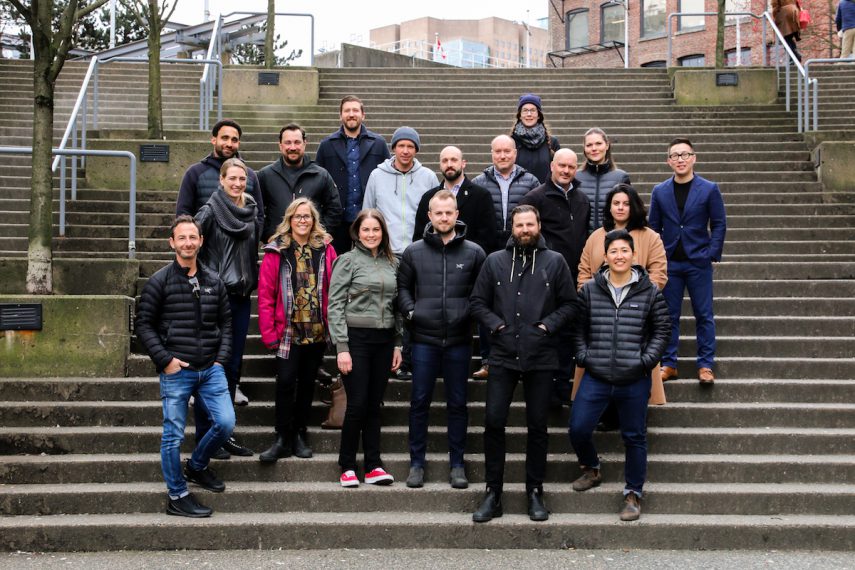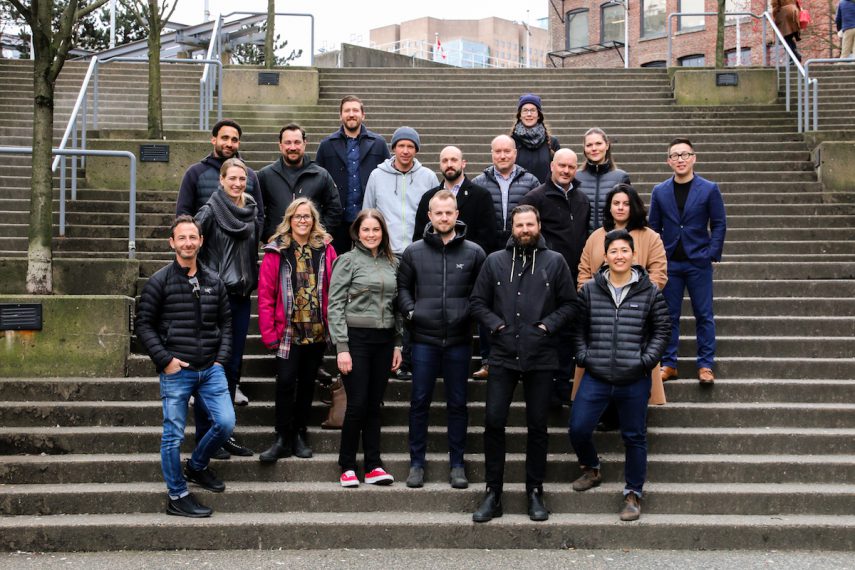 Vancouver brewery and distillery make hand sanitizer
Vancouver brewery Parallel 49 will be adding cans of hand sanitizer to their production line, with the first 4,000 cans being donated to businesses and charities. Meanwhile, according to Scout Magazine, the Vancouver distillery Odd Society Spirits is making hand sanitizer from distilled product. Odd Society's hand sanitizer is 70% ethanol by volume and contains water, aloe vera, glycerin and gin botanicals.
Vancouver booze companies offer delivery services
Temporal, Slow Hand, Faculty, Dickies Ginger (non-alcoholic), and Oddity Kombucha (non-alcoholic) have teamed up to create beervan.ca to be a one-stop shop for craft beer and beverages delivered to Vancouverites, with free delivery on orders over $40.
Meanwhile, the experimental beer company Superflux went from having no website to launching an online store and beer delivery service in partnership with Strathcona Beer Company – all in under 24 hours. How's that for an amazing pivot during these times?! For just $5 per delivery, Vancouverites can order Superflux and Strathcona beer to their home for same-day or next-day delivery with a $35 minimum order. 100% of the delivery fee goes directly to the team at Strathcona who have lost wages due to the effects of COVID-19 on the local economy. Within the first 4.5 hours of going live, nearly $3,000 worth of beer was sold and more than $200 was raised to give back to the staff.
Other booze companies in Vancouver offering delivery include Windfall Cider(offering case and four-pack delivery and pick-up from East Vancouver) and 33 Acres has an online shop for buying beer online.
Vancouver bartender offers cocktail mixes to go
Sabrine Dhaliwal, the Bar Manager at Juke Fried Chicken, is offering pre-batched cocktail mixes for $5 each, including the Blue Margarita, the Passion Fruit Gimlet, and Purple Rain. All take out and delivery orders can be made online at jukefriedchicken.com.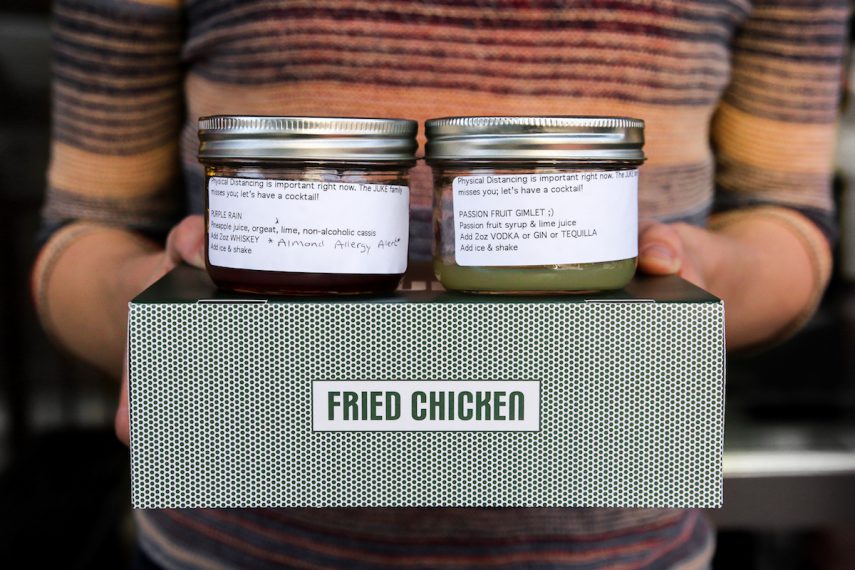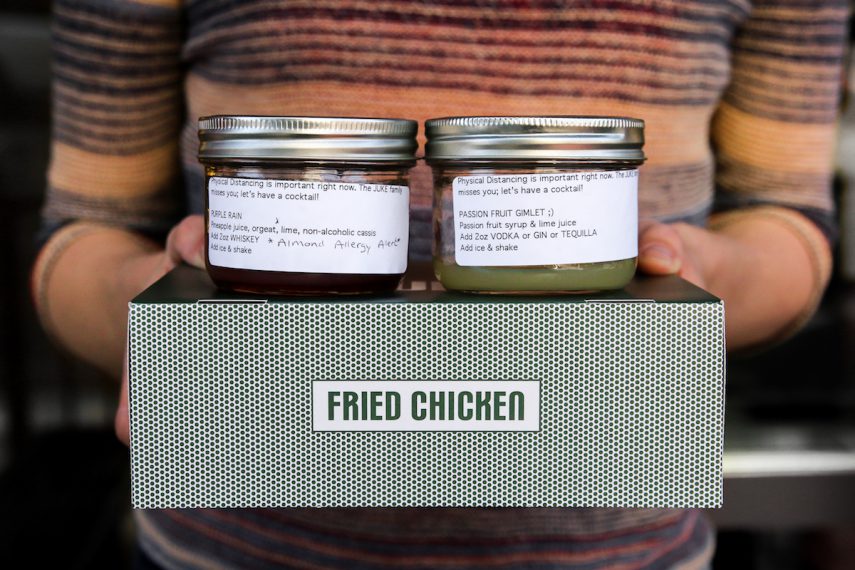 Fitness studios go online with Instagram Live workouts
We may not be able to go to our favourite studios, but Vancouver fitness studios and instructors are offering workout sessions streamed for free via Instagram Live. I posted on my Instagram asking how people can find, and these are some of the accounts people commented with: @HustleUpCa, @Lululemon, @ridecycleclub, @tightclub, @the.werk, @formationstudio_, @wearejaybird. Instructors to follow who are teaching some of these classes include: @BodyByKong, @JuChut, and @lucy.ulmer.
Stay tuned to these accounts on Instagram, and get notified when they host their next live workouts. The live streams are free, but some are accepting donations to go towards their instructors who are out of work. See the comments section of my Instagram post to get more ideas:
For paid content, YYoga launched their home-yoga subscription last year, I wouldn't be surprised if sign-ups increased during this time as Vancourites look for way to stay fit, well, and healthy during these unprecedented times. Similarly, Barre Fitness just announced a livestream subscription package.
Closed fitness studios offer equipment rentals
Independent spin studio Eastwood Cycle was loaning out their stationary bikes for home use. All bikes were accounted for shortly after they posted about it. Maybe other spin studios in Vancouver will follow suit and consider doing the same?
Home cycling enthusiasts, you can also look into Peloton! They are still in operation and offering deliveries.
Practice wellness with free online workshops
Vancouver's Saje Wellness is offering a series of online workshops, including Facebook Live meditations, cooking demonstrations (see an example of a cumin black bean dip here), and an essential oil seminar. Although their retail stores are closed for the time being, you can connect by phone with a Saje Wellness Expert to learn more about Saje products or get help while shopping online.
Vancouver wedding planners offer elopement packages
The Vancouver wedding industry has been greatly affected by COVID-19. With brides having their weddings postponed or canceled due to the ban on social gatherings over 50 people, Vancouver wedding planners Say Events quickly pivoted to offer small elopement packages providing all the basics including an arch, officiant, and flowers. In their words: "Elope now and party later!"
Hair and makeup artist offers online lessons
Meanwhile, Vancouver hair and makeup artist Faye Smith (who will be doing my bridal make up and hair this August, if things get better) began offering 1-on-1 virtual makeup and hair lessons, customized for each participant's skin type, face shape, and personalized preferences. Lessons are available through FaceTime, WhatsApp or Skype, which includes a free makeup product shipped to your home.
Vancouver calligrapher offers free printable hand lettered quotes
In a light to shine more positivity in our community, Vancouver calligrapher Lele Chan is offering free printable hand–lettered quotes. All you have to do is DM her on Instagram with your request, and she'll email you within a week with a printable file, formatted to be printed on an 8.5×11 piece of paper.

I just messaged her with my quote request: "Don't risk spending your life not doing what you want on the bet that you can buy yourself the freedom to do it later." Which came from my blog post: 10 Inspiring Lessons Learned from a Year of Travelling the World.

Gift Card Offers
If you can't patron your favourite Vancouver business right now, consider purchasing a giftcard for future use. Water Street Café, for example, is offering a bonus $15 gift certificate for every $50 purchased; the gift certificates will be mailed directly to you. Meanwhile, YYoga is offering a discounted 5-class pass fundraiser (for $65) which you can activate when they re-open their doors. 100% of proceeds will go towards to their teachers and team. Spin Society is also doing a push for gift card sales. There's no discount, but 100% of proceeds thoughtfully go towards supporting their instructors.
====
For the most up to date information, please visit the websites and social media channels of the businesses mentioned. Stay well, stay safe, and stay strong, Vancouver!