One of the joys of running my Vancouver lifestyle blog is that I get to experience the continual evolvement of businesses in Vancouver. I first came across Amoda in 2013, when this local small business contacted me to review their tea subscription box. Since then, I've seen them evolve with new developments, launch new products, and be a regular presence at local markets and events.
Amoda's latest focus is on their superfood latte line, a high-quality instant beverage mix that takes crowd pleasing flavours—like matcha, chai, and turmeric—and boosts them with "adaptogens," natural herbs and roots known to balance your mind, body, and mood. All you have to do is blend one sachet with hot water, milk, or any dairy-free alternative, and you have a cozy and delicious drink to go.
Here are the three flavours that the brand gifted me to try:
Amoda Matcha Glow – an energizing latte mix with a creamy coconut base paired with Tremella mushroom and Tocos (a natural form of Vitamin E). The antioxidant-rich matcha is sourced directly from the producer in Uji, Japan, the birthplace of Matcha.
Amoda Brainiac Chai – a spice-filled caffeine-free blend that boosts concentration and mental clarity with Lion's Mane mushroom and Rhodiola,
Amoda Golden Hour – a turmeric-centric mix that helps with de-stressing with the calming properties of Reishi mushroom and Ashwagandha.
What I love about this specific combination of flavours is that I can drink them morning, noon, and night.
"Every ingredient in our superfood lattes serves a purpose in complementing a healthy lifestyle. Taste, quality, and convenience come together to help you get your glow on, any time of day without hassle."

Tegan Woo, founder, Amoda.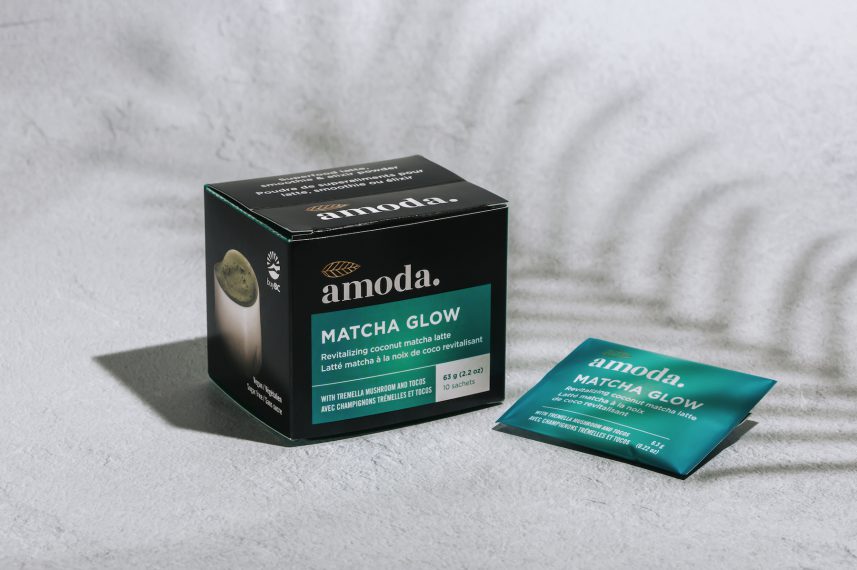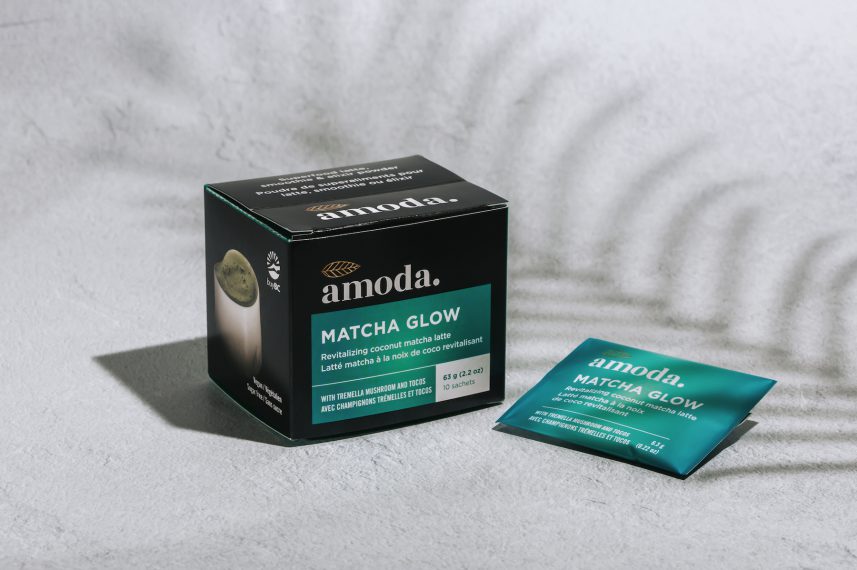 Matcha Glow in the morning gets my day going. I can actually feel a steady energy after drinking this, but it doesn't put me on edge like coffee sometimes does.

True to its "Chai" flavour profile, Brainiac Chai has a spicy cardamom and ginger herbal taste. I usually get a craving for sweets in the afternoon, and even though there's no added sugar in any of Amoda's latte mixes, this drink reminds me enough of a gingerbread cookie to curb my cravings. But this isn't just any chai latte, one of the most unique ingredients in Brainiac Chai is Lion's Mane, a mushroom extract that is known to increase focus, memory, and reasoning. The perfect drink for an afternoon workday.

Finally, Golden Hour makes a nice 'after dinner' drink. Turmeric on its own already has natural inflammatory properties. But the ashwagandha (what a funny looking word!) is a natural ingredient that makes you feel calm and sleepy.

All three superfood latte mixes have added various mushroom extracts to give it an extra health boost. I can taste a very subtle slightly savoury edge to all of these latte beverages, although without someone telling me, I would never have guessed for it to be mushroom.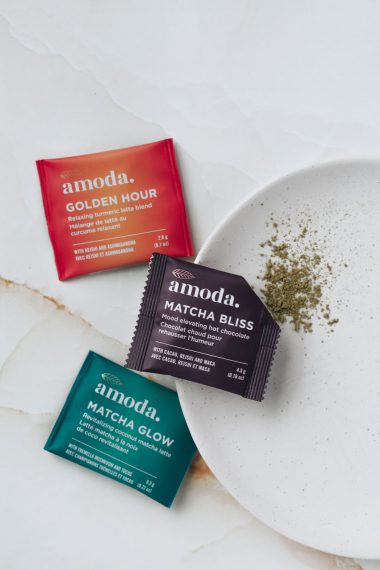 There are six flavours in the full collection of Amoda superfood lattes. Like the rest of its tea-inspired wellness products, they do not contain any fillers, artificial flavours, or sugar, and are vegan-friendly. A 10-sachet box of Amoda superfood lattes retails for $20.00 at amodatea.com.