If you've had Korean food, you'll know the famous fermented side dish of kimchi, a sour vegetable accompaniment to BBQ platters, rice dishes, noodles, soups — anything really!
Salty Cabbage is a Vancouver-based modern kimchi brand which is now available in retail, online and at select restaurants. Made by hand using the freshest ingredients, Salty Cabbage offers vegan and vegetarian-friendly options, all of which are gluten-free and made without preservatives. Along with adding an umami kick to almost any dish, kimchi is full of probiotics, fibre and vitamins to help boost gut health and build a stronger immune system.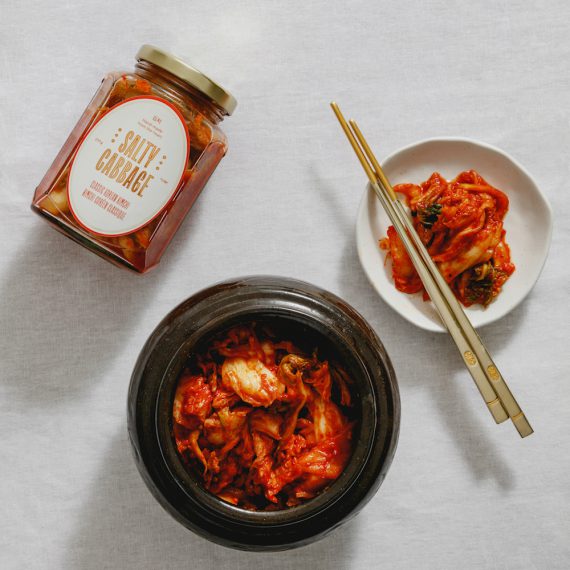 The Salty Cabbage story starts on Denman St. where founder Kailyn Chun worked at Ma Dang Goul Korean restaurant, where she spent her days making kimchi which slowly built a fan base who would drive from across the Lower Mainland to buy kimchi to take home with them. The idea of turning this into a business grew and she worked with Glasfurd & Walker — the branding agency with a client roster that includes Beta 5, Small Victory Cafe, and Savio Volpe — to create a brand and packaging which would tell the story of Salty Cabbage and differentiate it from the factory-made products which dotted the shelves of supermarkets around the city.
Salty Cabbage currently offers four different kimchi options: Classic, Classic Vegan, Radish, and White, each made using homestyle Korean techniques and recipes.
Salty Cabbage kimchi is featured on the menus at Vancouver restaurants like Sing Sing Beer Bar, Blackbird Public House, and Rice Burger and is currently available at select retailers including Meinhardt Fine Foods and West Wood Organic. It can be ordered online through saltycabbage.com and Uber Eats, and Salty Cabbage will also be sold at the Hastings Park Farmers Market this Winter.