I just found my new favourite dog-friendly summer hike experience: Pitt Lake to Widgeon Falls. This canoe and hike combo takes you from Pitt Lake in Pitt Meadows to Widgeon Falls, a glacial waterfall that's only accessible to the public by water.   
Pitt Lake is about a 45 minute drive from Vancouver. We arrived to the canoe rental hut at Pitt Lake Boat Launch just after 9am.  The price for a canoe rental from Pitt Lake Canoe Adventures is $80 (plus a $50 deposit) and cash only.  The canoes we rented could fit a maximum of three people.  If you forget to bring cash (like we did) you have to drive 10 minutes to Swan-e-Set Golf Club for the closest ATM. Our friends had enough cash for their canoe, so the canoe rental people were nice enough to hold two canoes for us while my boyfriend Steve drove to the ATM.   Had we arrived any later, the limited canoe rentals would have been sold out!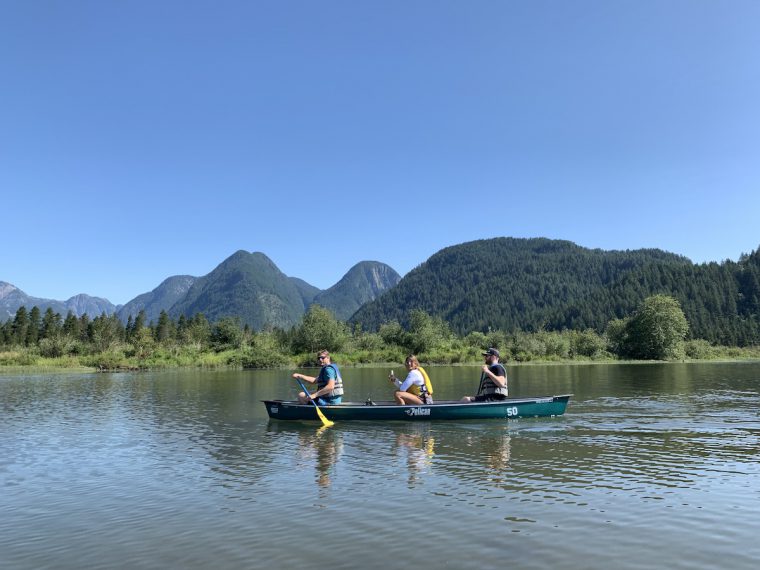 The business-minded side of me thinks Pitt Lake Canoe Adventures should expand their canoe-rental service, but, my friend pointed out that the rental capacity allows the hike only to be accessed by limited by people. Worst case scenario, if you don't arrive in time for a canoe, you can easily spend the morning hanging out at Pitt Lake until a canoe rental returns.  
We rented two canoes; myself, my boyfriend, and my dog Teddy Bear in one canoe, and our three friends in the other. The paddle to the Widgeon Falls trailhead was a smooth and leisurely paddle.  We were going at a slow and leisurely pace, and even pulled over at a sandbar to have some morning snacks. Teddy Bear is usually very nervous about car rides and other modes of transportation, but because the canoe ride was so smooth, he didn't seem to mind it.  

It took us about an hour and a half to paddle to the Widgeon Falls trail head.  We knew we had arrived because we saw a bunch of canoes parked on the beach. If you are doing an overnight camping trip, this is also where you would set up your tent.
The hike to Widgeon Falls is 3km each way with minimal elevation gain. If you can do Quarry Rock in Deep Cove, you'll find this hike even easier!

We arrived at the falls around 1pm. There are a lot of smooth, flat boulders where you can hang out by the water and eat your lunch. The green-blue glacial water was really cold but refreshing for swimming, or just dipping your feet in. Knowing that we would arrive around lunch timew, we had a cooler full of picnic items with us. So we set up our lunch on a big, flat boulder by the water and had our picnic feast there. Taking our time, We hung out for nearly two hours at the falls, and left around 3pm.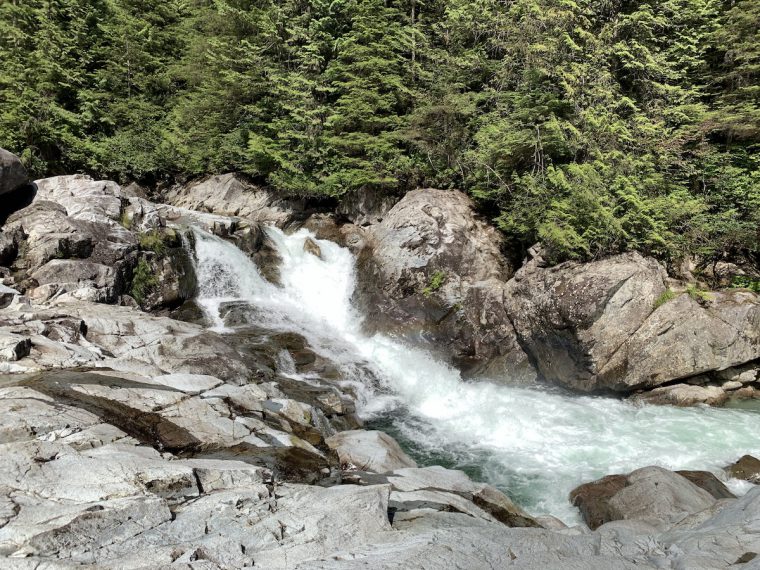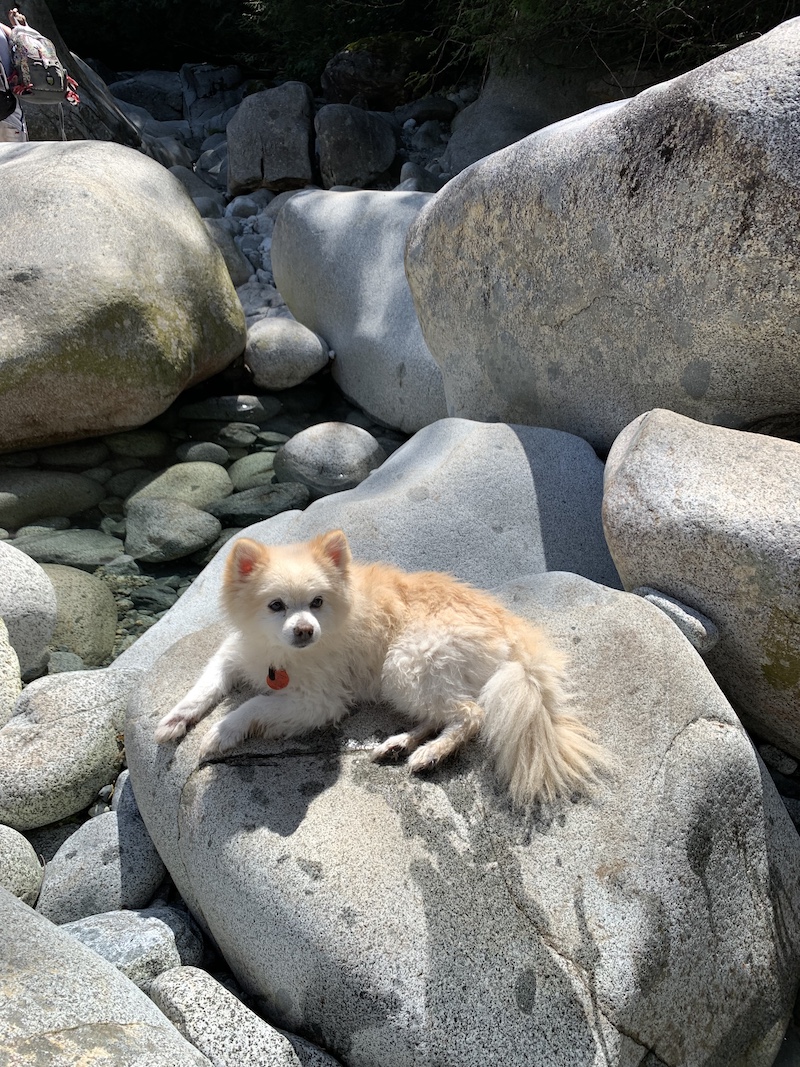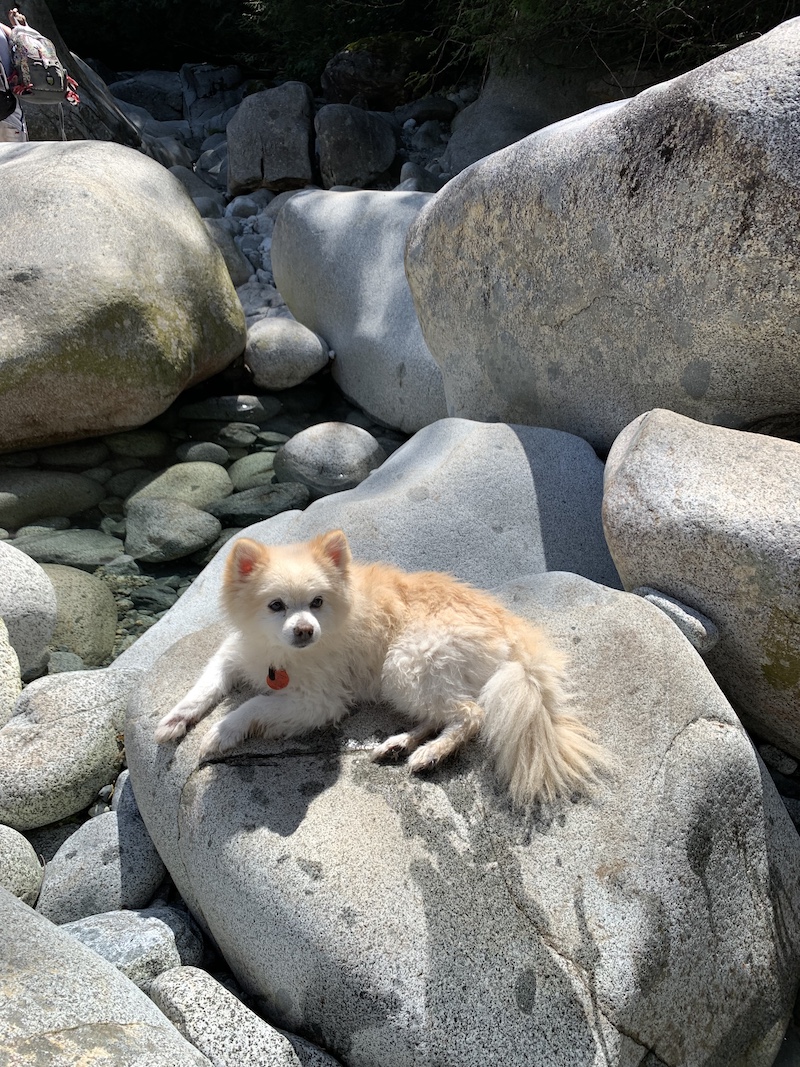 We left Widgeon Falls at around 3pm, packed up our canoes, and arrived back at Pitt Lake at around 5:30pm.
Our day ended with a BBQ at Pitt Lake. Knowing that we were planning to have a BBQ dinner at Pitt Lake, we had left all our BBQ equipment and a cooler full of food in our vehicles.
This was such a fun summer daytrip! Instead of just a hike, we turned this into a full-day experience with swimming, picnics, hiking, and canoeing. I loved the variety the Pitt Lake to Widgeon Falls experience had to offer, and the pet-friendly aspect was the cherry on top of an already-fun day.
Best Tips for the Pitt Lake to Widgeon Falls Daytrip Experience
If you're renting a canoe, aim to arrive at Pitt Lake Canoe Rentals before 9am.
Bring cash. It's $80/canoe plus a $50 deposit.
Don't tie your dog's leash to the canoe while you're paddling. In the unlikely case that you flip, you don't want your dog attached to the canoe.
When you park your canoe at the Widgeon Falls trailhead, don't leave any valuables in your canoe.
Also, don't leave food in your canoe. It may attract wildlife.
Bears have been spotted, keep your dog on a leash at all times while hiking.
Wear flipflops for the canoe ride, but don't forget to pack runners for the hiking portion of the trip.
Pack snacks for your canoe ride and a lunch for Widgeon Falls.
Bring beer. Everyone was drinking in their canoes, at the falls, at the campsite, etc.
If you want to BBQ back at Pitt Lake for dinner, bring your own BBQ stove and other equipment. Keep your dinner food in a cooler in your car, you can get it after your return to Pitt Lake.