Outdoor movies at Stanley Park's Second Beach is back for its eleventh summer! Beginning on July 2, 2019 and continuing every Tuesday until August 20, Evo Car Share and Fresh Air Cinema will be hosting eight free evenings of movies on a giant, four-storey inflatable movie screen.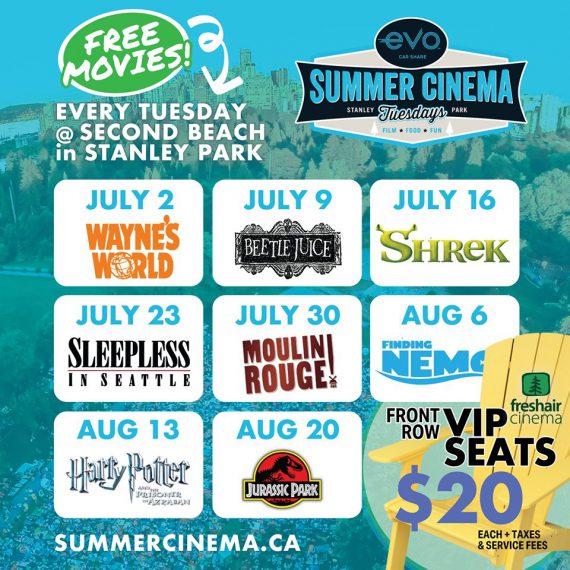 The 2019 Evo Summer Cinema Series movies are as follows:
"Wayne's World" (1992) – Tuesday, July 2
"Beetlejuice"(1988) – Tuesday, July 9
"Shrek"(2001) – Tuesday, July 16
"Sleepless in Seattle" (1993) – Tuesday, July 23
"Moulin Rouge"(2001) – Tuesday, July 30
"Finding Nemo"(2003) – Tuesday, August 6
"Harry Potter and the Prisoner of Azkaban" (2004) – Tuesday, August 13
"Jurassic Park"(1993) – Tuesday, August 20
Movies begin at sundown each night, but there are fun and festivities beginning at 5:00pm and continuing right on through until the show begins.  Arrive early and bring a blanket or lawn chair for the best seating. If you want to reserve a seat in advance, there is a 200-person reserved seating area, the tentree Canopy, where guests can reserve a front-row chair for $20 and enjoy a guaranteed seat at any movie night.  
Feeling snacky? Five Vancouver food trucks will be on site each night, including Triple O's, Lil' Fellas Mini Donuts, Big Red's Poutine, Bandida's Taqueria, and Meet 2 Eat. You can also order from nearby restaurants with the foodora app and have your meal delivered directly to the foodora tent, located right by the screen, in Stanley Park.  
For more information about this year's Summer Cinema at Stanley Park, visit summercinema.ca.