Always on the hunt for new things to learn and local experiences to blog about, we took our families to a Vancouver chocolate tasting class at artisan chocolate boutique Koko Monk.

Hosted by Koko Monk owner and chocolate maker Paul Dincer, the private "raw chocolate tasting and decoding class" took place after store hours at Koko Monk's new second location at 2883 W. Broadway in Kitsilano.
There were six of us at the class (that's the minimum number required to run the private event): my boyfriend and I, our moms, his little sister, and my aunt. Over delicious mugs of Venezuelan dark hot chocolate flavoured with orange zest and a generous squirt of whipped cream, the session began with a colourful storytelling history about the origins of chocolate, starring the raw ingredient of cacao.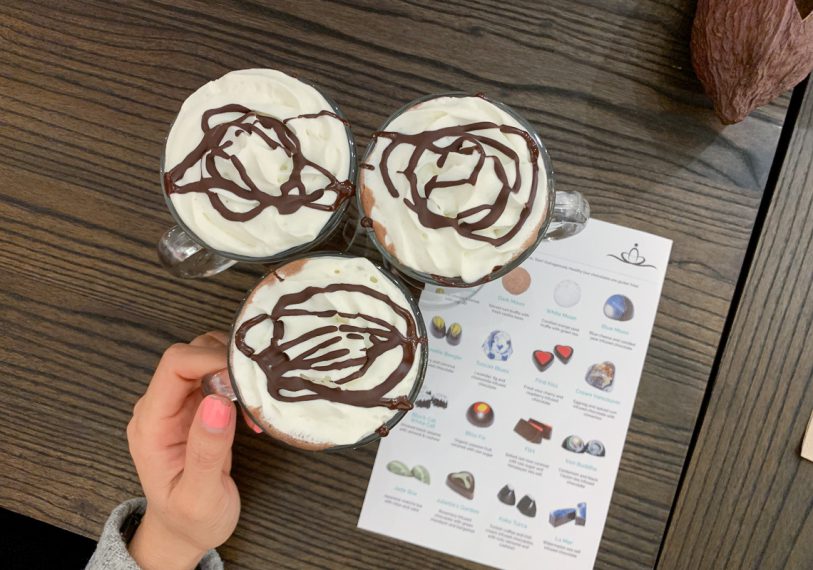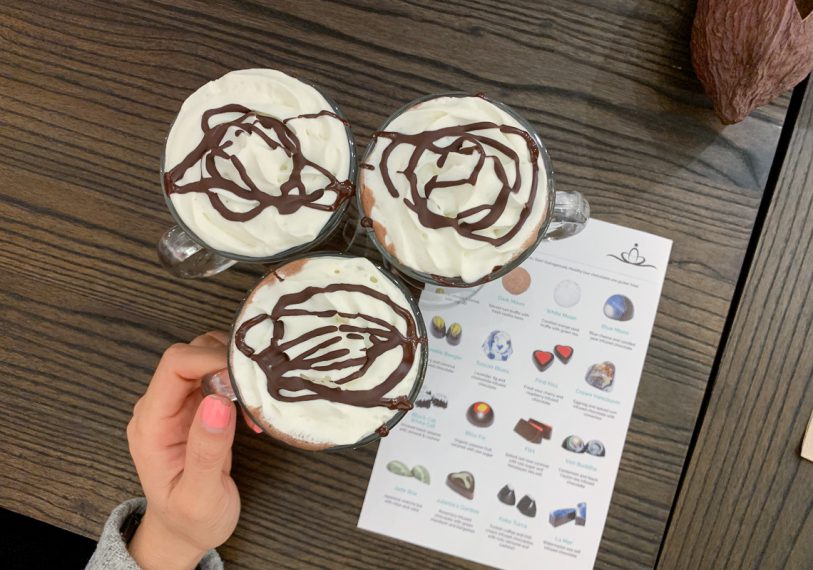 Chocolate is made from cacao, a tree that produces large pods. Compared to other fruits which naturally drop off from their tree, a cacao pod can only be cut from the tree….usually with a machete, a common tool used in Central and South America. According to Paul, because of the cacao pod's strength and durability, there was a mythical, God-like presence about the tree and its fruits. The tribes of Central and South America found the beans within the pods to be extremely uplifting and energizing. Thus, they used this natural superfood to fuel themselves before battles and other strenuous activities.

Our tasting began by sampling cacao from different regions, then continued on with trying out different percentages of dark chocolate. We were educated on the health benefits of raw chocolate and the "mouth feel" of chocolate that was alive, rather than the overly processed, "dead" chocolates we commonly find in the candy aisles of the grocery stores.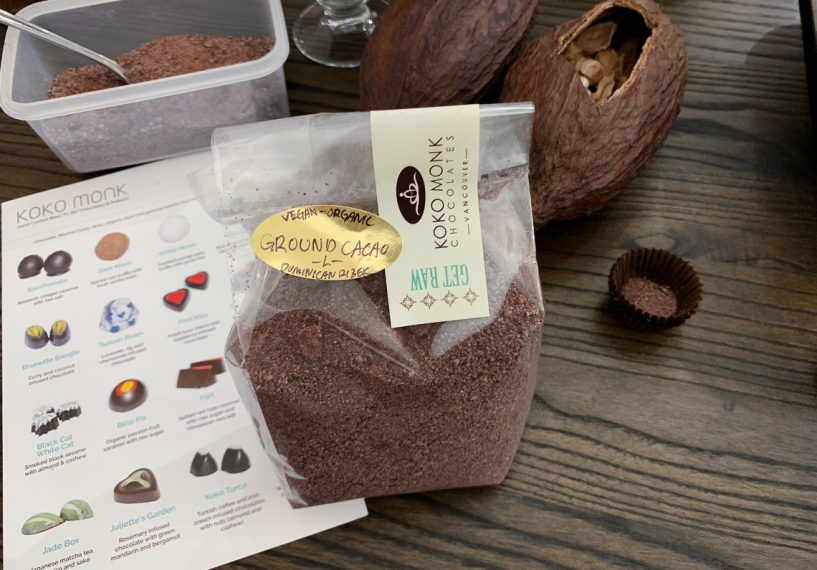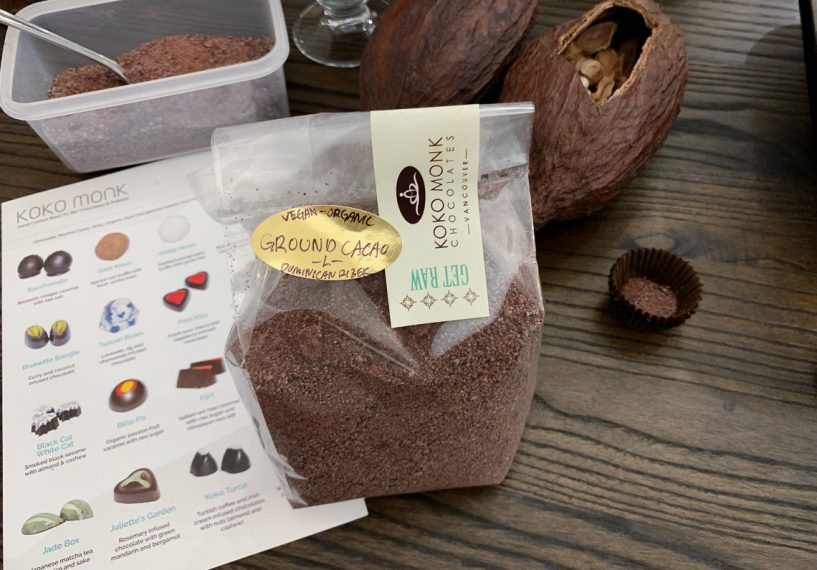 Part food science, part storytelling, and part tasting, the chocolate class cumulated in the sampling of the innovative fillings within Koko Monk's praline chocolates. The most interesting flavour we tried? Blue cheese and candied pear!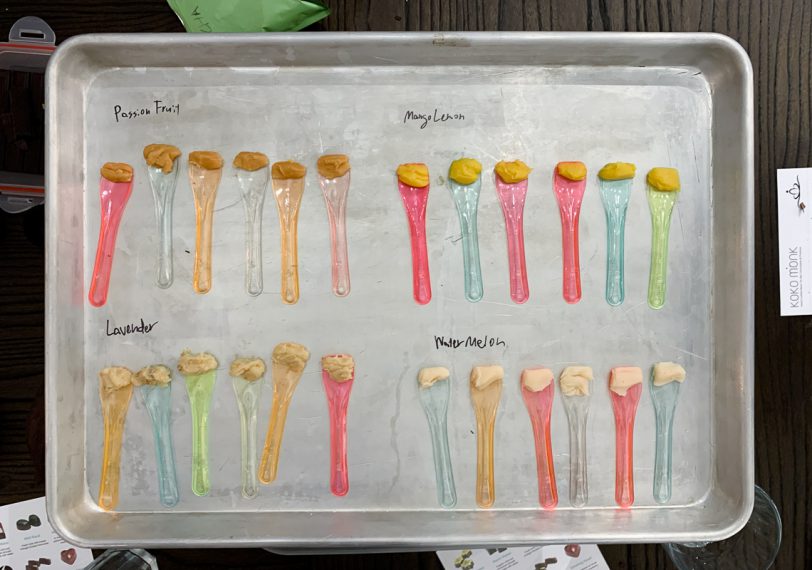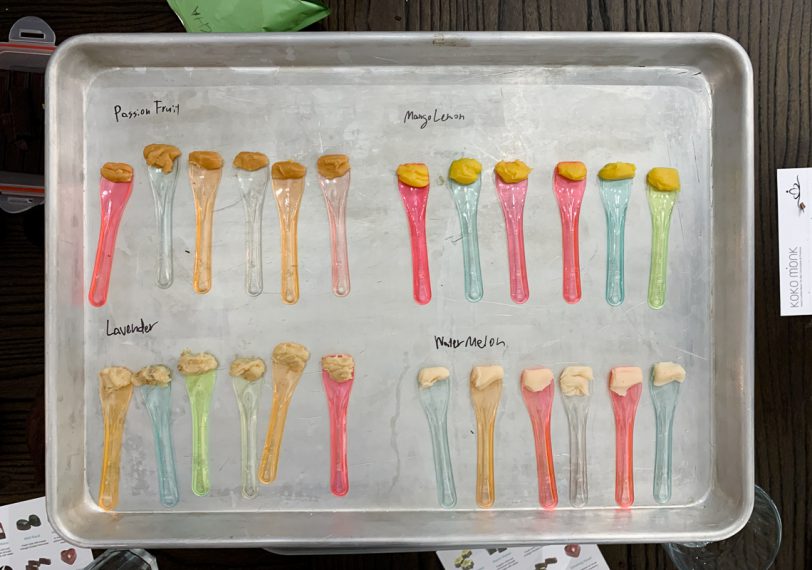 Our families loved the chocolate tasting class. If it's any indication of how much we enjoyed the class, we purchased nearly $200 worth of chocolate products to take home with us. Our most popular purchases included ground cacao (which can be sprinkled over everything from yogurt, to ice cream, to salad) and bars of raw chocolate.
Taking this class made me appreciate chocolate in its natural cacao state, and differentiate processed chocolate as an unhealthy confectionary treat, versus a natural superfood.
The raw chocolate tasting and decoding class at Koko Monk costs $35 per person (minimum 6 participants to run a class) and also includes a 10% discount at their chocolate boutique after the class. For more information, visit: kokomonk.com.