There's been a Groupon for a sourdough making class in Vancouver that's been making its rounds. The sourdough bread workshop is taught by a man named Nik, the founder of Palmer and Sons. The sourdough making class takes place in a Yaletown loft on Beatty Street — on the same block as Central City Brewing, The Bar Method, and Rocanini Coffee.
My friend did the sourdough making class a couple of months ago, and she's been making her own bread ever since. Then, the other day, (while I was sitting at Rocanini Coffee) I ran into an acquaintance who was grabbing a drink on her way to a pasta making class also by Palmer and Sons. That's when I knew this was a buzzworthy class to check out, so I bought the Groupon and signed Steve and I up for the sourdough bread making class. It was $100 for two people, but after a sale Groupon was running, it was only $75.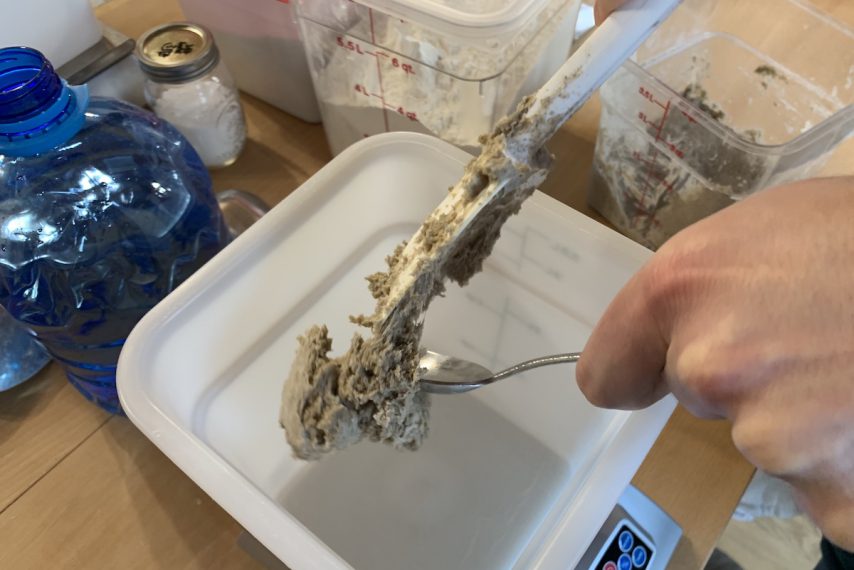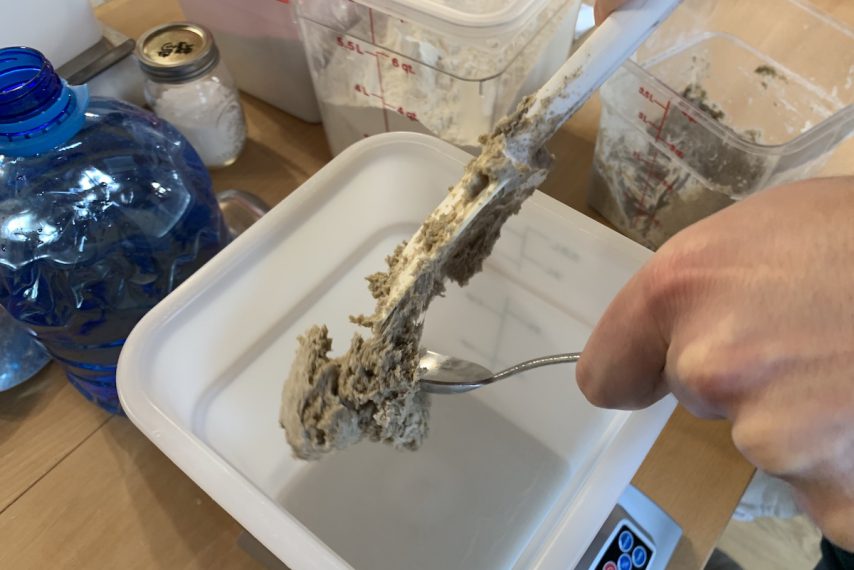 Steve got really into sourdough after watching the documentary "Cooked" on Netflix, which explores our connection to our food through the lens of Fire, Water, Air, and Earth. Episode 3, Air, is the one about bread. I also recently read Anthony Bourdain's Kitchen Confidential, where he shares a hilarious narrative about feeding sourdough starter. So, before we went for the Palmer and Sons sourdough class, we were already primed for an appreciation of fresh made bread.
The class takes place in an studio loft apartment with not much more than a big table and a chalkboard. Our bread making "stations" were set up around the table — each couple had a plastic container and a kitchen scale. Breadmaking is very much a science. Ingredients have to be precisely weighed to achieve optimal results. Apparently, even the outside temperature in Vancouver and the rainfall and humidity on a particular day, could affect your sourdough. Our class instructor Nik Palmer has had his sourdough starter for 16 years, and it's from that starter that we made our sourdough bread.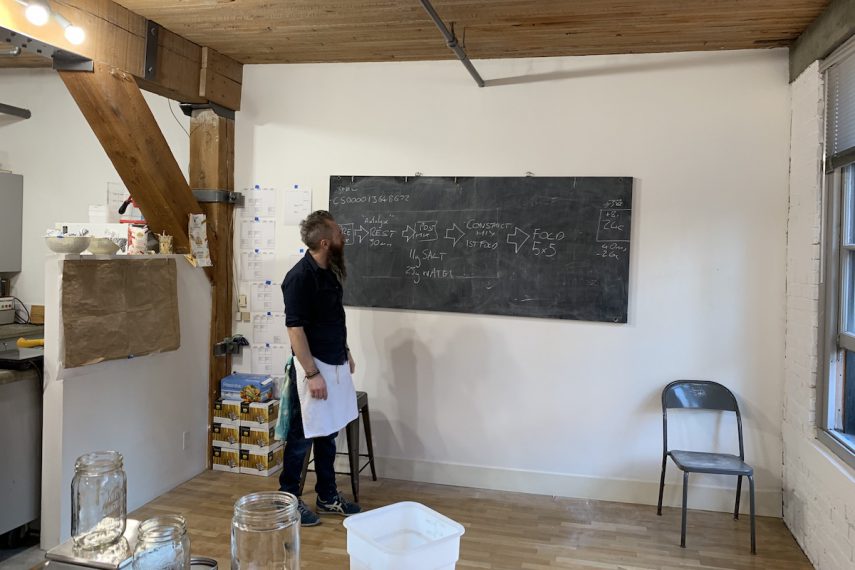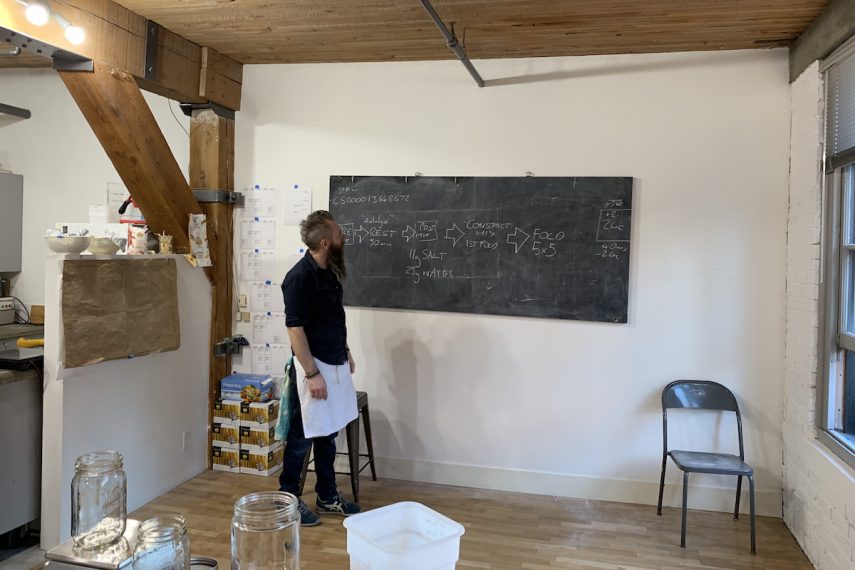 Nik is originally from Yorkshire in the UK; he came from a family with seven chefs. He moved to Canada to find work as a programmer (he used to work for Nintendo) but, not preferring the 9-to-5 office lifestyle, branched out into the exploration of many hobbies under his Palmer and Sons umbrella, all with the common theme of being hand-crafted and artisanal — like pasta making, bread making, and leatherwork.
Sourdough bread making is typically an 8-hour process, but Nik has condensed the process into a three-hour class. Here's a rough outline of what the class covers:
Hour 1: Understand what makes a sourdough, the levain culture, storing, refreshing, and using your culture.
Hour 2: Working through the various stages of weighing the ingredients, mixing your dough by hand, and fermentation.
Hour 3: Shaping loaves, and baking the bread using dutch ovens.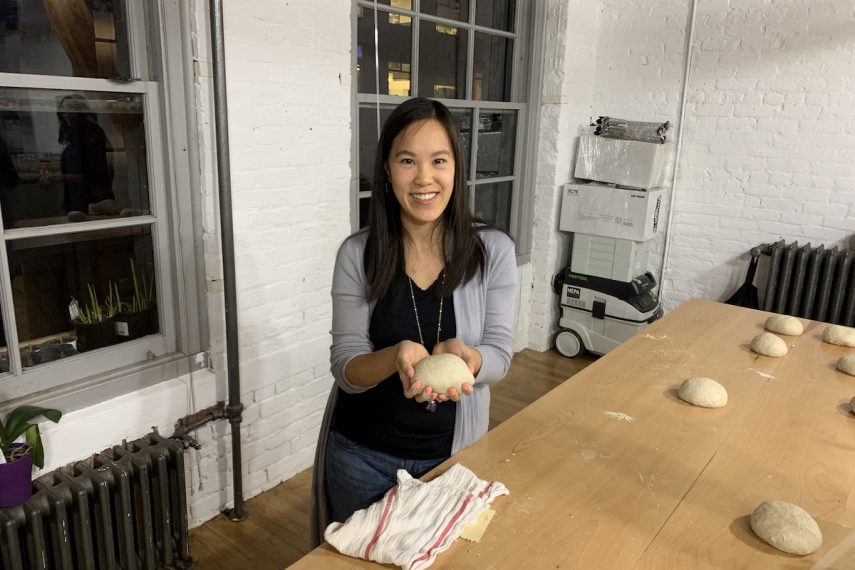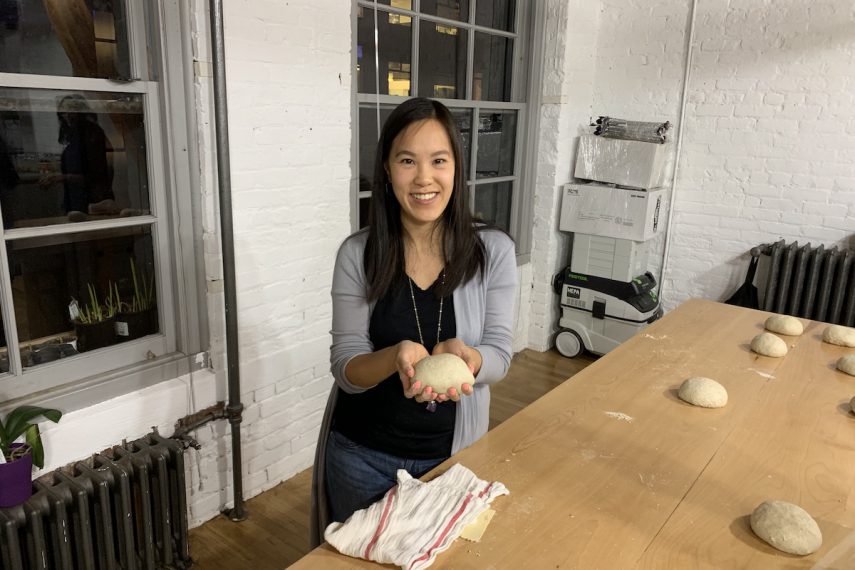 What I loved about the class was that there was a scientific reason behind every choice made in the bread making process — from the temperature of your ingredients (ie. always use room temperature water), to letting your dough rest, to checking the "elasticity" of your dough, to leaving a lid on your bread while baking (to keep in moisture). There was nothing Nik didn't know about sourdough, and what we were taught was his optimal recipe and bread making process, founded through years of experience and trial and error.
At the end of the three hour class, our dough gets to the point where it's ready to be baked. We don't actually bake our bread in class. We wrap up the dough in saran wrap, and are given instructions on how to bake it back home…which we did the next morning.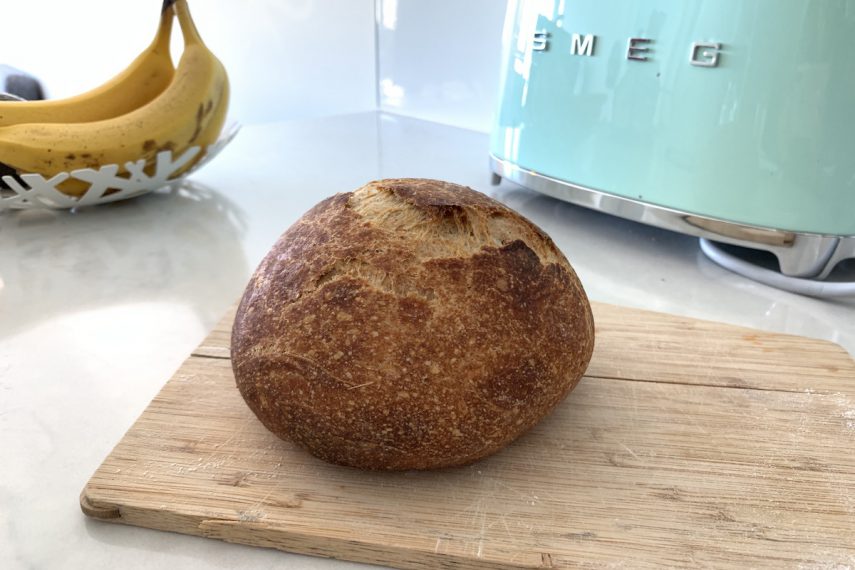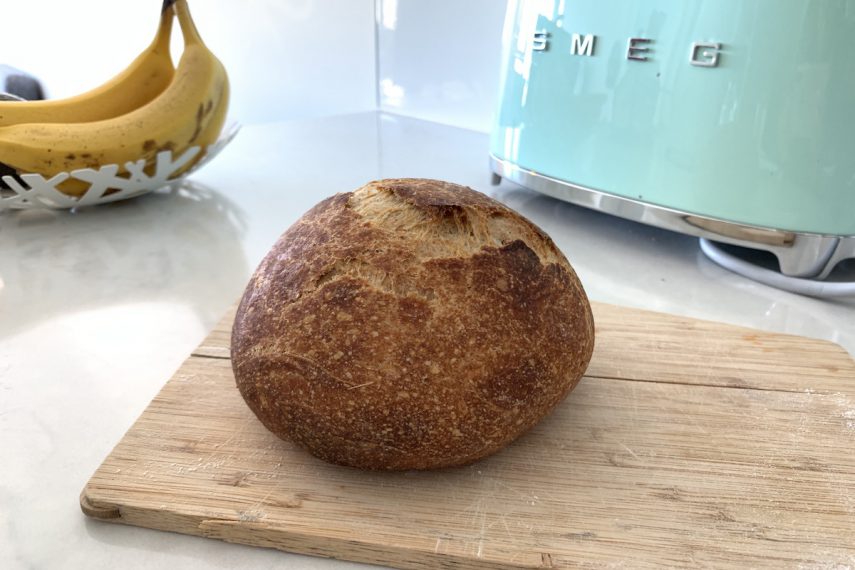 Would I ever make this bread on my own? Hard to say. It's a long process that requires a lot of precision and easy to mess up. We would also need to buy a food scale, which we currently don't have.
My friend, who now makes sourdough on a regular basis after taking this class, remarks that the class gives you a good background of the science of bread making, which helps you understand what you are doing. But on her own at home, she found that she initially went through a lot of troubleshooting, because of temperature or environmental changes. She says she watched a lot of YouTube videos after the class, and that each loaf continues to be an experiment for her.

If you have an interest in bread making, and especially if you have an appreciation for the science behind this craft, I highly recommend taking the Palmer and Sons sourdough bread making class. It's a great activity to do with a friend, the downtown Vancouver location is really convenient, and the price (with the Groupon) is extremely reasonable. There is an unmatchable pride in knowing that you've made something to eat from nothing more than flour, water, and salt. We are thinking of returning for his pasta making class too, which Nik promises to be more fun and less scientific.

Lastly, if you're looking for somewhere in Vancouver for great sourdough bread, Nik recommends Matchstick (Chinatown), Nelson the Seagull (Gastown), and Small Victory Cafe (Yaletown).