Now that I've read and watched Marie Kondo, I have a sudden urge to start the new season fresh with a big closet declutter. Where can I sell or consign used clothes in Vancouver and other items that don't "spark joy" for me anymore? Read on for my round-up and review of Vancouver consignment stores.
Consignment in Vancouver: Front and Company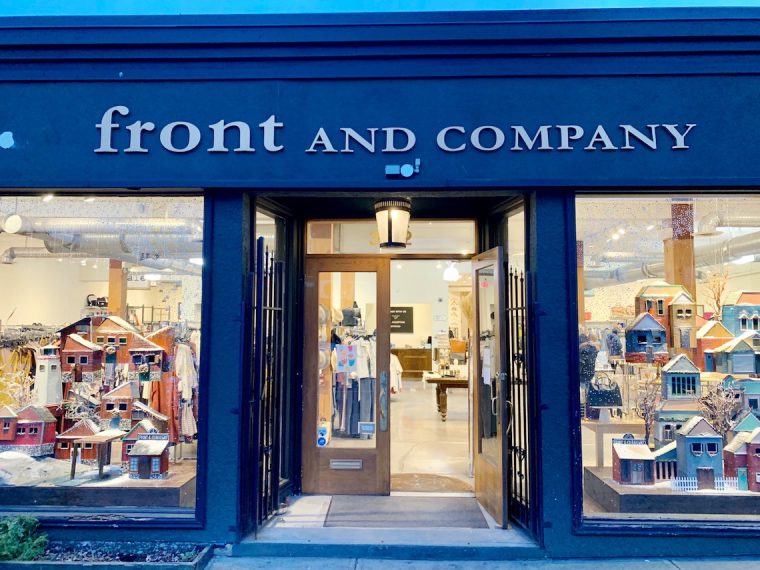 My first stop is typically Front & Company on Main and E. 22nd Avenue. They've been around for over 10 years with a loyal clientele; their spacious boutique is always busy and full of customers shopping for a mix of new and used stylish clothing, accessories, and gift items — including men's consignment. They are really picky (AKA purposeful) about what they take in; every season Front & Company writes a blog post sharing the latest trends for items they are looking for. In recent years, they've taken over another storefront on the same block, where they host pop-up shops curating on a theme of items (ie. athleisure, bohemian, joy, etc.)

My last drop off at Front & Co was relatively successful. We brought two duffle bags worth of stuff, and they took 15 pieces from us, which included an aqua blue Kate Spade tote, some New Balance athleisure pieces, and a pair of light grey Scotch and Soda men's denim. I love how they sort on the spot — it usually takes about 20 minutes, and they let you know what they'll take. They were also nice enough to separate a few items — mostly flannel shirts from Steve — saying if we kept them around for another few months, they'd likely consider taking those pieces for the fall.
Remember that Front & Co is in a hipster neighbourhood, so their target customer there is going to be a bit….quirky at times. Speaking from experience, a denim jacket with unicorns all over it (I literally saw that at the store the other day) will do better than, say, a navy blue J Lindberg golf shirt.
Front & Company Payout: Front & Company offers its consigners 40% of the item sale price. After 60 days, any unsold items will be returned to the consigner, or donated and sold at Front's Rummage Sale, with net proceeds going to their designated charities. Thereafter, any unsold items will be donated to a charity organization.
Consignment in Vancouver: Turnabout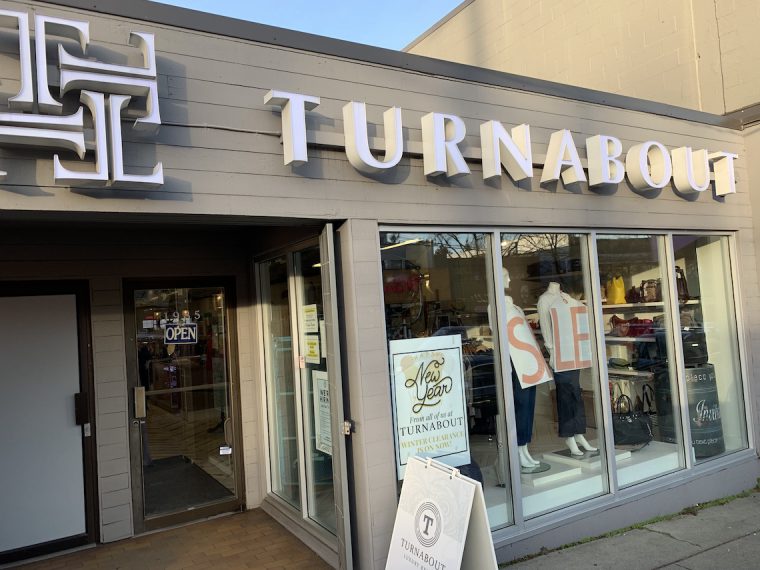 Turnabout is also a consignment store in Vancouver that I patron regularly. They have six locations now in prominent Vancouver neighbourhoods, including West 4th, Main Street, and South Granville — and even a specific store for home good consignment. Turnabout markets themselves as luxury consignment, but in reality, they take contemporary label items — like Aritzia or Lululemon — even if they aren't "luxury".
Based on my observations, if you have more corporate type clothing — like dress shirts or polos (for men) from Club Monaco, Banana Republic, Hugo Boss, etc. Turnabout would probably be a better place to bring your items rather than Front & Company. A while back, they took a Artizia Parka from me that I've had for nearly ten years (!!). That being said, they probably only paid me $20 for it — but still, it's better than nothing when I was ready to donate the item anyway.
For men's consignment, Steve likes to bring a stack of dress shirts and polos here — we may only get a few dollars per item from them, but we like being paid upfront and getting rid of a bunch of items at once. Similar to Front & Co, I love how they sort on the spot — it usually takes about 20 minutes, and they let you know what they'll take and what your payout is.
Turnabout Payout: Turnabout offers consignors 40% of the final selling price. However, I've always gone with the Outright Buy option, which gives the consignor 25% cash upfront for the appraised value.
Luxury Consignment Vancouver: Mine and Yours

For in season, on-trend, designer clothing and luxury accessories in new or like-new condition, go to Mine & Yours Co. Christian Louboutin, Isabel Marant, Hermes, Lanvin, Gucci, Valentino, Chanel — you get the idea. They also have an e-commerce website, so you can check out the brands and types of items they are selling. Mine & Yours Co. only buys on Wednesdays, Fridays, and Saturdays — no appointment necessary. They do a great job on Instagram stories showcasing what pieces are available in-store, so you can get a better sense of what they are looking for.
Mine & Yours Payout: Their payouts are: 30% upfront cash payout or a 50% store credit. They also offer consignment options for items with a resale value of $500 or greater.
LXR and Co
I came across LXR and Co because they are on the ground floor of The Bay in Downtown Vancouver. Their "Sell Your Luxury Item" process is via an online appraisal form. You need to take lots of photos and then, if there's a fit, they'll respond with a price offer.
LXR & Co Payout: If they are able to appraise the item based on the photographs and information provided, they will contact you with a price offer and payment details.
Hunter and Hare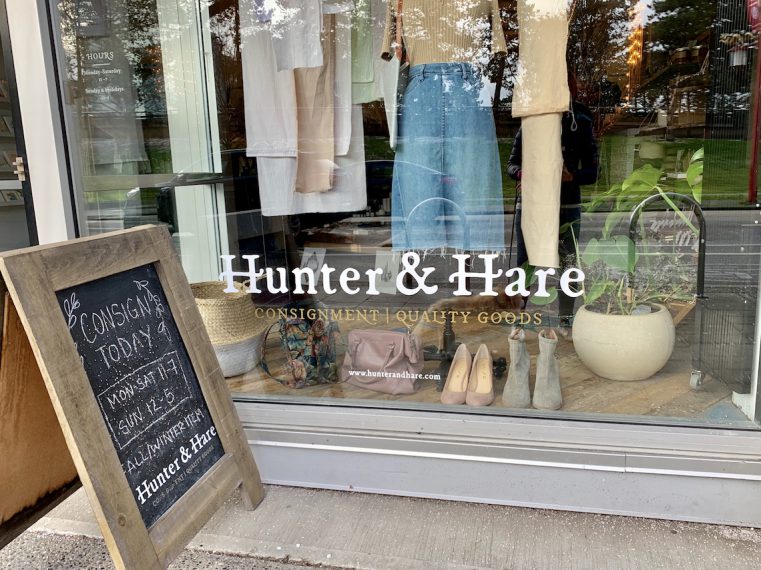 Interestingly, Hunter & Hare started out as a blog which developed enough of a following to turn into not one, but two bricks and mortar boutiques in Vancouver: at 334 W. Pender Street in Downtown Vancouver and 227 Union Street in Chinatown.
Because they are smaller their processes are a bit less streamlined than the other options. Although no appointment is necessary to drop of your clothes, sorting does not happen on the spot. it could take up to 10 days for them to sort through your items, meaning you have to return and pick-up any items that weren't chosen. For example, they charge $1.50 per payout. They only give your items 30 days to be sold.

I would recommend coming to Hunter & Hare if you happen to live near them.
Hunter & Hare Payout: 40% of the selling price. If you choose to spend your credit in-store, you get 15% off your purchase.
===

As a last stop, consider donating your clothing to a local charity. I recently donated a suitcase full of clothing (and the suitcase too) to Big Brother.