Brought to you by the editors of BC Living, Simply Beautiful is a quarterly Canadian subscription box filled with stylish beauty, home, and fashion accessories, catered towards women. Thanks to BC Living, I was gifted a Simply Beautiful Winter 2018 Subscription Box to review.
What's inside the Winter 2018 Simply Beautiful Subscription Box?
The Simply Beautiful Winter 2018 box came with nine items, for a total retail value of $205.
My favourite item was the Rose Quartz Facial Massage Roller — a skincare tool which rolls a smooth stone on the surface of your skin to help improve lymphatic drainage, eliminate toxins, reduce puffiness, while helping with the absorption of face creams and serums. I recently had a conversation with an esthetician who uses it on her facial clients, and she swears by her facial massage roller. She doesn't necessarily believe in the healing properties of the stone, but she does believe that the repeated act of rolling the skin with a cool stone from the centre of your face outwards helps push toxins towards your lymph nodes to help your body process and drain them out of your system.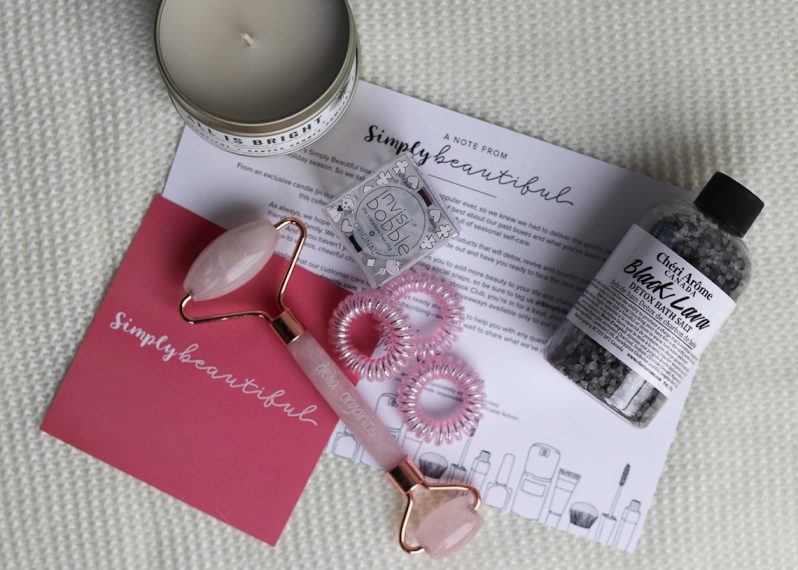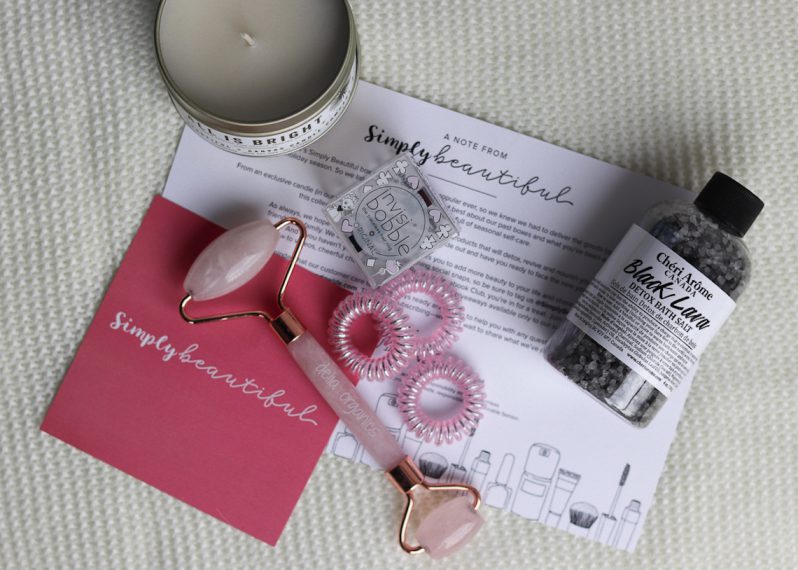 My other favourite item was the cream-coloured Knitted Infinity Scarf. I tend to wear a lot of dark colours in the winter, so I was grateful to receive something that would contrast my blacks and greys. The neutral colour matches with so many outfits, I love the simplicity of it.
I also really liked the four-pack of Rose Gold Metal Straws and thought they were a practical, useable, and stylish product to include in the Simply Beautiful Box. Since the phasing out of plastic straws in Vancouver, metal straws have become a badge of support for our environment, but also an opportunity to make a style statement. These will come in handy in the Spring and Summer, when I begin drinking cold drinks again! From a practical perspective, I know reusable straws can be difficult to clean, so thankfully, the straws in The Simply Beautiful Box also comes with two straw cleaners
Invisibobbles, the traceless hair ring, are another practical yet on-trend item which I began using right away. They are spiral-shaped plastic hair ties which hold your ponytail in place, without tugging, pulling, or leaving a kink in your hair. The pink colour I received in my Simply Beautiful box was cute and girly. Pro tip: if they ever stretch out of shape, just use a hot hairdryer to shrink them back to normal.
By now, you can probably tell that the Simply Beautiful box is definitely catered towards women; most of the items I've shared so far are pink or gold coloured!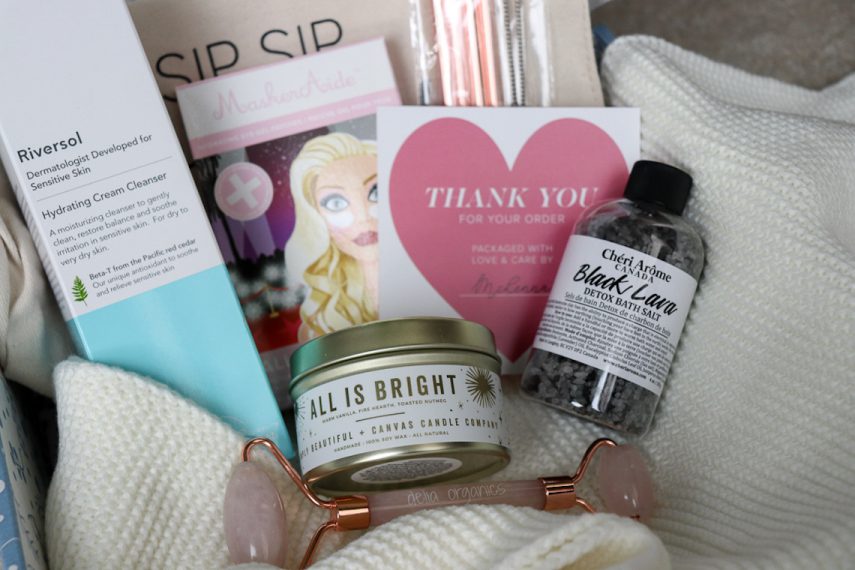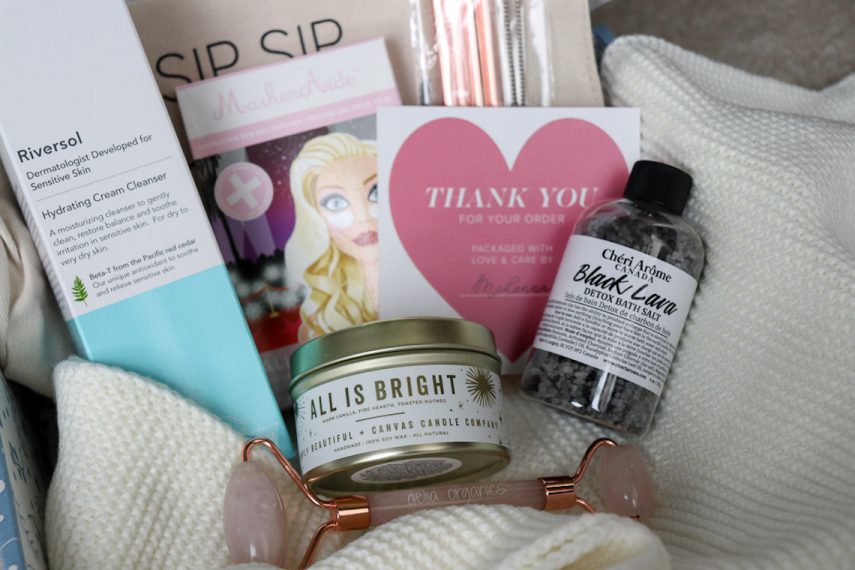 The Hydrating Cream Cleanser by the Vancouver-based, dermatologist-founded skincare brand Riversol uses a oh-so-westcoast antioxidant from the Pacific red cedar tree called Beta-Thujaplicin. Beta-T has been clinically proven to fight free radicals, heal the skin and help reverse damage, calm inflammation, reduce the appearance of sun and age spots, and improve the overall look of the skin.
I personally don't have irritated or inflamed skin at the moment, but, I know a lot of people do, especially during winter. So I'm sure anyone who has extra-sensitive skin during our cold, dry winters in Vancouver, would appreciate the Reversal Hydrating Cream Cleanser. There is a generous full-sized product included in the Simply Beautiful box, so you can give the cleanser a three-month try (rather than running out after a week with a smaller sample).
The Simply Beautiful + Canvas Candle Co Soy Tin Candle is a collaborative product between the two brands. The vanilla-based scent is warm and cozy, the exact ambience you'd want in your home during winter. To be honest, I already own a lot of candles (and they take forever to use up) — but, there's no reason why this product couldn't be re-gifted to someone else. Similarly, the Simply Beautiful Wine Carrier (with "Sip Sip Hooray" written on the side) would make a great "re-gifted" product, the next time you're bringing a bottle of wine to a party.
Other items in the Simply Beautiful box includes Maskeraide "All Eyes on Me" Hydrating Gel Patches and a 150 gram bottle of Cheri Arome Black Lava Detox Bath Salt. Both are from Canadian brands I hadn't heard of — as usual, I enjoy trying new products, especially if they support boutique brands and businesses.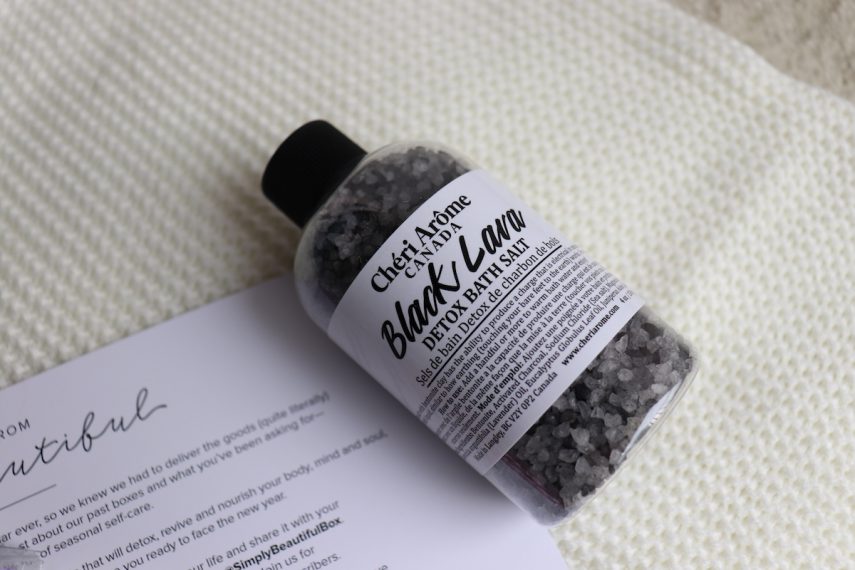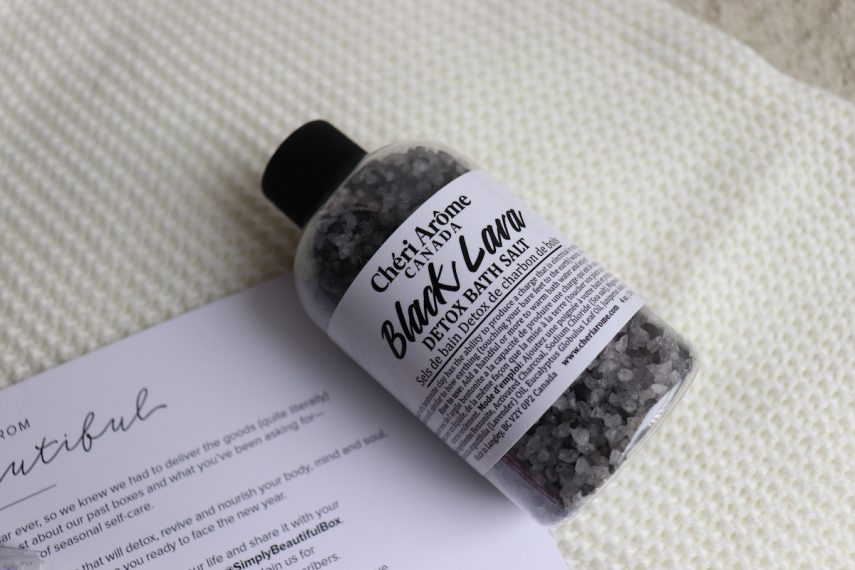 In addition to these nine items in the Simply Beautiful Winter 2018 subscription box, there was also a sheet of discount codes to use on brands which have previously been featured in their boxes. Overall, I thought the Simply Beautiful Winter 2018 subscription box was a balanced combination of beautiful and practical; the whole box felt very gift-appropriate. Priced at $88 per box, you definitely get your value's worth in the Simply Beautiful Winter 2018 subscription box.
For more information about Simply Beautiful, visit: simplybeautifulbox.com.