I am eating a packet of Mary Macleod's Handmade All Butter Shortbread as I type this blog post. The shortbread came from a gift basket I received earlier this month — a gift from the Canadian gift basket company BASKITS. The occasion for the gift? A thoughtful gesture, both welcoming me home from nearly a year of travelling, and also to celebrate the holiday season.
In my experience, gift baskets are a popular choice when you're looking to gift "one" sharable present to a group of people. Think: client gift, office gift, family gift, or housewarming gift. It's also a popular choice when you may not often see the gift recipient (ie. they live in another city) and you need your gift to be delivered on behalf of you in a presentable way.
For over 30 years, Baskits has been the Canadian gift basket company trusted to deliver a curated assortment of products to its clients across North America. They do the work for you in keeping up with the latest gifting trends, while sourcing unique brands and products from around the world.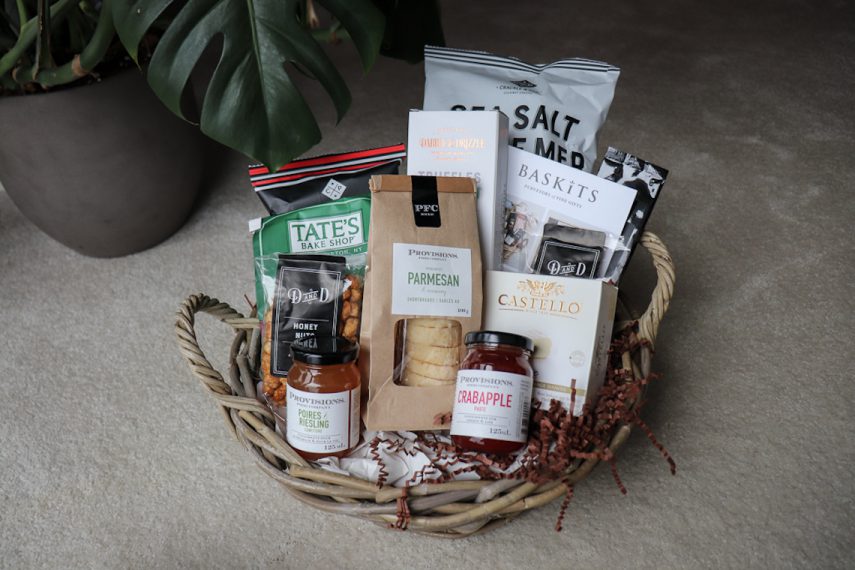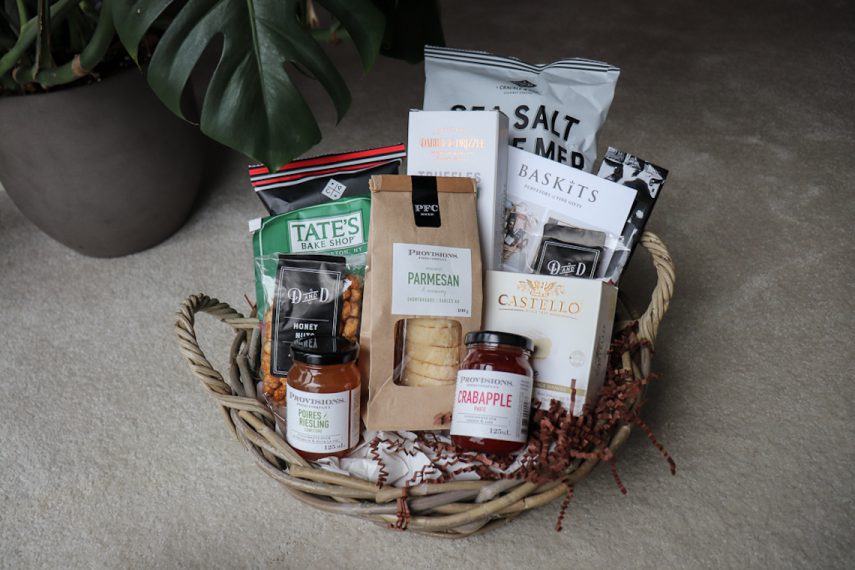 The gift basket I received from BASKITS is named Forest Hill, and came in a sturdy hand woven rattan basket. In this particular gift basket, the items inside were all food-based snacks, including artisan chips, shortbread cookies, a small wheel of brie cheese, gourmet nuts, coconut chocolate truffles, and two artisanal jams from Provisions Food Company. There were about a dozen total items in the gift basket — but don't worry, they weren't all for me — these types of gift baskets are meant to be shared! As I had several parties to attend over the holiday season, I ended up splitting up the gift basket into hostess gifts and snacks to share.
Because BASKITS is a Canadian gift basket company, the majority of their products are sourced from Canadian suppliers. Within their gift baskets, some examples of Canadian items include pancake mix from British Columbia, peanut brittle from Alberta, maple syrup from Quebec, or chocolate from Newfoundland. Beyond the food-based gift baskets, BASKITS also offers themed packages for babies (stuffed toys, books, and blankets), for pampering and relaxation (tea, beauty and bath products), and even a gift basket specifically catered towards men (ie. artisan grooming supplies).
Thanks to BASKITS for keeping me snack-happy throughout the holiday season with your Forest Hill basket. For more information about this Canadian gift basket company, visit: baskits.com.