Welcome, Barre Belle, to Vancouver!  The Calgary-based barre-inspired fitness studio Barre Belle has expanded to Vancouver with Barre Belle Kitsilano! 
Over the years, I've pretty much been to every single barre studio in Vancouver so I have a good idea of what to expect in a barre workout, and helping my readers decide if this new studio is a workout they should try out. Read on for my Barre Belle Kitsilano review. Spoiler: It's less of a barre workout than you'd expect and more of a high intensity interval training bootcamp-style workout.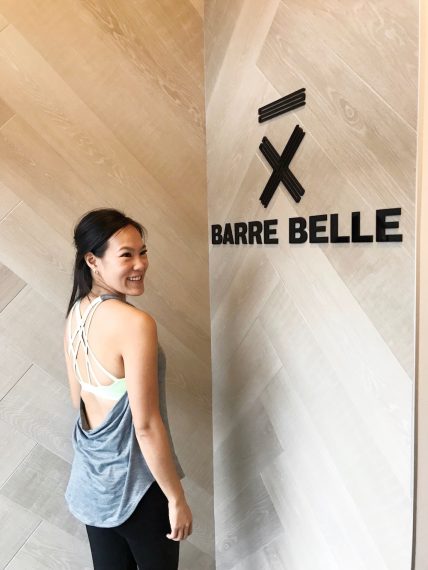 Barre Belle Kitsilano Review
I love the name Barre Belle — the beautiful combination of words reminds me of strength (barbell) and femininity (belle). Similar to all barre studios, the workout takes place in a room lined with mirrors and a ballet bar, however, Barre Belle's workout is way more of a heart-rate increaser — combining high intensity cardio with strength training — compared to other barre fitness classes I've taken. My friend and I went to the Sunday morning "Barre Belle Fit" class which is a full body workout; Barre Belle also offers targeted workout like "Ass & Abs" which focuses specifically on your glutes, thighs, and core.
The boutique fitness studio is small but tastefully decorated with framed photos, inspiration quotes, and feminine details like floral wallpaper. We started off by locking up our stuff in the change rooms — locks are provided at no extra charge by the front desk.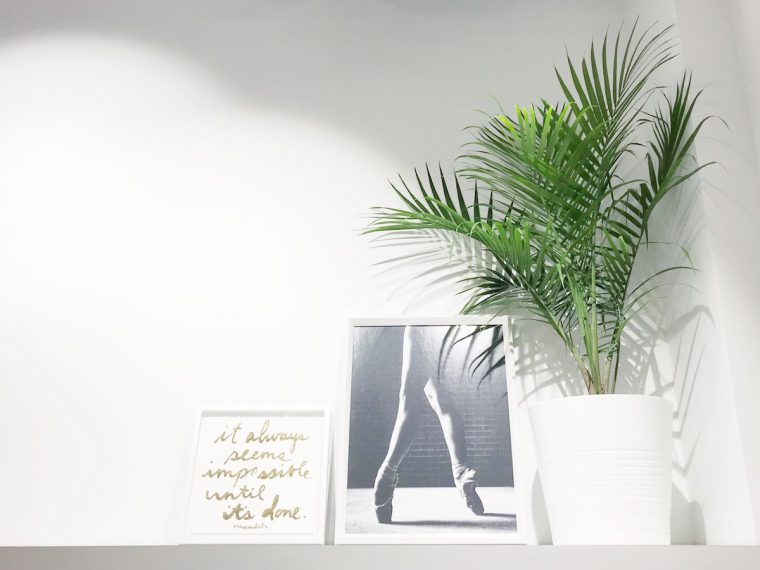 I was busy admiring the pretty bathroom wallpaper, modern decor, and inspirational quotes around the studio, which meant I was one of the last people to enter into the full studio of around 18 to 20 people. Because of the long and narrow shape of the room, if you are the one unfortunate person — like me — that ends up in the back corner in a full class, you actually end up with no mirror in front of you and a difficult angle to see the instructor. For next time, I'd definitely save myself a better spot with a water bottle or get inside the studio earlier.

Our instructor Emily was managing the Barre Belle studios in Calgary before moving to Vancouver to open up the new Barre Belle Kitsilano location. She was friendly and enthusiastic — you could tell she is well versed in the fitness field; extremely fit and experienced at putting together a routine to get people moving. Her music choice was dance and electronic inspired, a good upbeat choice for an energetic fitness class!

The Barre Belle Fit routine uses the bar, weights, a resistance band, and a floor mat as props for the workout. I enjoyed the variety of the exercises, however I did find the class quite challenging. It was sort of like follow along or get left behind.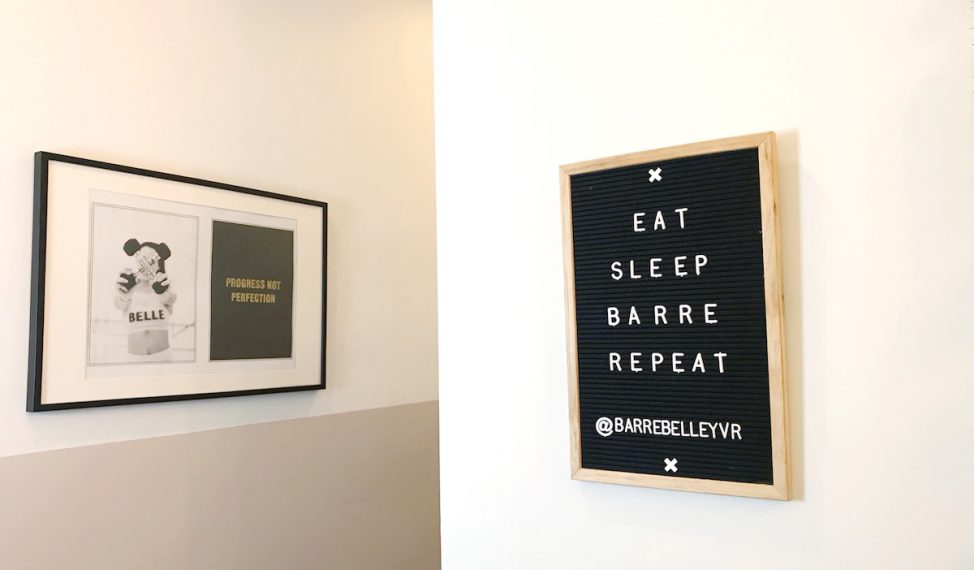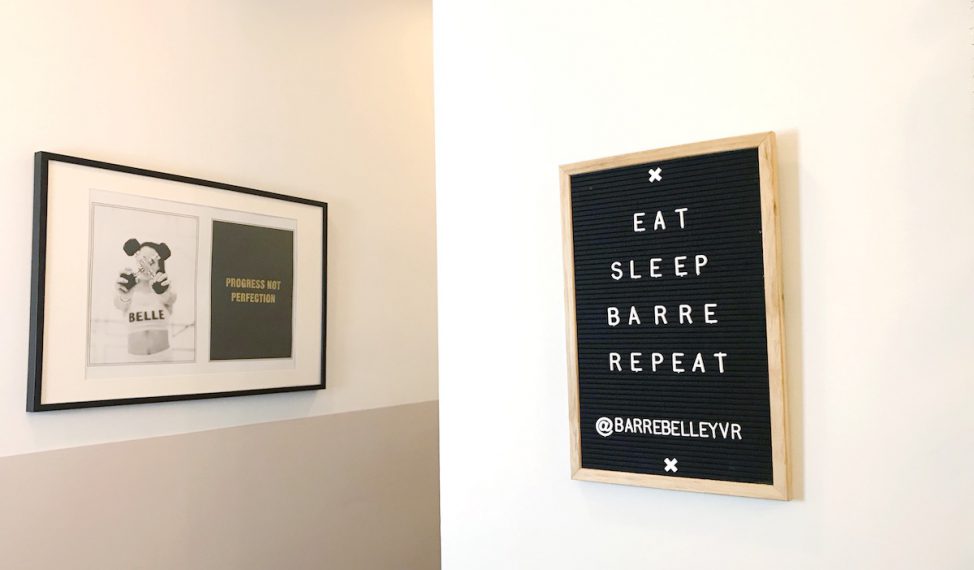 There were directions to get into a plié, first position, second position, and arabesque — terms that would be foreign to anyone who hasn't had exposure to barre or ballet. You really do have to be quick on your feet to mimic the motions of the instructor and if you don't have a good view of her, it can be easy to get lost in the motions. At one point, we started doing some sort of high intensity jump-squat-plank routine, which reminded me more of a bootcamp-style class, rather than "barre". I was told after the class that it could take 3 or 4 classes to get used to this style of fitness. In other words, keep at it, don't give up, and you'll get the hang of it. I personally think I could have benefited from more corrections or affirmations in the class, to know if I'm doing the right thing.
By the end of the class, I did break out into a sweat, but it was both from jumping around and possibly being flustered at not knowing what I was doing, or if what I was doing was correct, or if correct, if my form was good. A lot of the exercises — like jumping jacks, squats, and a new one I haven't heard of called "butterfly" — reminded me of bootcamp style exercises, rather than the small isometric motions I was used to in a traditional barre class. In the ballet world, the word they use to describe these jumping exercises is "pylometrics" in which "muscles exert maximum force in short intervals of time, with the goal of increasing power".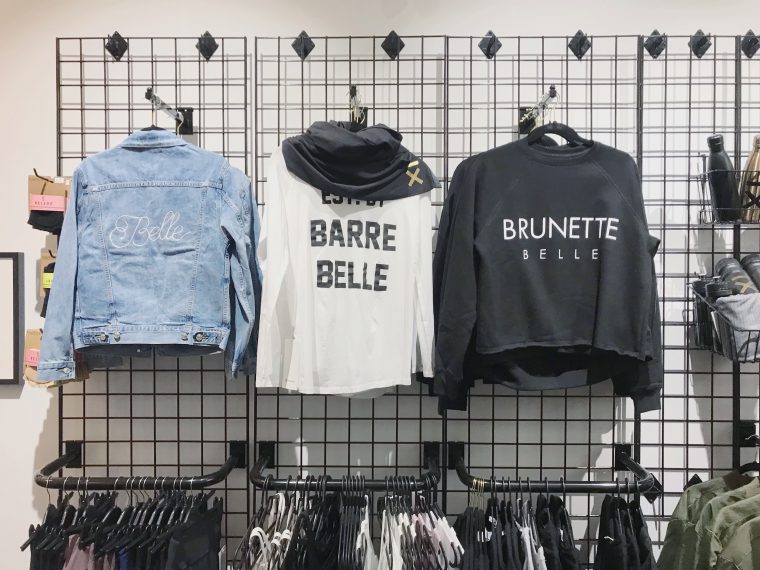 After the hour-long class, we took a quick peek at the studio merchandise, which, if I were a studio regular, would proudly wear. They offer Lululemon leggings branded with the Barre Belle logo (which I later found out mimics the lacing of a ballet shoe). For their Vancouver launch, they also partnered with local boutique Brunette the Label on a few stylish pieces.
Overall, the Barre Belle class we took was a good workout, but don't go into it expecting a ballet-style class or barre routine. (If that's what you're looking for, go to Pure Barre down the street instead!). Barre Belle would be a fitting workout choice if you've taken barre-style classes before, but you're looking to incorporate more cardio into your routine. The Barre Belle Fit class we took was definitely more of a high intensity interval training (HIIT) or bootcamp-style class.
Barre Belle Kitsilano is located at 1847 W. 4th Avenue. If you're taking a weekend class, its location makes it the perfect spot to explore W. 4th Avenue or go for brunch before or after the class — which is exactly what we did at Kokomo in Kitsilano.
New clients to Barre Belle can purchase a 2-week unlimited class for $55. For more information, visit: barrebelle.ca. A second location will be opening soon in North Vancouver — stay tuned!