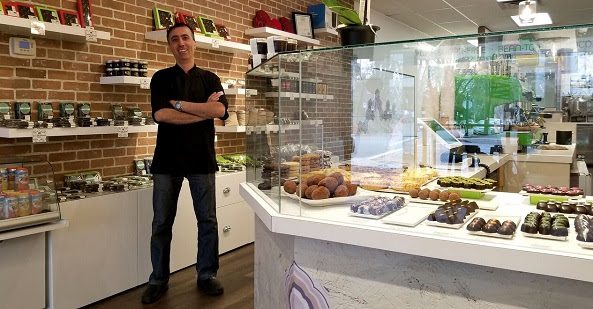 Earlier this year, Koko Monk founder and chocolate maker, Paul Dincer, launched a Kickstarter campaign to raise $10,000 toward the cost of a second location of his artisan chocolate boutique.  The fundraiser was successful, and the second Koko Monk at 2883 W. Broadway is now open.  Located also in Kitsilano, the new boutique features a dedicated hot chocolate lounge and an onsite production facility.
Koko Monk has drawn rave reviews for its variety of hot chocolates (BuzzFeed ranked it among the "Greatest Places in the World to Get Hot Chocolate)", and its new 16-seat lounge is the perfect environment in which to savour them, as well as Koko Monk's popular, raw, bean-to-bar selections.   Other artisan chocolate products — including individual chocolates, fruit and nut barks, vegan bars, and sugar-free selections — plus Turkish coffee, espresso-based beverages, and locally-made pastries, are also available.
Koko Monk currently offers 14 unique — and uniquely named — flavours of hot chocolate, including "A Non-Conformist's Plea for an Imaginary Summer" (tomato hot chocolate with rose and raspberry), "Strange Gravity" (oregano hot chocolate with melon and a touch of anise), and "Brunette Bangle" (curry hot chocolate with coconut liquor). Customers who can't decide on just one flavour can go for a hot-chocolate flight featuring three mini servings, available every Saturday.
When designing his chocolate products, Paul draws inspiration from his comprehensive background and education in fine art, literature and philosophy, creating one-of-a-kind, complex flavour fusions using raw unprocessed cacao beans in his chocolates. In fact, the Koko Monk name highlights a philosophy of living and working with one's environment and employing natural ingredients, rather than forcing synthesized solutions that go against their natural functions.
In the new year, Koko Monk will begin to produce its "ready-to-brew" Hot Chocolate Cubes, which were used as a reward for the chocolate boutique's Kickstarter campaign backers.  The new creations will be available in both of Koko Monk's locations, allowing everyone to stir up Paul's addictive creations in the convenience of home.
For more information, visit: kokomonk.com or check out either one of the chocolate boutique locations at 1849 West 1st Avenue or 2883 W. Broadway.