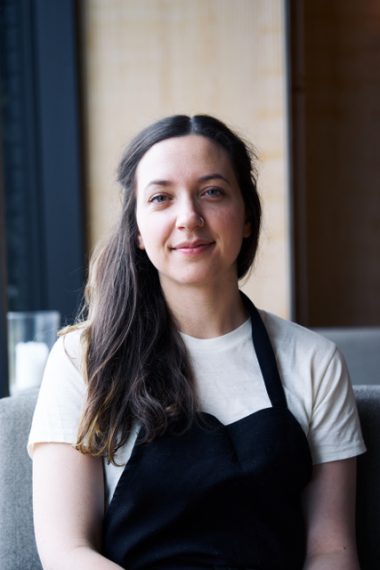 Melanie Witt is an instrumental member of the award-winning and beloved Osteria Savio Volpe and has been there since the start.
She first joined the team as a pasta cook, where she hand-kneaded dough, rolled and shaped pasta, and ran the pasta station during service. She was then promoted to sous chef before her current role as executive chef. Melanie is focused on continuously developing her abilities across the spectrum of savoury-to-sweet, and brings a well-rounded skill set to Savio Volpe.
So many of our Local Lives features on Modern Mix Vancouver have mentioned Savio Volpe as one of their favourite restaurants in Vancouver — including Ned Bell (Executive Chef at Vancouver Aquarium), Ella Jotie (Founder of Barre Fitness), and Meghan and Steve Clarke (Tractor Foods) — we thought it would be especially fitting to feature the local life of Melanie Witt, Executive Chef at Osteria Savio Volpe, and how she lives in Vancouver:
How long have you lived in Vancouver for? 
I've been in Vancouver for about 6 years and before that, 3 years in Montreal.
What's your "claim to fame" in Vancouver?  
I've been on the Savio Volpe team since the start, am currently the executive chef there.
Any local hidden gems to share with Modern Mix readers?
I live across the street from Savio and I love my neighbourhood. I like to pick up freshly made tofu, (still warm) from Kim's Mart on Broadway. I also really like the spicy pork jerky from BKH Jerky on Fraser. I use it instead of bacon in a BLT.
What's the best way to connect with your local neighbourhood or community?
The best way for me to feel connected is by supporting my peers, fellow chefs, and farmers that work endlessly to provide our communities with seasonal, thoughtful food.
What are your favourite restaurants in Vancouver?
My friend Darren, formerly of Farmer's Apprentice, recently opened Ugly Dumpling on Commercial Drive.  I love the food he makes. It's nourishing, seasonal, and soo delicious.  Kin Kao is my new favourite lunch spot.  The red curry with duck and the grilled pork collar skewers are especially delicious.  Justin over at Crowbar is doing some pretty great things in the kitchen. I love getting his tasting menus. His food is always seasoned perfectly and his creativity is hugely inspiring.
What are your favourite cafes in Vancouver? 
I go to Matchstick a few times a week on my way to Savio. Their croissants are spot on. I really love the coffee at Caffè La Tana, the newest addition to the Savio family on Commercial Drive. They serve a custom JJ Bean blend for their espresso. I usually order a cappuccino because they make it the Italian way, with super fluffy foam on top and a little biscotti on the side to dunk in. So good.
Who are your favourite vendors at Vancouver farmers' markets?
I always say hello to Kevin and Annamarie at Klipper's Organics. They are the sweetest people and I love hearing about their new projects. (Look for their asparagus next season!) I go crazy for their Santa Rosa plums and coronation grapes. Cedar Isle Farm is where I go to pick up freshly rolled oats and rye flour.  Farm House Cheese is another great vendor at the market. I love getting their grass-fed cow's milk for baking and making mozzarella.
==
Local Lives is a new series on Modern Mix Vancouver where we feature the lives of prominent members of the Vancouver community and how they live in Vancouver.   Know someone we should feature?  Email us here.