Celebrating 16 years of Shiny Fuzzy Muddy holiday events, the annual artist curated collection of fine art, craft and design will host their 2018 weekend holiday market at Heritage Hall (3102 Main Street) on December 8th and 9th.
This collaborative event provides a venue that champions craftsmanship over mass production, hosting over 30 BC based artists to exhibit in an intimate environment where shoppers can mingle with the makers and find holiday gifts created with intention, that become future heirlooms.  Explaining the unusual name, shiny refers to jewelry, fuzzy to clothing and muddy to pottery.
The 2018 Shiny Fuzzy Muddy event features five new participating designers including:  Dianna Watters Handmade, contemporary cross stitch (Toronto); Kathleen Tennock Ceramic Studio (Whistler); Bianca Barr, accessories, clothing and jewellery (Vancouver); Mama Mui Lab, ceramics (Vancouver); and BILLY WOULD designs, reclaimed hardwood jewellery.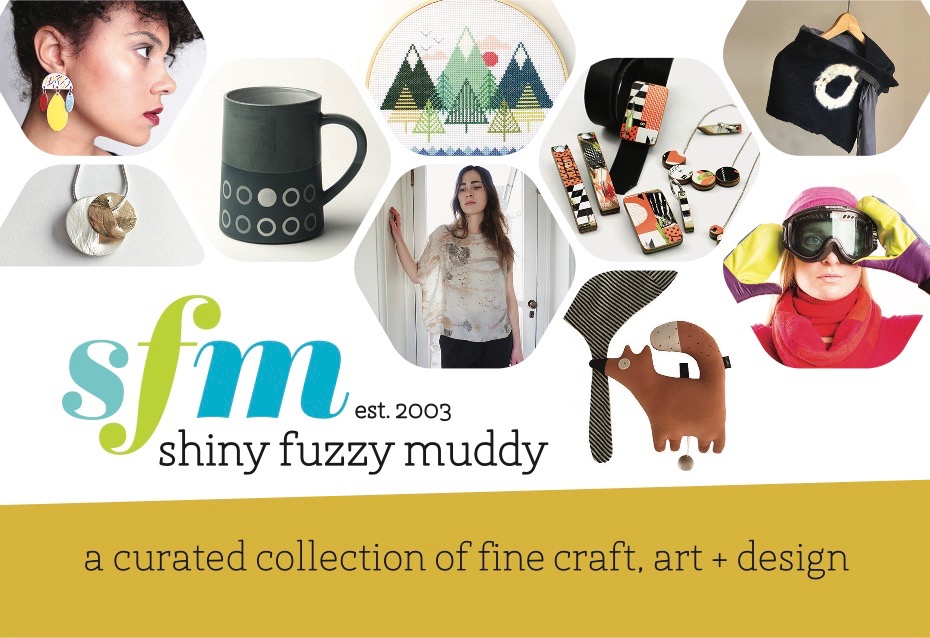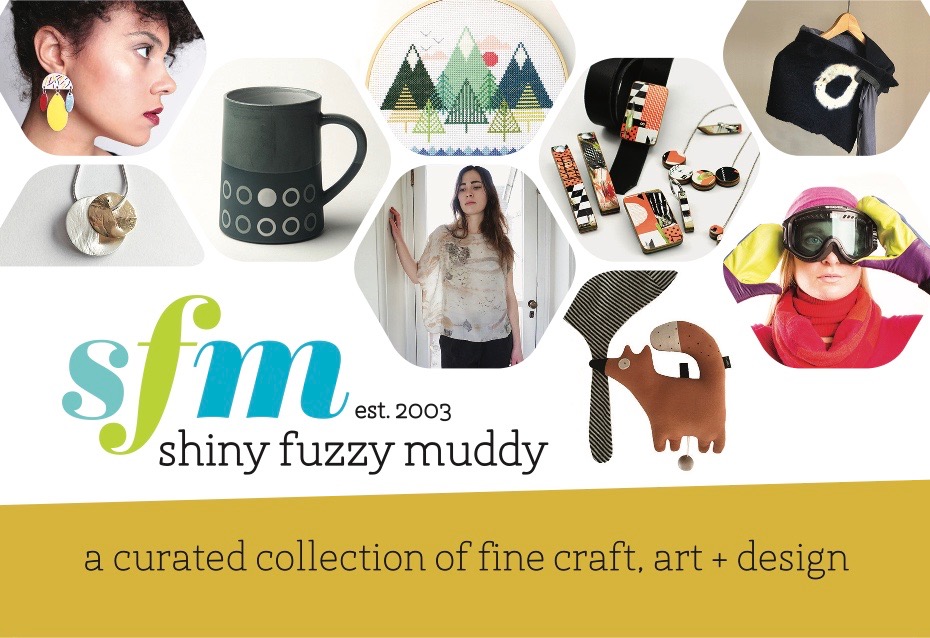 The full list of returning designers include: 
Frances Felt, clothing and accessories for women (Pemberton)
ONLY CHILD Handicrafts, beadwork (Salt Spring Island)
Russell Hackney Ceramics (Bowen Island)
Sans Souci, zero waste textile and designs (Vancouver)
Kat Cadegan Jewellery (Revelstoke)
Banquet Workshop, screen prints stationery, textiles, clothing and jewellery (Vancouver)
AW by Andrea Wong, accessory designs (Vancouver)
LUprints, home goods (Pemberton)
Claudia Schulz, hat designer (Vancouver)
mimi, felt and sewn accessories for children (North Vancouver)
Caroline Miller Design, jewellery (Squamish)
Cathy Terepocki Ceramics (Chilliwack)
Adhesif Clothing, new and recycled fabrics for one-of-a-kind garments (Vancouver)
Him Creations, felter (Vancouver)
Red Pot Pottery (Surrey)
Art by Lan Yao (Squamish)
TOODLEBUNNY, jewellery (Vancouver)
Daub + Design, hand dyed fashion (Vancouver)
Julie Mackinnon Ceramics (Salt Spring Island)
we.are.stories, small batch clothing line (Nelson)
zed handmade, hand knit designs (South Surrey)
Joanna Lovett Sterling, jewellery (Burnaby)
bronsino, hand crafted bags and accessories (Burnaby)
Winterluxe, recycled cashmere winter accessories collection (Vancouver)
flightpath designs, leatherwork goods (Vancouver)
dahlhaus, pottery (Vancouver)
Kari Woo Contemporary Art Jewellery (Calgary, AB).
Shiny Fuzzy Muddy 2018 Event Details
Where: Heritage Hall – 3102 Main Street, Vancouver, BC
When: Saturday, December 8 (11am to 6pm) and Sunday, December 9, 2018 (10am to 6pm)
Admission: $4.00 per person – at the door or online.