Mulled wine, hot toddies and hot cocoa with a splash of liqueur — when the weather cools down, what hot cocktail favourites do you replace your summer patio cocktails with?
A bit of history: gin has been embraced as a winter warmer for centuries. In old London times, the freezing of the River Thames inspired the city's first Frost Fairs. Town dwellers would take on the cold to purchase goods, all while enjoying hot gin served with a gingerbread cookie – historically one of the first ever recorded spirit and food pairings! But back then, hot drinks weren't just a matter of taste, they were a way to get through the long, cold nights.
Inspired by 200 years of London distilling history, Sipsmith Gin became available to Canadian gin enthusiasts this past Spring.  A distillery dedicated to creating a spirit with uncompromising quality and exceptional character, Sipsmith is made only in small batches and distilled in copper pot stills to craft the smoothest gin.  As this is Sipsmith's first winter in Vancouver, they've shared with Modern Mix Vancouver a selection of gin-based boozy winter warmers so we too can keep warm during our Canadian winters.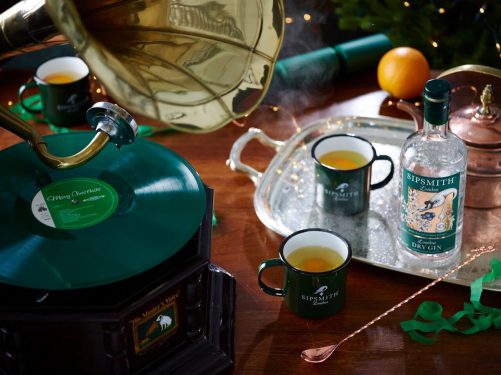 Hot Gin & Tonic 
1.5oz Sipsmith London Dry Gin
0.5oz Jack Rudy Tonic Syrup
1/3oz Sugar Syrup
Boiling water
Orange twist
Combine Sipsmith gin, tonic syrup and sugar syrup in a mug or heatproof stem glass. Stir well and top with boiling water. Garnish with an orange twist.
Hot Clementine
1.5oz Sipsmith London Dry Gin
1/3oz gomme syrup
1/4 oz freshly squeezed clementine juice
2 dashes Angostura bitters
Sage leaf, to garnish
Warm clementine juice gently in a pan until hot but not boiling. Remove from the heat. Add the other ingredients and stir well before serving. Pour into a mug and garnish with a sage leaf.
 Hot Negroni
1oz Sipsmith London Dry Gin
1oz Campari
1oz Sweet vermouth
Red berry tea
Dehydrated orange
Pour Sipsmith, Campari and sweet vermouth into a mug and stir. Top with hot red berry tea and garnish with a dehydrated orange or a fresh orange slice.
Hot Pharmaceutical
1.5oz Sipsmith London Dry Gin
0.5oz maple syrup
0.5oz coffee liqueur
2 oz fresh espresso
Fresh cream
3 coffee beans, to garnish
Add Sipsmith, maple syrup, coffee liqueur and fresh espresso into a glass vessel you can seal. Place the vessel inside a hot water bath and leave until it has warmed to 70 degrees C. Remove and pour into a coupette. Float slightly whipped fresh cream on top and garnish with the coffee beans.
==
With fall in full swing and winter just around the corner, these hot cocktail recipes are sure to keep you warm all season long.  For more information on Sipsmith Gin, visit: sipsmith.com.