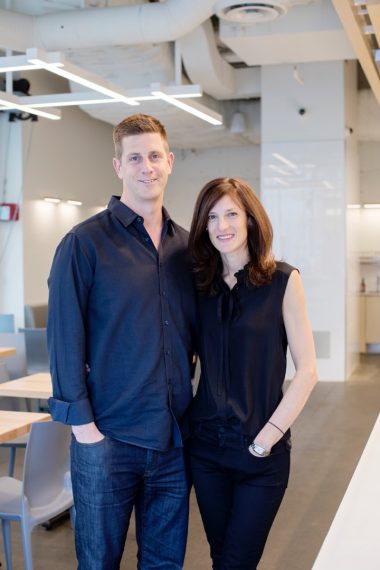 Both born in British Columbia, Meghan and Steve Clarke are the husband-and-wife duo behind Tractor Everyday Healthy Foods, a cafeteria-style healthy food eatery.
Tractor is known for its open-concept kitchens embedded right in the main dining room where guests order their food at the counter and sit down to eat.  The first location opened in 2013 in Kitsilano.  Since then, Meghan and Steve have opened a total of five eateries in Vancouver, with their sixth and newest location in Toronto — the first Tractor outside BC.
Read on to find out more about the local life of Meghan and Steve Clarke how they live in Vancouver.
How long have you lived in Vancouver for? 
I (Meghan) was born and raised in Vancouver! I moved away for a few years to go to school and work but knew Vancouver would always be home. Steve was born and raised in Comox on Vancouver Island. We got engaged and then moved east to do our MBA at the same time.  Steve went to The University of Chicago and I stayed in Canada at Western's Ivey School of Business. We got married and settled in Toronto for a couple years to work once we finished business school.
What's your "claim to fame" in Vancouver?
We are proud of starting Tractor Foods five years ago. It was a risky endeavor  but we are excited about its success and growth.  We have learned a lot in the process and we continue to learn everyday.
What are your top 3 favourite things to do in Vancouver? 
Run in the trails in Pacific Spirit Park; family bike rides along the waterfront; go out for dinner. We like spending time outside as much as possible and eating and drinking!
What are your favourite restaurants in Vancouver? 
Nook, Fable, Savio Volpe, Bells & Whistles, Kissa Tanto, Oddfish (food is delicious, upbeat environment, well designed rooms, approachable and friendly).
What's the best way to connect with your local neighbourhood or community?
We like going to local farmers markets. We have kids so connect within our community through sports, arts and kid stuff. We also have a French Bulldog so no matter where we go, we always stop and talk to people when she's along.
Any local hidden gems to share with Modern Mix readers?  
One of our favourite things to do on a summer night is to grab take-out and head to Hastings Mill Park at the foot of Alma St. It's a quiet, beautiful park right on the water with a view of the mountains. Plus, it's just a few blocks from the beach.
==
Local Lives is a new series on Modern Mix Vancouver where we feature the lives of prominent members of the Vancouver community and how they live in Vancouver.   Know someone we should feature?  Email us here.