Hawkers Market is returning to Vancouver's Rocky Mountaineer Station  on November 17, 2018 for a market-style food and indie music event.  Join award-winning chefs Alex Chen (Boulevard Kitchen & Oyster Bar) and Eva Chin (Royal Dinette) as you taste your way through the evening, sampling the best of B.C.'s culinary scene for one night only.
With over 50 Hawkers in attendance — made up of  independent chefs, breweries, distilleries, and indie food producers — guests to this ticketed event will be able to taste the best of B.C.'s cuisine under one roof.  A wristband and tasting tokens are provided upon arrival; over the course of the evening, hungry guests can trade their tokens for 8 food experiences and 2 regular drinks (or 4 taster drinks) to sample.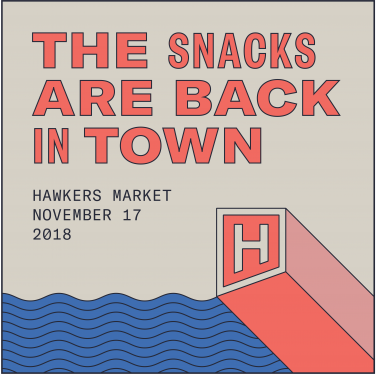 For music lovers, Peanut Butter Wolf (founder and head of Stones Throw Records) and J Rocc (one of the original turntablists who founded the Beat Junkies in '92) will be returning to Vancouver to soundtrack the festival along with special guest label-mates to be announced.
Event Details: Hawkers Market Food Festival
When: Saturday, November 17th from 4pm until midnight (entry times available at 4pm, 6pm, or 8pm)
Where: Rocky Mountaineer Station at 1755 Cottrell Street
Ticket information: Tickets are $135 and available online at hawkon.eventbrite.com