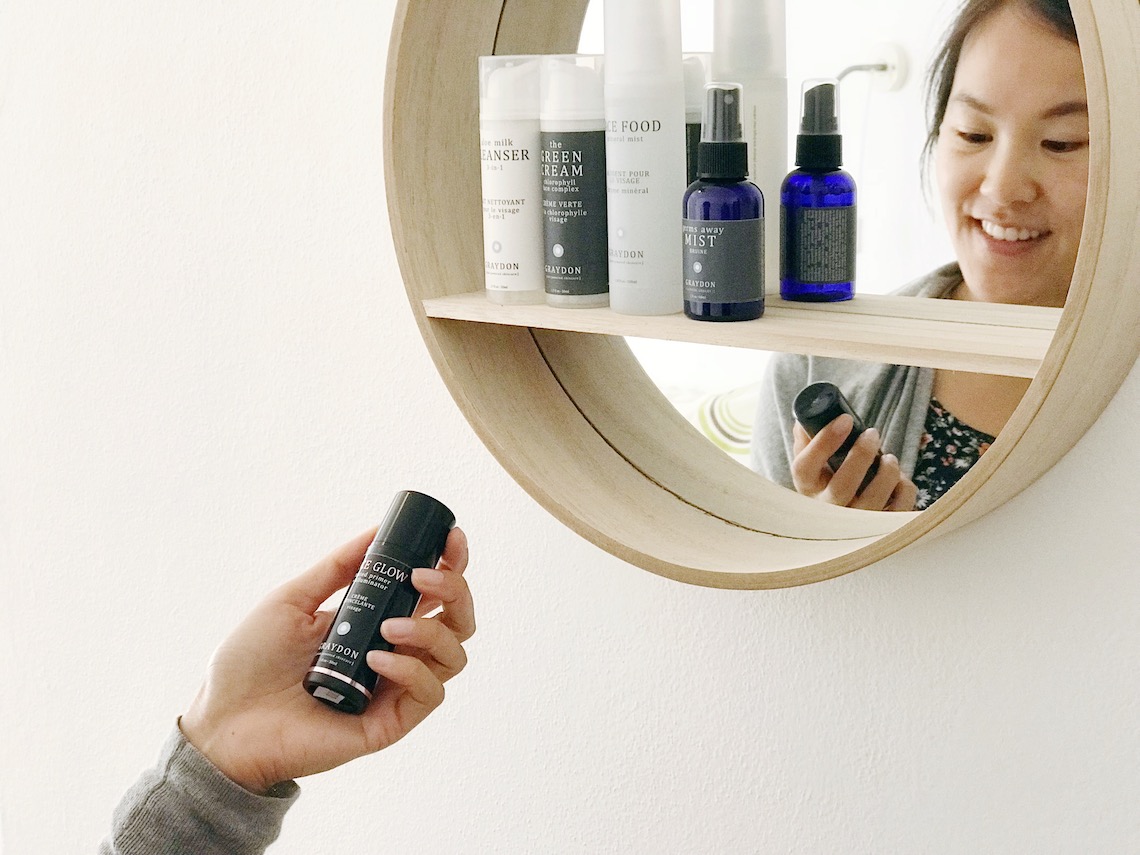 I'm writing this blog post as I finish the last pump of "Green Cream", a natural facial moisturizer made with brococoli seed oil from the Fraser Valley, and the product that got me hooked on the Canadian natural skincare brand Graydon Skincare.   
Graydon is a Toronto-based skincare brand, named after founder Graydon Moffat who transformed her life from "dis-ease to ease" through the power of her diet.  Her skincare brand focuses on feeding the skin and the body with ingredients you'd put in your breakfast or salad bowl — superfoods like broccoli, chia, and avocado — so that her customers will never need a science degree to read her ingredient list and understand what they are putting on their skin.
Graydon is very transparent in the ingredients used in each product; the brand makes the effort not only list out its ingredients, but goes one step further to describe and explain the benefits of each active ingredient.  This full-disclosure communication is a sign of the brand openly standing behind and vouching for each and every carefully selected ingredient used in its formulas.  Graydon does not use fillers, petrochemicals, toxic chemicals, phthalates, artificial fragrances or synthetic dyes in any of their products.
Stemming from my love of Green Cream, the ladies of Kiss and Makeup, a Vancouver stockist of Graydon and other natural beauty products, arranged to gift me a couple more products to try and review, and I carried them ALL with me on my year of travelling around the world.
I've been using Graydon skincare products for six months now.  After using Graydon products on a regular basis, I am finally ready to write a thorough review of all the products I've tried!  Read on for my review of six skincare products from Graydon.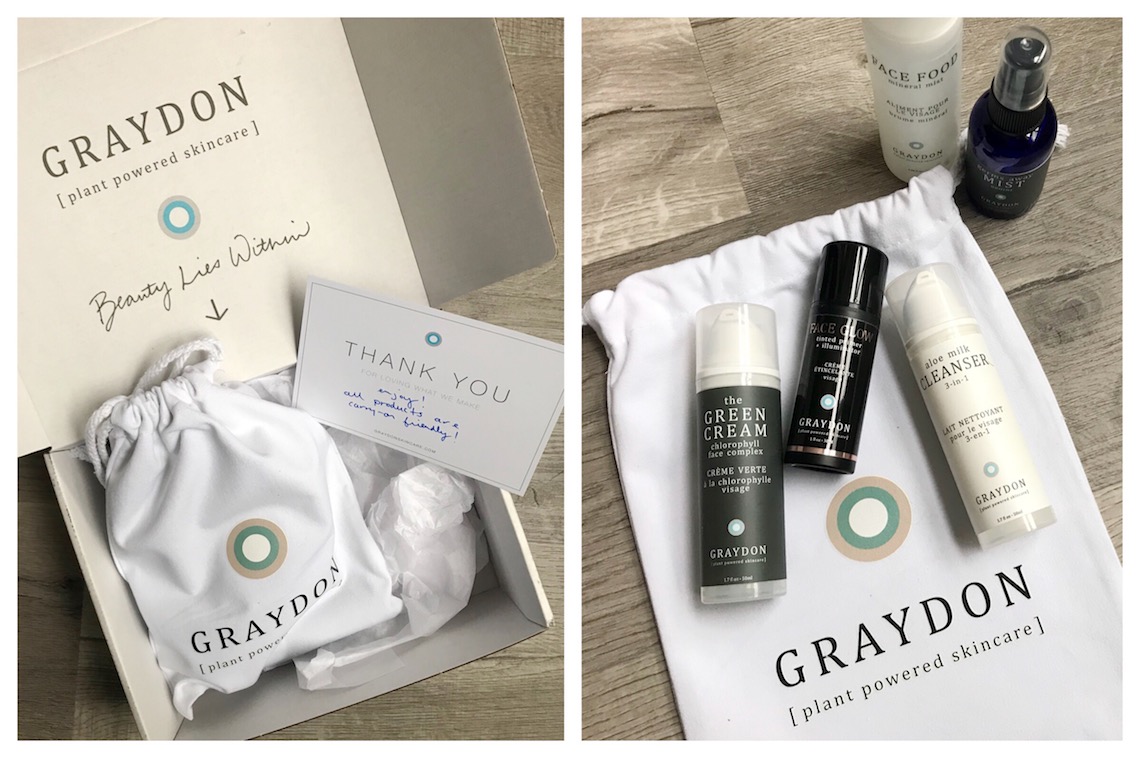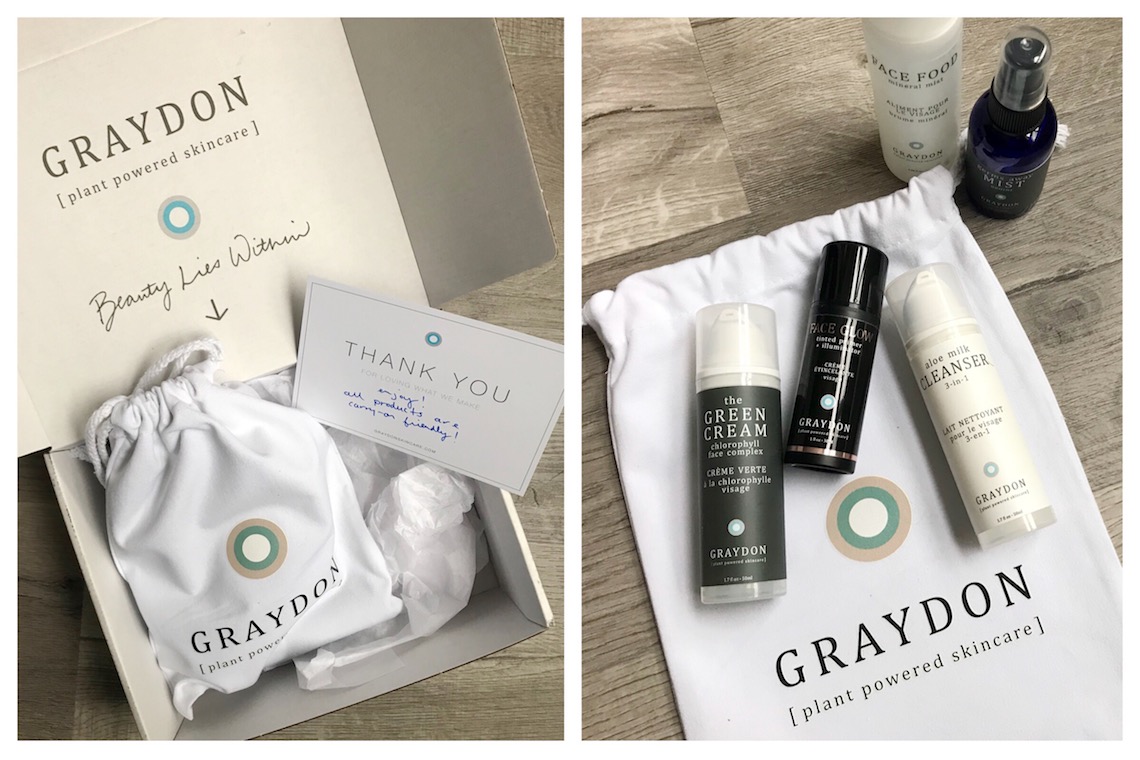 GREEN CREAM – I can't say enough good things about Green Cream!  The name comes from both the colour of the cream (a very subtle green tint) as well as the ingredients used to create it including chlorophyll, broccoli seed oil and parsley. The ingredients really do feel like a salad for your face!  The lightweight lotion applies with a soft, matte-like finish and absorbs easily with absolutely no feeling of greasiness.  The scent is very unique, I was told some of the main herbs that give it its unique scent includes parsley, sage, rosemary.  According to Graydon, the herbal aroma-blend helps support the skin's detoxification. Green Cream continues to be my favourite Graydon product and I would have no hesitation in recommending this to my friends and readers looking for a natural face lotion to try.
Graydon Green Cream retails for $38.00.
ALOE MILK CLEANSER –  This milky cleanser is made from perilla seed oil, which helps retain moisture, and aloe vera which is a skin soothing, moisturizing agent.  The soft and milky texture is lovely on the skin, but because it's so smooth and slippery sometimes I don't feel like it has enough "grip" to scrub away my makeup.  If you aren't pairing this product with a facial sponge (or something with more grip than your fingers), I would recommend this mild cleanser for your morning skincare routine, and use a more powerful or scrubby product at the end of the day for makeup removal.
Graydon Aloe Milk Cleanser retails for $28.00.
FACE FOOD MINERAL MIST – This is a scent-free mineral mist.  Although it seems like you are misting plain water on your face, the formula is actually infused with minerals like magnesium, zinc (antioxident), silver (antimicrobial and antiseptic), and copper which helps refresh, tone, and hydrate the skin while combatting redness and inflammation. I like misting this on my face when I already have makeup on and need a hydration boost. The spray nozzle is very fine on this product, so you get a delicate, non-intrusive mist rather than a spray to the face. 
Graydon Face Food Mineral Mist retails for $38.00.
GERMS AWAY MIST – I love the citrus scent of this natural antimicrobial spray which is made up of 12 germ killing essential oils  including geranium, grapefruit, and lavender.  I've used Graydon's Germs Away Mist a lot while travelling to get the musty odor out of stuffy hotel rooms, bathrooms, or luggage that needs to be aired out.  This can also be used as a yoga mat spray, or used on your cell phone and other electronics to get rid of bacteria.
Graydon Germs Away Mist retails for $9.00.
FACE GLOW – This mineral illuminator is meant to be worn under your makeup and can also be used as a highlighter for your cheekbones.   I don't use this product nearly as much as the others I've mentioned as I haven't found an illuminator to be super practical while travelling (I have a constant, sweaty, natural glow from being in hot and humid countries) but I appreciate that this product, like all Graydon products, are made from natural ingredients.
Graydon Face Glow retails for $38.00.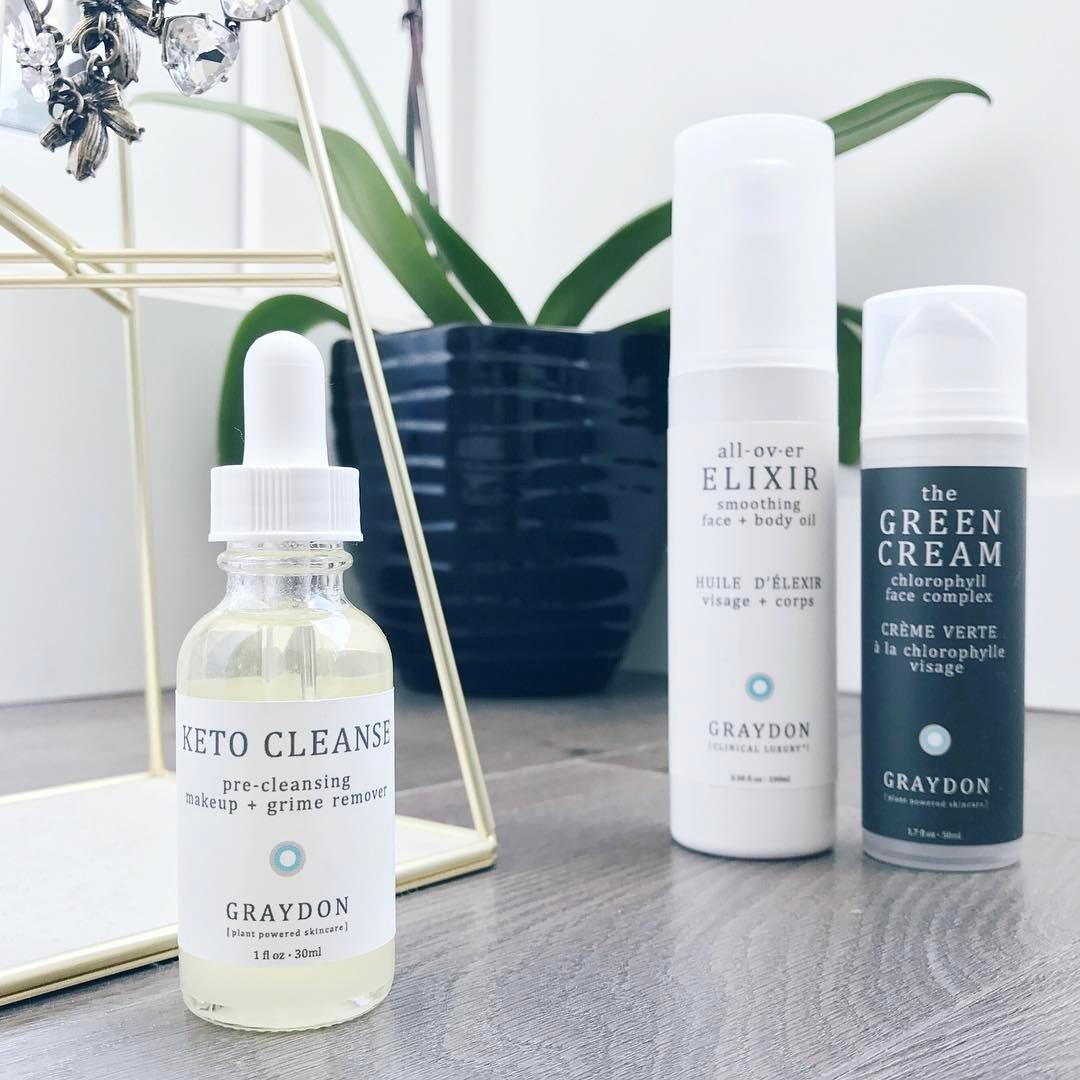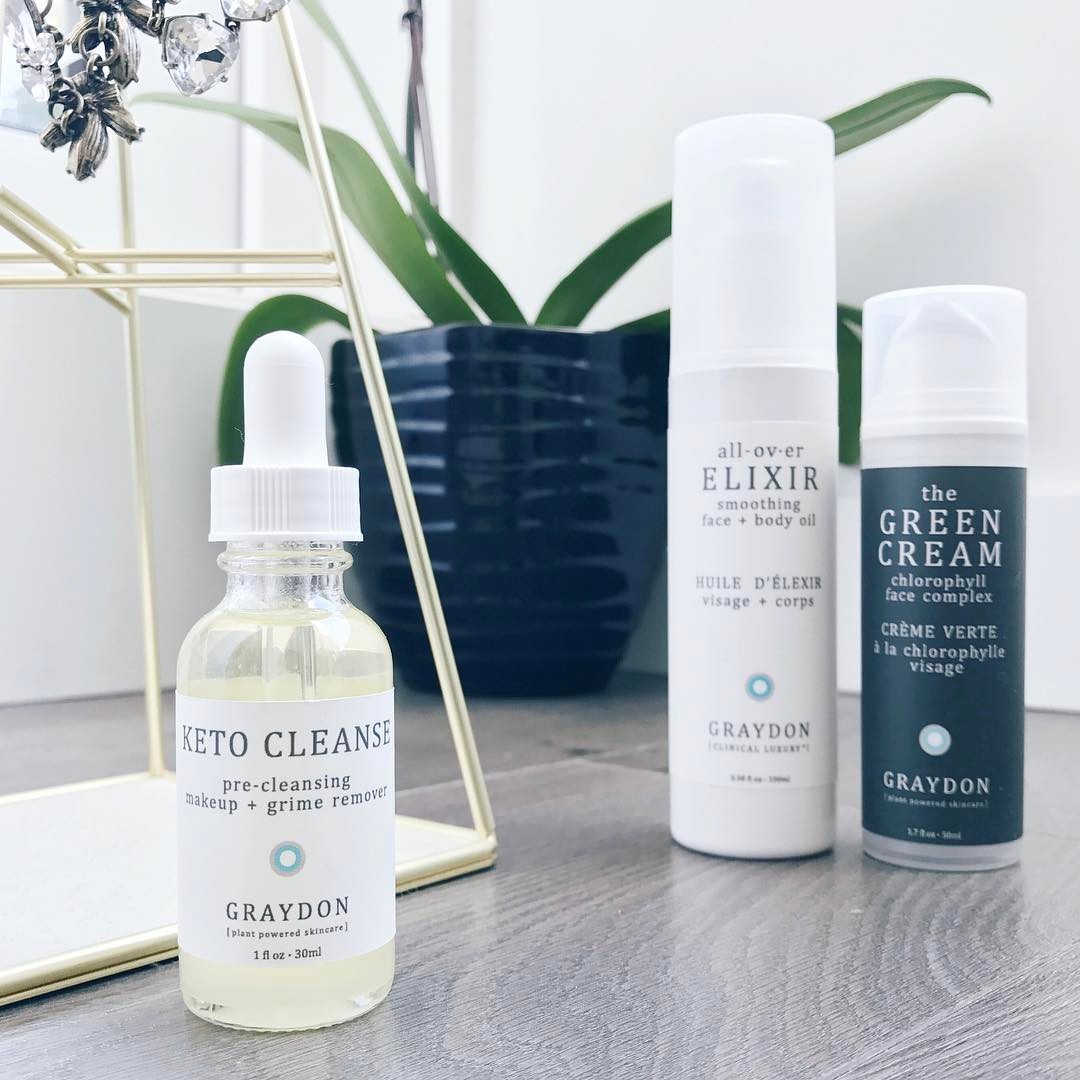 One other product I've tried in the past (but finished the entire bottle before I began our travels) is Graydon's Keto Cleanser.
KETO CLEANSER – This oil based concoction of cold-pressed coconut oil, ghee, and MCT oil is a makeup remover that leaves your skin with a very soft and lovely texture. It smells good enough to eat! According to Graydon, the product maintains your skin's natural PH balance while providing a protective moisture barrier for fresh, hydrated, skin and is appropriate for any skintype.  However, if you have oily skin, you may not prefer the feeling of a rich oil on oily skin.  
Graydon Keto Cleanser retails for $36.50.
==
Beyond these six products that I am super familiar with, Graydon also offers there are at least two dozen more to try including serums, face masks, body care, haircare (shampoo and conditioners), and more.  But from what I've tried, Green Cream is still my favourite product from the Graydon collection, followed by the Keto Cleanser.
For more information about Graydon skincare products, visit graydonskincare.ca or try them out in-store at Kiss and Makeup at 1791 Manitoba Street in Olympic Village.