Looking for an Oktoberfest party in Vancouver?  For the past 30 years, the Vancouver Alpen Club has been Vancouver's main location for Oktoberfest festivities, a German tradition that celebrates traditional Bavarian food, entertainment, and of course, beer.
"Unpack your Lederhosen and Dirndl as the Vancouver Alpen Club is pleased to announce its Oktoberfest #DASORIGINAL.  Come and dance together with Vancouver's very own Schuhplattler dance group the "Alpen Plattlers". Sing along to original Oktoberfest music with "The Continentals" like you'd hear it at the "Wiesn" and be the best while participating traditional games."
Each day of the Oktoberfest Festival at the Alpen Club welcomes over 400 visitors, with over 7,000 liters of beer consumed over the course of three weekends.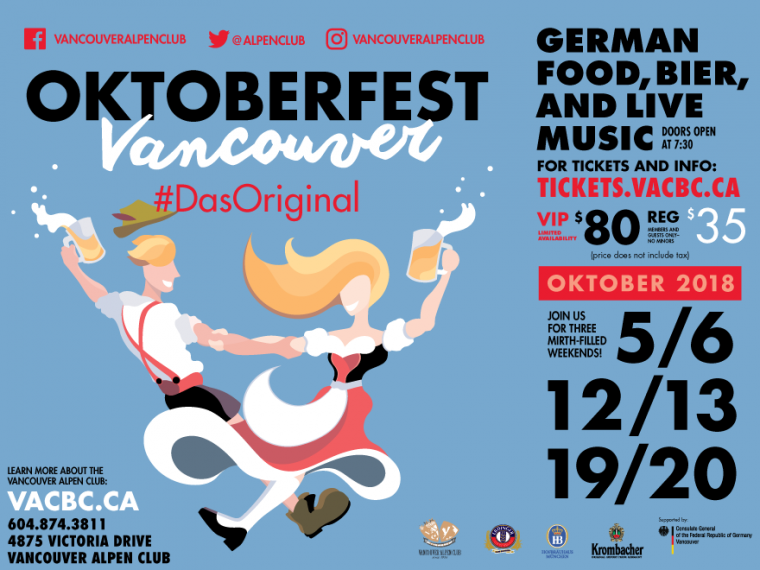 Event Details: Oktoberfest at The Vancouver Alpen Club
Where:  The Vancouver Alpen Club at 4875 Victoria Drive
When: Three weekends in October 2018: 5th & 6th, 12th & 13th, and 19th & 20th.  Doors open at 7:30pm.
Admission: General admission is $35. VIP tickets are $80 which includes access to a designated area with a German buffet.  Tickets can be purchased online on the Vancouver Alpen Club website.