What if you can package the goodness of natural Mediterranean ingredients, and turn their nourishing benefits into natural skincare products for the rest of the world to experience?  That's exactly what the brand KORRES did, a Greek-founded natural skincare line that you may have seen in Vancouver at Shoppers Drug Mart or online at shoppersdrugmart.ca.
The "Mediterranean Diet" is known to be rich in antioxidants, healthy fats, fiber, vitamins and minerals. Increasing Greek staples in your diet like olive oil, herbs, fruits and vegetables, is a healthy lifestyle choice. If you've been to Greece, you've likely encountered ingredients like yoghurt, tzatziki (a homemade yoghurt and cucumber dip), lemon, and pomegranate.
This summer, I spent two weeks in Greece as part of our round-the-world travels and gained a new-found appreciation for KORRES skincare.  The brand was sold at every pharmacy and drug store we went to, some having giant wall-filled displays of everything you could possibly need for your skin, hair and body.   Friendly pharmacists were eager to explain the benefits of the products and make a recommendation based on skin type, ailment, or scent preference.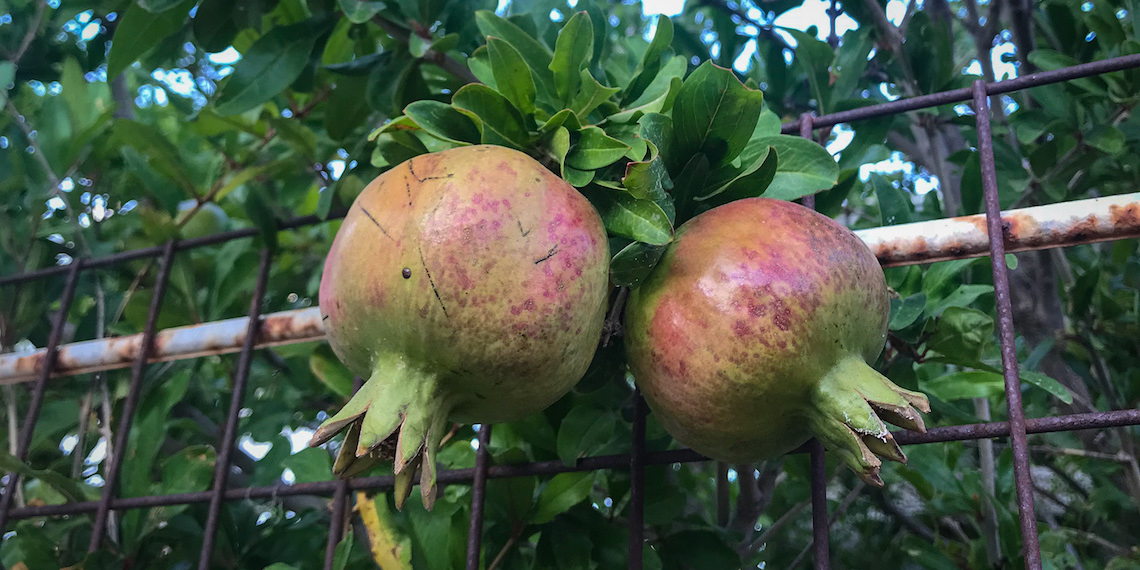 I've heard about the KORRES brand back home in Vancouver, and even tested out a few of their products — but only until I actually travelled to to Greece, and saw with my own two eyes how wildly popular the brand is in Greece, was I inspired to research more about the benefits of their products.  I asked the locals about this brand; was this a brand catered towards tourists?  Not at all.  Almost every Greek woman I asked about Korres, said she uses the brand.  And that's what they attributed to their great skin or shiny hair or moisturized lips; the answer varied depending on who we spoke to.
On a Greek Food Tour on Naxos Island, our tour guide proudly shared with us pharmacist Georgios Korres was originally from Naxos. The brand was founded in 1996 out of Athens' oldest homeopathic pharmacy.  With a deep knowledge of over 3,000 herbal remedies, KORRES identifies the most powerful natural ingredients (many of them Greek-inspired) and maximizes their effectiveness using scientific advancements.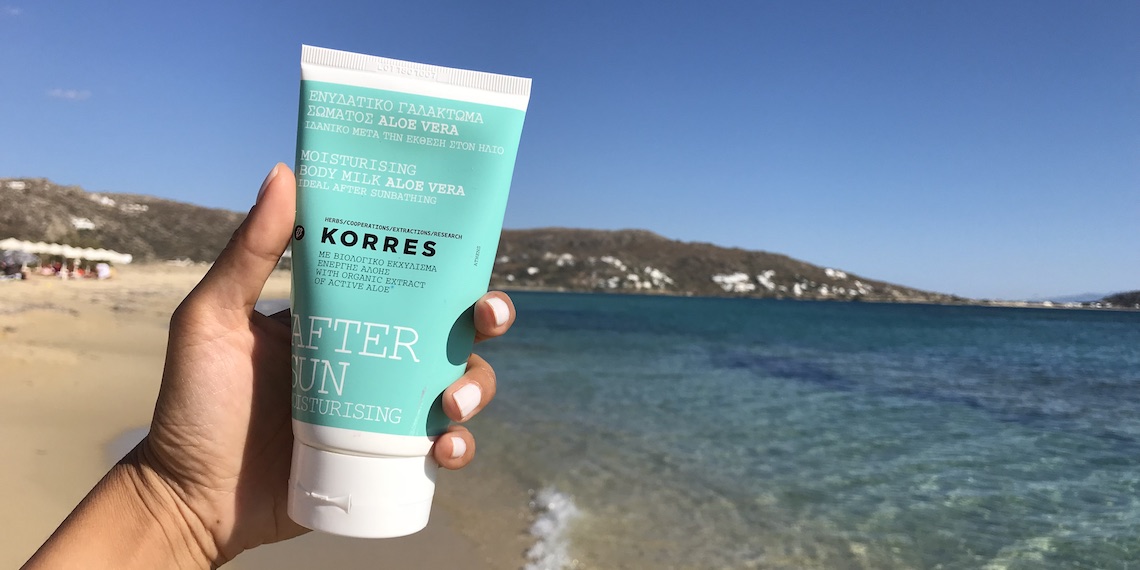 Back home in Canada, we don't have the full array of Greek KORRES products, however, most of the crowd favourites are available. The main focus in Canada seems to be on the yoghurt and pomegranate lines.  Here are some products to look out for at your local Shoppers Drug Mart:
KORRES Greek Yoghurt Nourishing Moisturiser ($46) –  This nourishing cream contains full-fat Greek yoghurt, a natural source of proteins, vitamins, and minerals to nourish and hydrate dry skin instantly. A blend of vitamin E, olive oil concentrate, and macadamia nuts add a boost of antioxidant protection, with no parabens, sulfates, or phthalates.
KORRES Body Butters ($33) – Rich, luxurious butters enriched with shea to deeply soften, soothe, and nourish the skin.

 

Scents include Fig, Basil Lemon, Guava, Bergamot Pear, Jasmine, and Yoghurt.
KORRES Greek Yoghurt After Sun Cooling Gel for Face and Body ($33) – This ultra-cooling cream gel provides long-lasting freshness and comfort to the face and body immediately upon application. Ideal for after sun exposure, nourishing Greek Yoghurt hydrates the skin, relieving excessive heat and stinging. This Cooling Gel helps reduce skin redness and prolong suntan. For maximum cooling effect, keep refrigerated.
KORRES Pomegranate Cleansing & Makeup Removing Wipes ($20) – Infused with the toning, mattifying and pore-minimizing properties of pomegranate, these wipes cleanse the skin and remove even the most stubborn face and eye make-up, including waterproof mascara. Oil free, they purify and refresh without a greasy residue. Perfect for on-the-go cleansing.
KORRES Greek Yoghurt Cleansing & Makeup Removing Wipes ($20) – Pre-moistened cleansing wipes formulated with nourishing Greek Yoghurt to easily remove stubborn face and eye makeup while softening skin.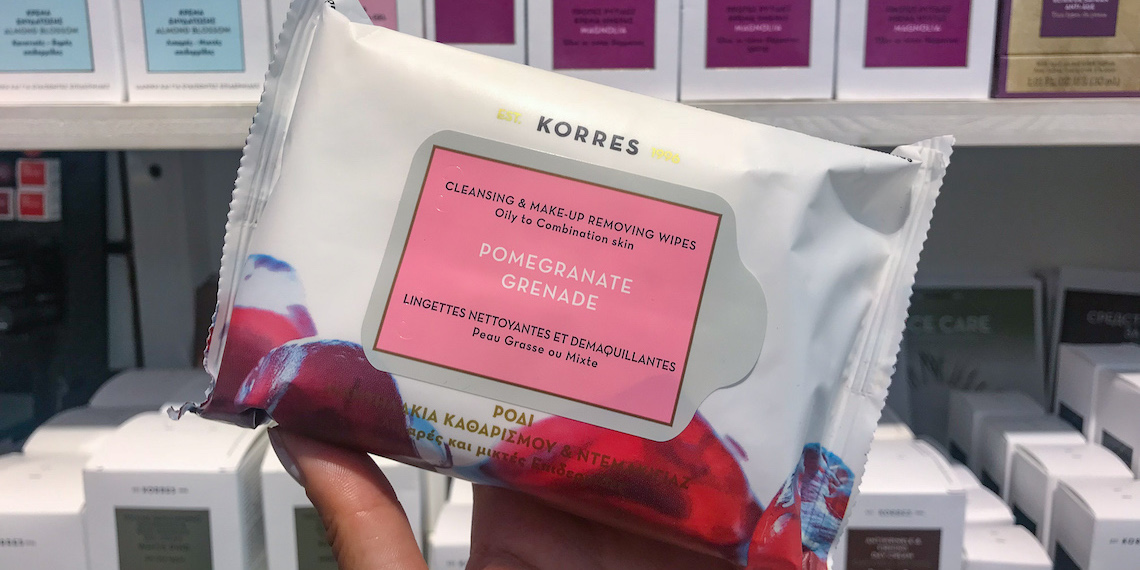 For a more premium anti-aging product featuring saffron, try:
KORRES Golden Krocus Ageless Saffron Elixir ($130) – Every October, the farmers in the Greek town of Kozani gather the crocus flowers that yield the world's most valuable spice: saffron. Filled with powerful antioxidants, the saffron from Greece is the highest quality in the world, often valued as highly as gold. Korres has harnessed the power of the precious spice in the new Golden Krocus Ageless Saffron Elixir, a revolutionary formula that visibly repairs all signs of aging.
On our last day in Greece, my boyfriend and I stocked up on KORRES skincare products for the rest of our travels including a face scrub, aftersun lotion, shaving cream, and body butter.  When we run out, we are both relieved that we can easily find KORRES back home in Vancouver at Shoppers Drug Mart or online at shoppersdrugmart.ca/beauty.