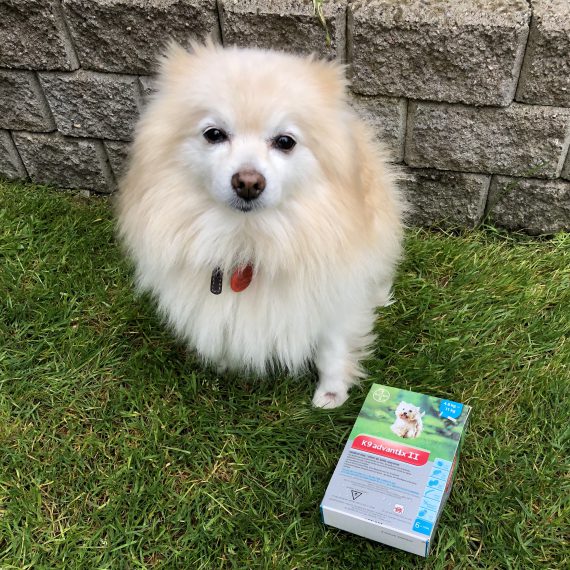 My dog Teddy Bear is ready for summer in Vancouver and can't wait to play outside.  The bad news? It's also flea and tick season.  Fleas & ticks are an increasing concern in Canada. Thanks to our changes in climate, wildlife migration and more pet owners vacationing with their pets, dogs and cats are increasingly at risk. Do you know a flea can bite up to 400 times a day? As pet owners, we've opted to use Bayer's K9 Advantix II to keep Teddy safe from fleas and ticks and their itchy, uncomfortable and infectious bites. The best part about using K9 Advantix II is that the non-systemic product can prevent your dog from being bitten as the treatment works upon contact.
When we began our travels, Teddy Bear went on his own little vacation with my boyfriend's parents.  We left them with a list of Teddy Bear's favourite outdoor activities in Vancouver.  Now that summer is on its way, there's no better time than now to share our list of dog-friendly summer activities on Modern Mix Vancouver.
Go on a Hike Together 
Quarry Rock in North Vancouver is my all-time favourite hike to do with Teddy Bear.  The 3.4km hike is made up of short inclines, stairs and bridges, and takes less than two hours to complete.  Given the easy effort to climb up the trail, the payoff is amazing, with an expansive view of Deep Cove. At the top, there's plenty of space to eat a snack before descending back down — be sure to pack some treats for your dog as well!
Quarry Rock / Baden Powell Trail Head Parking: 2200 Panorama Drive (North Vancouver, BC)
Play at a Dog-Friendly Beach 
In Kitsilano, near the Museum of Vancouver and Vanier Park, there's a small dog-friendly beach called Hadden Park.  Although Teddy isn't a swimmer, we've seen lots of other off-leash dogs (and their owners!) splash into the water.  With K9 Advantix II, your pup can swim or splash because the product is waterproof! Not going for a swim?  Relax on a log instead and watch the other dogs play.
Hadden Park: 1905 Ogden Avenue (Vancouver, BC)  
Explore Dog-Friendly Steveston
Although food establishments don't allow dogs inside, Steveston is the perfect place to grab fresh fish & chips to-go and stroll with your dog along the boardwalk.   Many of the gift stores and clothing boutiques in Steveston are dog friendly as well.  If you're not sure, just ask!
Pajo's Fish & Chips Counter: 12351 3 Ave in Richmond, BC
Take the Aquabus to Granville Island
Did you know that the cute little public ferries that shuttle passengers around false creek are dog-friendly too?!  As long as your dog is on a leash, he can ride with you.  Our recommendation is to take the Aquabus from downtown to Granville Island, and spend the afternoon exploring Granville Island.  Be sure to stop by the pet shop Granville Island Pet Treatery, they'll give your dog a free treat!
The Granville Island Pet Treatery: 1496 Cartwright Street (Vancouver, BC)
Eat Ice Cream Together
Your dog doesn't have to stare longingly at you while you indulge in an ice cream cone — your furry best friend can have his own!  Rocky Point Ice Cream has a special flavour of ice cream just for dogs: the K9 Doggie Ice Cream, which comes topped with a doggy biscuit too.
Rocky Point Ice Cream: 2800 Murray Street (Coquitlam, BC)
Bike with Your Dog
Believe it or not, there's a bike attachment called a Buddy Rider you can buy for your dog.  This BC-based company has invented a pet seat which attaches to the handles of your bike so your dog can strap in and ride sitting up in front of you.  For your first ride, try a smooth and easy path like the Stanley Park Seawall to get your dog used to riding shotgun.  We've seen the Buddy Rider for sale at:
Moonlight Dog Café: 835 Beatty Street (Vancouver, BC)
Discover Dogs Store: 701 Kingsway (Vancouver, BC)
==
As you and your dog get ready for summer, be sure to keep your pup safe from flea and tick bites that can spread infectious diseases by using K9 Advantix II.  For more information, ask your vet and visit nobiteisright.ca to see if K9 Advantix II is right for your furry best friend.