Active Vancouverites, on the West Coast, are known to be receptive towards new developments in athletic apparel.  One of the newest athleisure brands to launch in Vancouver is Ably Apparel, an eco-friendly clothing line "activated with Filium". You may have seen online videos of the Seattle-based company that specializes in an apparel technology which repels sweat odours and stains.  "Filium" coats each individual strand of natural cotton so liquids and stains roll off the surface, rather than being absorbed.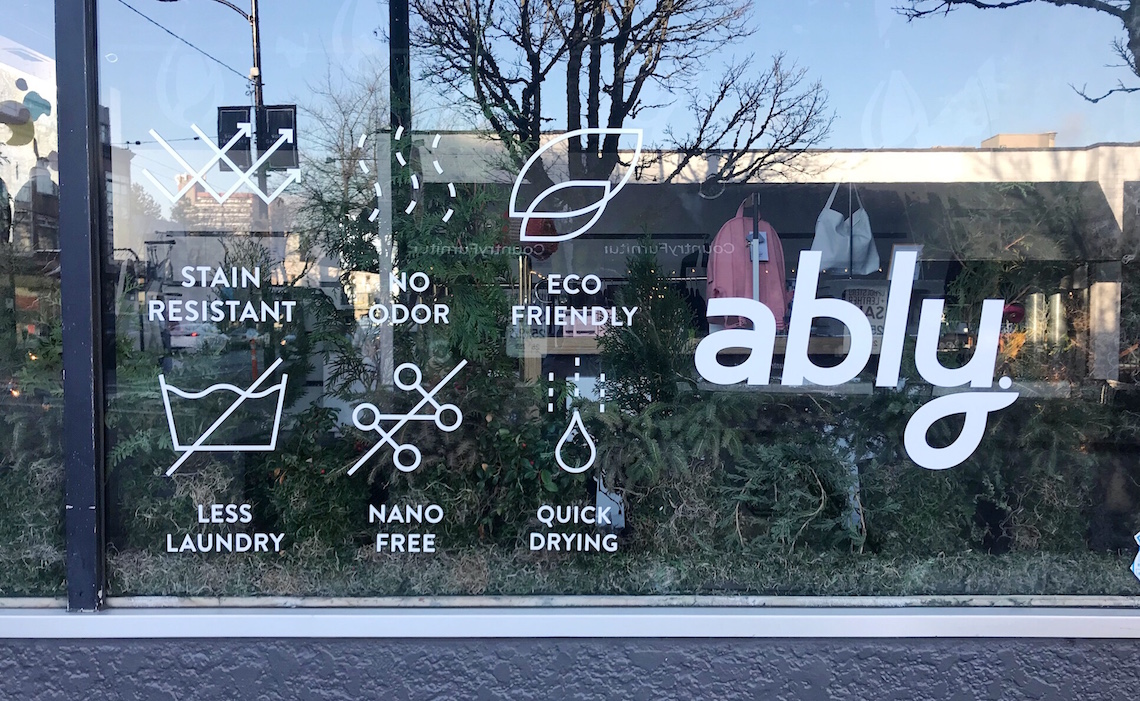 Ably Apparel is the creation of Raj and Amit Shah, respected 40-year veterans of the apparel and fashion industry, along with former Starbucks and Nike creative director, Stanley Hainsworth.  You may know the Shah brothers from Zebra Club, an iconic Seattle-based contemporary streetwear boutique, which also has a location in Vancouver on South Granville.
How does it work?  Filium turns cotton, wool, silk or other natural fabrics into water-shedding, stain-resisting, odor-refusing fabric without losing any natural softness or breathability.  Even something like ketchup (or other sauces) rolls off – as long as you don't RUB in the stain.  All you have to do is gently sweep it off with minimal pressure applied.
Think about the convenience of having a shirt that doesn't stain!  For girls — especially clumsy ones — there's no need to worry about coffee or wine spills.  You may as well get rid of your Tide laundry pen!  For guys, sweat and odours are repelled.  You can pack less on vacation too because your clothes will stay clean for longer; your weekender bag turns into a small tote, minimizing what you have to bring.  Whether you're a messy eater, heavy sweater, or over-packer, there are so many great reasons for a shirt like this.
In terms of styles, Ably offers t-shirts, light sweatshirts, button ups, and joggers, but I think my favourite styles are their basic tee's. I love the "Polly" style and its dropped neckline, with the cute front pocket, and flattering rounded hem.  So far, most of what's available are in plain colours like black, grey, white, red, which are basic enough to wear over and over again.
As the owners of Zebra Club boutique helped develop the Filium technology, they've chosen Vancouver as their Canadian launch city.  Currently Zebra Club at 3101 Granville St on South Granville is the inaugural Canadian retailer for Ably Apparel, however, you can shop online anytime at: ablyapparel.com.
SaveSave
SaveSave
SaveSave
SaveSave
SaveSave
SaveSave
SaveSave
SaveSave
SaveSave