When it comes to a night out with drinks – be it dinner or a house party – I've noticed that my friends and I are becoming more drawn to low-alcohol alternatives, or not indulging at all, and instead, ordering mocktails or sparkling water. I'd like to say as we enter into our late 20's and early 30's, we've put the shots and hard liquor behind us and found other, more positive ways to have fun.
Over the years, for whatever reason, I've become more and more physically intolerant to high alcohol-content beverages. Saying no to the booze – be it for reasons of health or intolerance – seems to be the trend, at least among my circle of health conscious friends.
But then comes the holiday season. And holiday parties. Where, often, the norm is to bring a bottle of liquor to share as a hostess gift. Then, when the generous host offers you the first SHOT from a freshly opened bottle, what's my most common response? "No, I don't really drink anymore. But YOU can!"   Awkward, right? I've had to say this so many times. Or I've done the subtle pass-to-my-boyfriend, where he drinks for both of us.
Then, I discovered Vescent. Or, rather, they discovered me, and gifted me a pack of their new, all-natural sparkling vodka seltzer to try.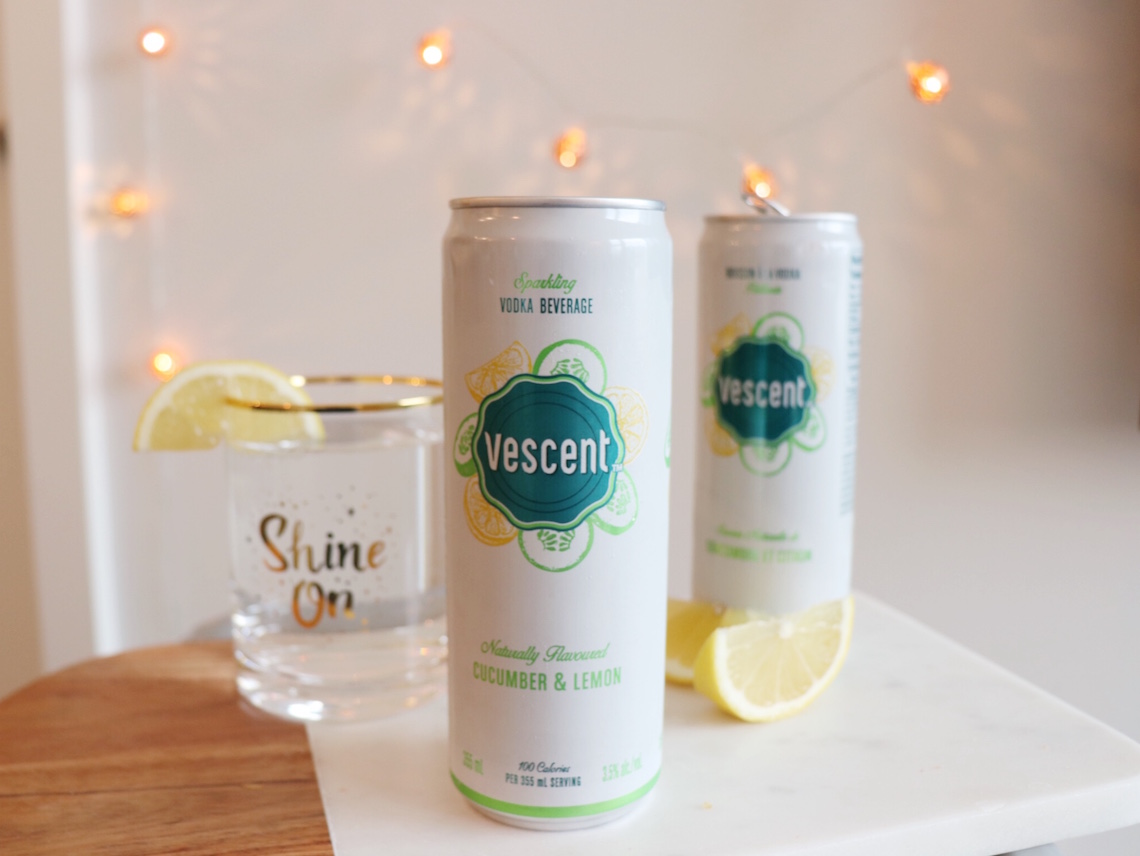 "Vescent is a product innovation for health-conscious consumers who want to partake in and enjoy social occasions without the guilt of feeling like they are compromising their positive lifestyle choices."
Couldn't have said it better myself. As someone who has endured the social awkwardness of saying no to alcohol (especially shots!!) at holiday parties, this brand really speaks to me. At 3.5% alcohol content, this is one of the lowest alcohol ready-to-drink beverages on the market – and I mean that in a very good way. So you can drink, without really drinking, if you know what I mean.
In the comforts of home, I tried out a can of Vescent. The all-natural flavours of cucumber and lemon are super refreshing, and it doesn't taste sugary or artificial like other canned mixed drinks. There are only five simple ingredients in the can, and only 7g of sugar. In fact, an entire 100ml can has less sugar than a serving of coconut water! (I know this because I just checked in my fridge).
Even at 3.5% alcohol, I felt a light buzz. But hey, isn't that how we want to feel while celebrating with friends over the holidays?! The point is, I finished the entire can. Tried, tested and true, I can finally bring something festive and sophisticated to share at my next social gathering. Let's cheers to that! Now, who's ready to invite me to their holiday party?
Vescent is a new ready-to-drink vodka sparkling seltzer and is available at select liquor store locations in British Columbia and Alberta. For more details, follow them on Instagram at: @VescentCanada.
==
This post was written in collaboration with Vescent. All opinions are my own.
SaveSave