I just finished making my own Garlic Balsamic Roasted Beet Cashew Dip for the first time, and I'm really happy with how it turned out!  This is a healthy vegan and gluten-free recipe dip, which only uses a handful of ingredients: beets, cashew, garlic, olive oil, lemon, and balsamic vinegar.  Other than salt and pepper, you don't need any seasoning spices as the combination of ingredients each have their own flavours that combine together to form a sweet and savoury dip.  I like the sweetness of roasted beets, paired with lots of savoury garlic. The acidity in the lemon and balsamic vinegar balances out the nutty, earthy flavour with a refreshing, tangy flavour.
Texture-wise, the blended cashew nuts (which I soaked for a few hours) combined with olive oil gives the dip an easy-to-blend, smooth and creamy texture.
The natural pink colour of the beet makes it a beautifully festive and eye-catching dish to bring to your next holiday potluck.  My Garlic Balsamic Roasted Beet Dip is a much healthier alternative to the fatty, mayonnaise or sour-cream based dips present at many holiday parties.  And the fact that it is gluten-free and vegan means you'll be able to cater towards people with dietary restrictions.  (Unless they are allergic to nuts!)
To keep this dish gluten-free and vegan, be sure to pair with something like Mary's Organic Crackers, or gluten-free bread.  All ingredients and pairings mentioned in this recipe are available at Choices Markets, a BC-based grocery chain which specializes in natural, organic and speciality foods.  Thanks to Choices Markets for providing me with a gift card to purchase the ingredients needed to create this recipe.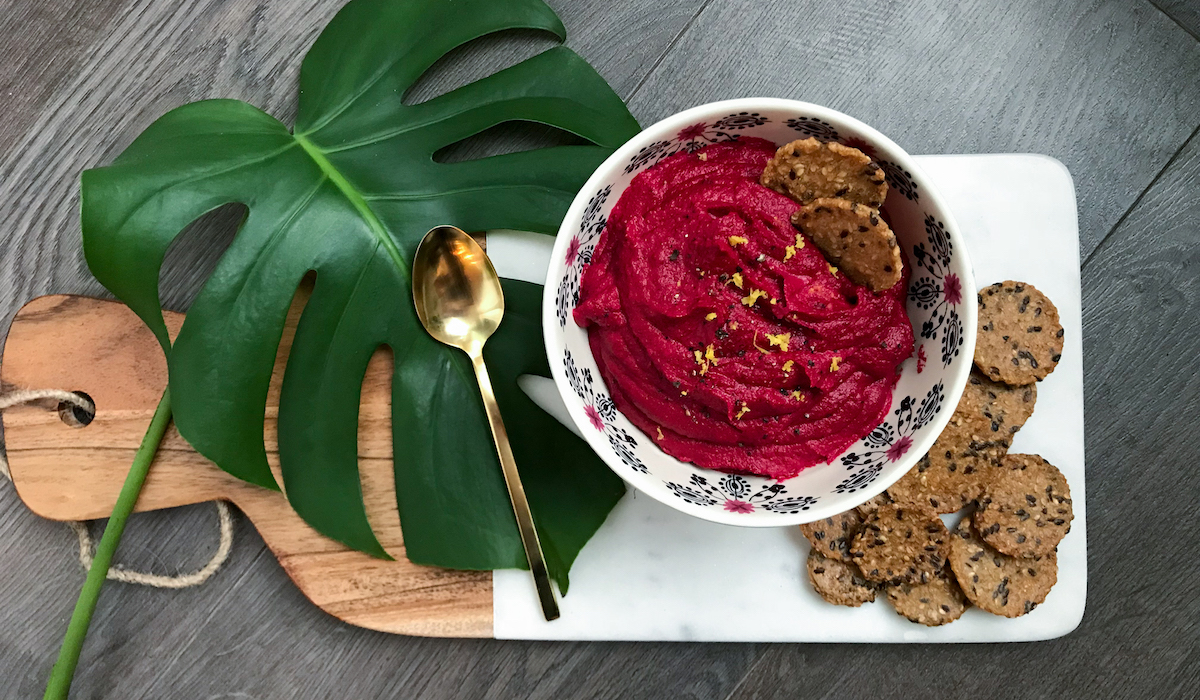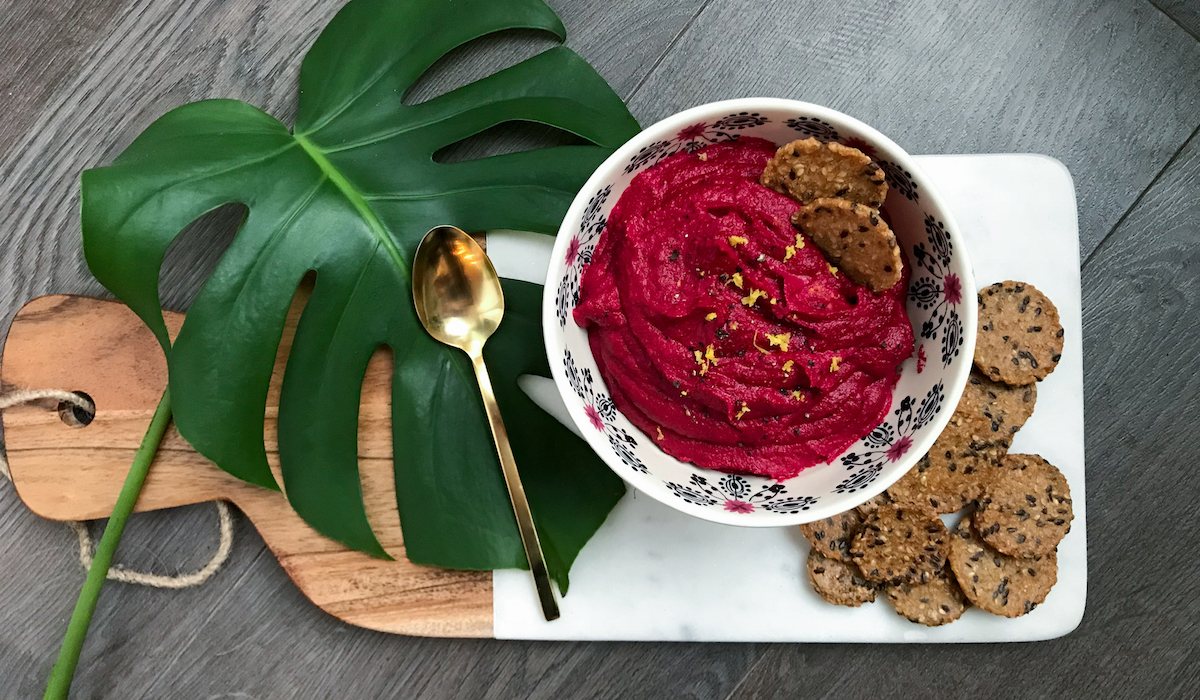 My fingers are still stained pink as I'm typing this recipe out.
Ingredients: 
These are the measurements for the ingredients I used.  When you are making this yourself, use my recipe as a starting point with the beets and cashew nuts as a base, and adjust the flavours (garlic, balsamic, lemon, salt and pepper) to your liking.
Beets – 5
Cashew Nuts – 2 cups, soaked for at least 3 hours
Garlic – 5 cloves (or more, if you want it really garlicky)
Olive Oil – 1/4 cup
Balsamic Vinegar – 2 tbsp
Lemon Juice – 3 tbsp of juice (about the juice in one lemon)
Lemon Rind – grated as garnish
Salt & Pepper
Directions:
Preheat your oven to 350°F.
Peel beets and cut into quarters. Season with salt and pepper.  It's okay if there is still a bit of skin on the beets, it's edible.
Roast beets in a baking dish with 1/4 cup of water, with a lid or foil on, for 1 hour.  When you can easily pierce the beet with a fork, they are ready.  Let the beets cool down for 5 to 10 minutes, until they are warm, not hot.
Combine warm beets (including the water it was baked in), drained cashew nuts, garlic gloves, olive oil, balsamic vinegar, and lemon juice in a food processor or blender.  I used my Vitamix.
Adjust balsamic vinegar and/or lemon juice to your liking.  If the mixture doesn't seem smooth, add in another tablespoon of olive oil.  Season with salt and pepper.
Before serving, garnish with grated lemon rind and pepper.
The lemon in the dip acts as a natural preservative.  Store in a sealed container in the fridge, the dip should last about five days.
SaveSaveSaveSave
SaveSaveSaveSave
SaveSave
SaveSaveSaveSave
SaveSave