In July, I went to Las Vegas with a group of six girls for my first bachelorette party ever!  Of the six girls going on the trip, each of us knew one or two of the other bridesmaids, but we had never hung out together as a group of 6 before. Prior to the trip, the bride-to-be set up a Whatsapp group for us to plan our trip.
Destination ideas like Whistler, Kelowna, Tofino were tossed around as ideas, but Vegas (for the fun factor) was what we went with.  For us, the approach to planning our Vegas Weekend Getaway was very collaborative; out of consideration for the rest of the group, no one person took the lead.  This sometimes meant that decisions took longer to make, but at least (in my opinion) everyone felt like they were heard.  Deciding on the bachelorette destination and booking the flights seemed to be the most important (and time consuming) decisions to make as it set the tone and direction of the trip, but once that was done, everything else fell into place.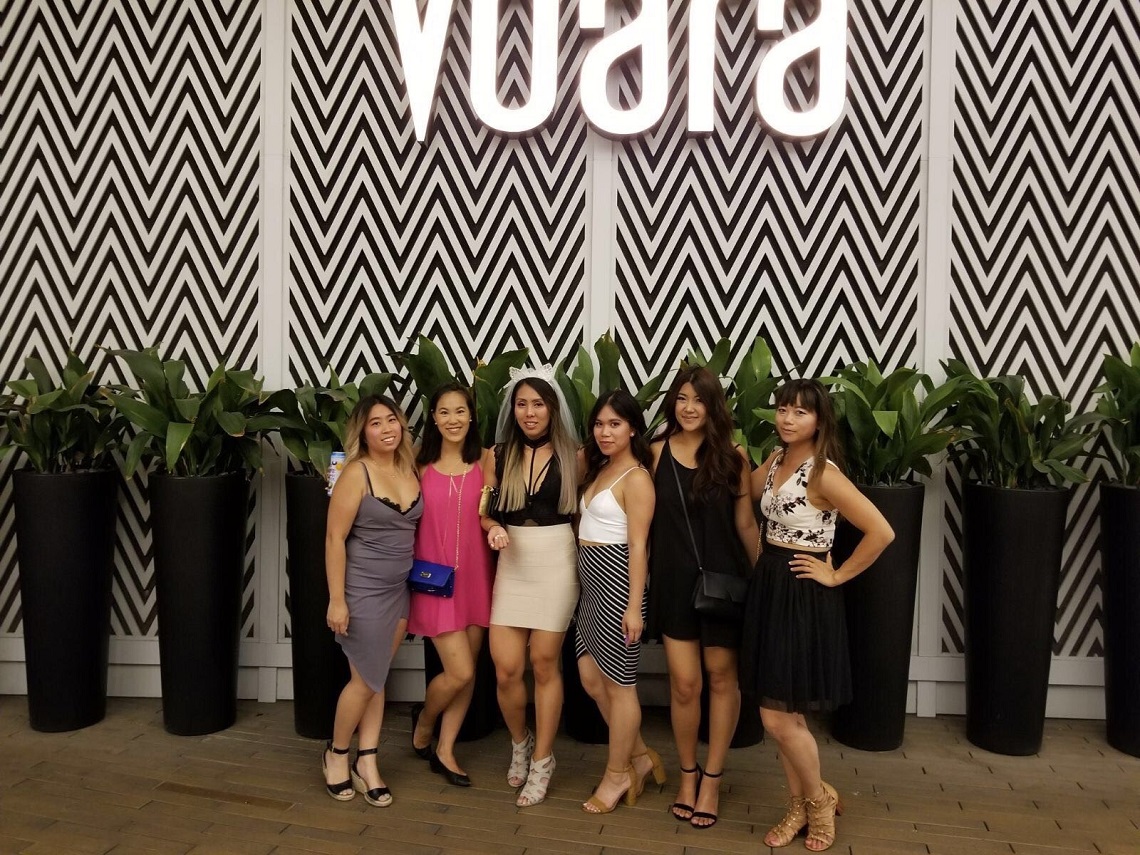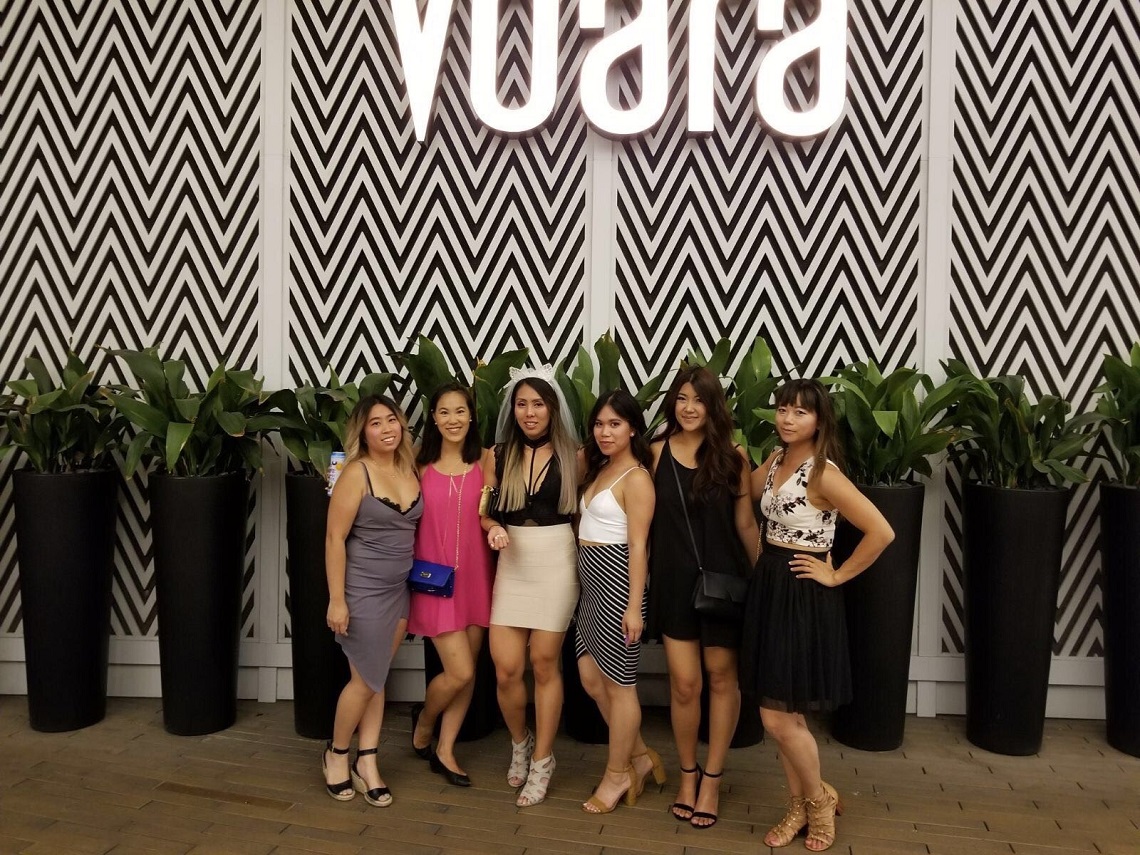 Based on my bachelorette experience in Las Vegas, here are my Top 10 tips for planning a bachelorette in Las Vegas, and having everyone get along:
Pre-plan An Itinerary Before Your Trip
Pre-planning the majority of our activities meant that there was no game-time decision where we were stuck not knowing what to do.  Because the rest of the girls didn't know each other as well as they knew the bride-to-be, the bride-to-be was very much involved in the planning process.   We made one fancy dinner reservation for the first night (we picked Nobu at Caesars Palace, known for its shared plates),  purchased tickets online to Thunder Down Under (a male entertainment show) and made rough plans to go to a pool party on Saturday afternoon and a nightclub on Saturday night.  Because we had an agenda for our weekend, the biggest decisions were made before we got to Vegas, and everyone felt included in the plan.
Pro Tip: As a rule of thumb,  the bride-to-be must always get the final say  – after all, it's her bachelorette party – which actually makes decision-making easier because there is always a tie-breaking opinion.
 Use Uber or Lyft
It was way too hot to walk outside in 40 degree weather. Because there were six of us, we'd typically have to take two cabs to get anywhere.  However, using Uber or Lyft was a more affordable option and you can order an XL vehicle meaning you can fit the entire group in a single SUV and no one gets left behind.
Pro Tip: If anyone in the group is new to Uber or Lyft, share your referral codes among the group so you can get a couple dollars off each ride.  Use my referral code and get up to $20 in free ride credits on Lyft.
Buy Alcohol Off the Strip and Pre-Drink at Your Hotel
Thanks to the suggestion of our Uber driver, we stopped on the way to our hotel from the airport at a liquor store off the strip to pick up two flats of bottled water, champagne, liquor and recovery-beverages like Gatorade and coconut water.  This was a much more affordable option than buying drinks at the club ($30USD for a double at Marquee Day Club, $11USD for a water at Omnia) and the whole group could bond over pre-drinks in our hotel room.
Pro Tip: If you don't want to shell out for bottled water, you can sometimes get iced water for free at a club.
Get Ready Together
There's no better way for a group of girls to bond, than to get ready together.  I loved seeing all the beauty products everyone was using!!  Naked Palettes, toothpaste, lipstick, sunscreen, hand sanitizer, curling irons, and make-up remover wipes were all passed around and shared.  Talking about beauty products – something we all had in common – were good conversation starters that helped us bond.
Dress up as a Bride Squad
On the first night out, all the bridesmaids dressed in black and the bride-to-be in white.  We had sashes (puchased beforehand from Icing) that said "Bride Squad" and our bride-to-be wore super cute white-lace cat ears from Forever 21 with a DIY tulle veil all weekend.  Our bride-to-be got congratulations from strangers ever where we went, which boosted the mood and morale of the entire squad, and made our nights out a fun and friendly experience.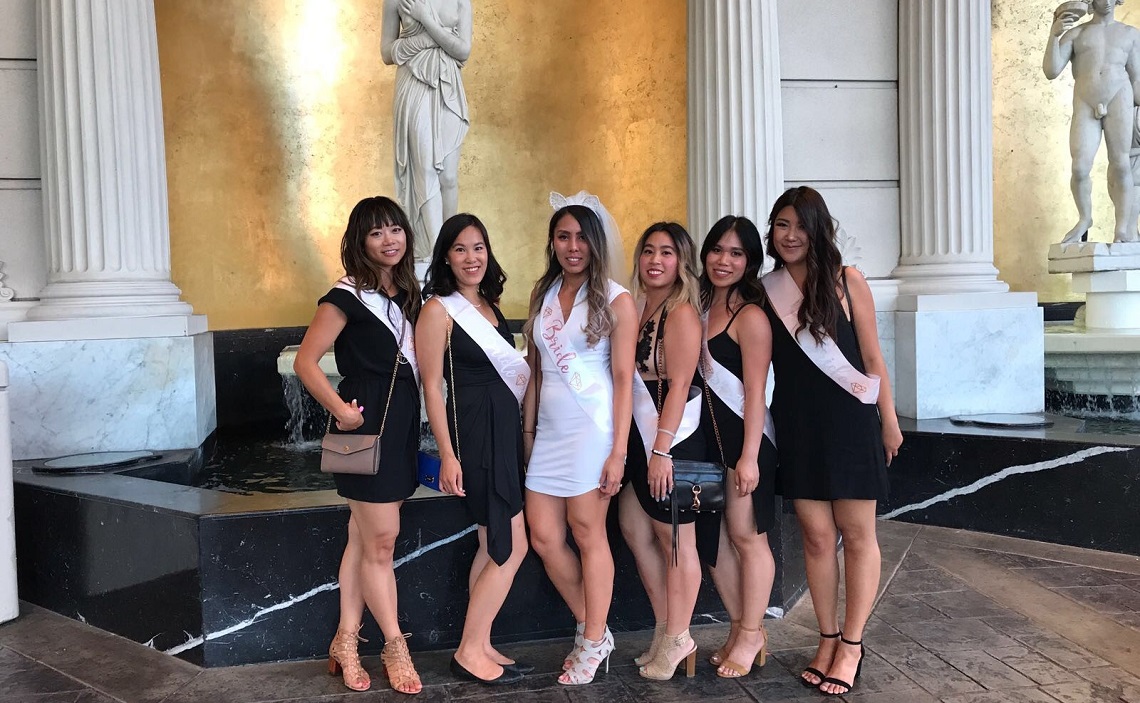 Go to At Least One Male Entertainment Show
One of the highlights of our trip was going to Thunder From Down Under, which is an Australian male entertainment show advertised as: "The PERFECT Girls' Night Outback!"  We  worked as a really good icebreaker for the first night we were in Las Vegas.  Never have I seen so many wild girls screaming, and catcalling, and screeching at the guys at stage – it was outrageous and hilarious.   The vibe of the event was so much fun and everyone let loose. Other male entertainment show considerations included Magic Mike Live, Men of Sapphire and Chippendales, but Thunder From Down Under seemed to consistently be rated one of the best male entertainment shows on the strip.
Pro Tip: If you like rowdiness, go to the latest showing.  We went to the latest show at 11pm – it's likely that the later the show, the more rowdy the crowd.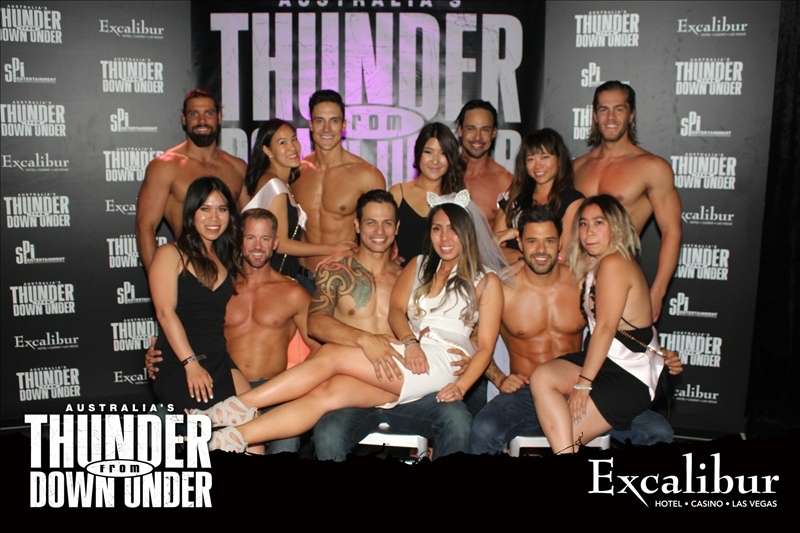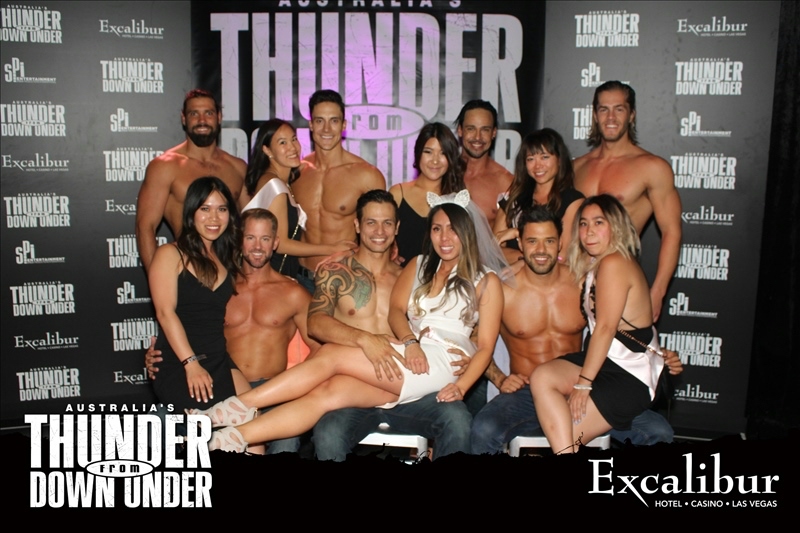 Get to the Club Early

Since nightlife is almost certain to be on your bachelorette agenda, make sure you get hooked up by a club promotor and get on their guestlist.  However, no matter what, MAKE SURE YOU ARRIVE EARLY TO THE CLUB. Despite being on the guest list for Hardwell at Omnia and Hard Rock's Rehab Day Club Party, we had to wait over an hour in the "VIP" line.  They generally first admit the paid, ticketed guests first into the club, then work on the free admission guestlist line.  Omnia was so busy and crowded we had to PAY SECURITY to let us on the dance floor.  You'll have your best chance of getting in if you arrive early.  Or, if there's a DJ playing at a club that you really want to see, purchase tickets online in advance.  

Pro tip: At Marquee Dayclub for Dash Berlin and Marquee Nightclub for DJ Mustard, we went at opening, got our stamp and/or wristband, left to eat, then came back in a few hours later and completely bypassed the line.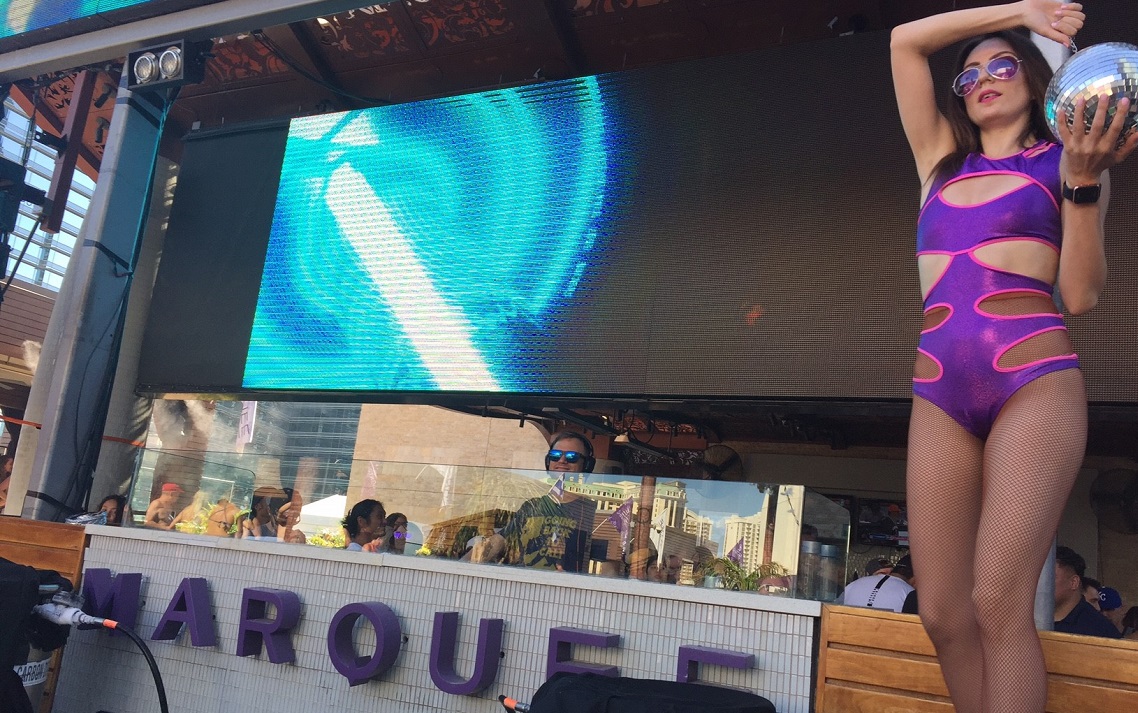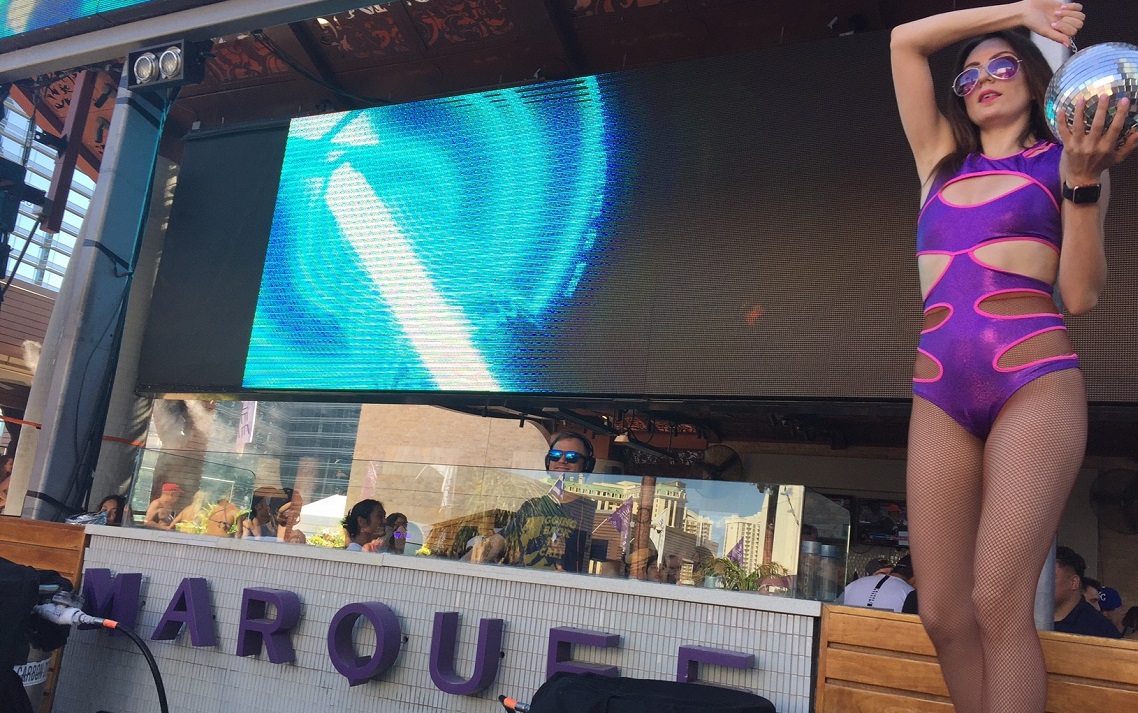 Leave No Girl Behind 
For the most part, the six of us managed to stay together the entire trip and no one was ever left alone or singled out.  We were either all together as a group of 6, or split off into two and four – usually when a duo was tired and wanted to go back to the hotel room, or someone wanted to stay out later.  A few times myself and another one of the girls split off to play Blackjack, while the other girls went early to the club or shopped.
Pro tip: Use the free wifi available at many of the hotels in Las Vegas to keep in touch with the rest of the group.
Do Bachelorette Dares
I'm putting this as one of my last tips because we planned for this but our bride-to-be didn't end up doing the dares. Regardless, I think this can be a really good activity for a group.  Dares like "Tell a stranger you used to date the DJ", "Ask a guy if you can tell his fortune", or "Get a stranger to wink back at you" are awkward but harmless and will give something for everyone to laugh about.
What Happens in Vegas Stays in Vegas
Like the adage goes, What Happens in Vegas Stays in Vegas.  When you see the rest of the girls again at the wedding, don't bring up any crazy or embarrassing stories from your weekend away – ESPECIALLY about the bride on her wedding day.  Unless you know the other girls well (and their relationship with their significant other) it's better to err on the side of being respectful and conservative with your bachelorette weekend stories.
===
In July 2017, we took a 3-Day 2-Night Friday to Sunday trip from Vancouver to Las Vegas, stayed at Vdara Hotel, and paid about $570 CAD each for flights and accommodations.