Subway has introduced four new Paninis to their everyday menu, and Modern Mix Vancouver had a taste of these hot new sandwiches through Subway's travelling food truck.  The Panini Express made its way across Canada introducing its new gourmet paninis to hungry customers who are sure to love the taste of flavourful assorted meats, fresh vegetables and melted cheese, toasted between crispy ciabatta bread.
Although Subway is traditionally known for its customers' ability to customize each individual sub, the paninis come pre-assembled in four gourmet flavours.  Subway does the thinking for you; the best combinations of meat, veggies, cheese, and sauces are already prepared into four unique panini flavours.
Whenever possible, Canadian meats are the highlight of each Panini.  The Chipotle Steak & Cheese is made with Canadian steak topped with green peppers, red onions and cheddar cheese.  The Chicken Cordon Bleu contains layers of Canadian ham, chicken strips and Swiss cheese, topped with baby spinach, tomatoes, and drizzled with a creamy honey mustard.  Meat-lovers can try out the Italian B.M.T. Melt, which is the Panini version of Subway's classic "Biggest, Meatiest, and Tastiest" sandwich: thin and flavourful slices of salami, pepperoni, and ham are layered in warm, melted cheddar cheese, and topped with spinach, tomato and red onion.  Finally, vegetarians (or general cheese lovers!) can order the Triple Cheese Panini, a melty blend of Cheddar, Swiss and Monterey cheese, and spinach, tomatoes and red onions.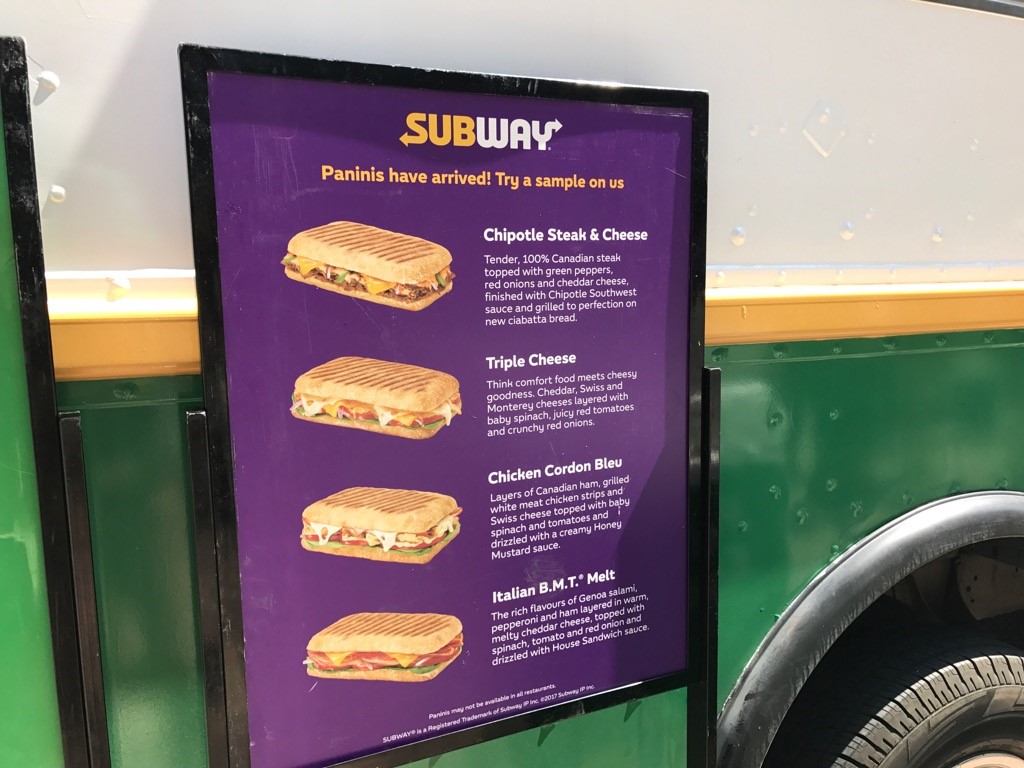 Since sampling the new menu items through the Panini Express, I've already been back to Subway twice and ordered a panini for lunch.  My usual sub of choice at Subway is Sweet Onion Chicken Teriyaki, so it's no surprise that I like the sweet and savoury combination of the Chicken Cordon Bleu Panini.  The honey mustard pairs well with the ham, chicken and mild flavor of swiss cheese.  I also like the Italian B.M.T. because I like the salty taste and texture of the salami, pepperoni and ham slices.
Each Panini is served on fresh-baked ciabatta bread.  The Panini press grills the bread to a crispy finish and melts the cheese, while pressing together the flavours of the entire sandwich for a more impactful and concentrated taste. As a bonus, Subway paninis don't fall apart like regular sandwiches!  The melted cheese helps keep all the ingredients together.
Beginning at $3.99, Subway Paninis are surprisingly affordable and are available at the majority of Subway restaurant locations across Canada.  For more information, visit: subway.com. It's a great time to be a sandwich lover!
Enter to Win a $25 Gift Card to Subway Canada
==
This post was written in partnership with Subway Canada.