The Canadian fitness subscription box "Fitbox" has launched its quarterly subscription service in Vancouver.
For $59 per box, subscribers receive a delivery full of health and fitness related surprises, in the form of full-sized products and coupons that can be exchanged for products, meals, or fitness classes.  Fitbox is based in Edmonton, but is currently available in four cities in Western Canada – Calgary, Edmonton, Saskatoon and Vancouver.  The core products in each city's delivery are the same, but each city-specific box contains localized coupons.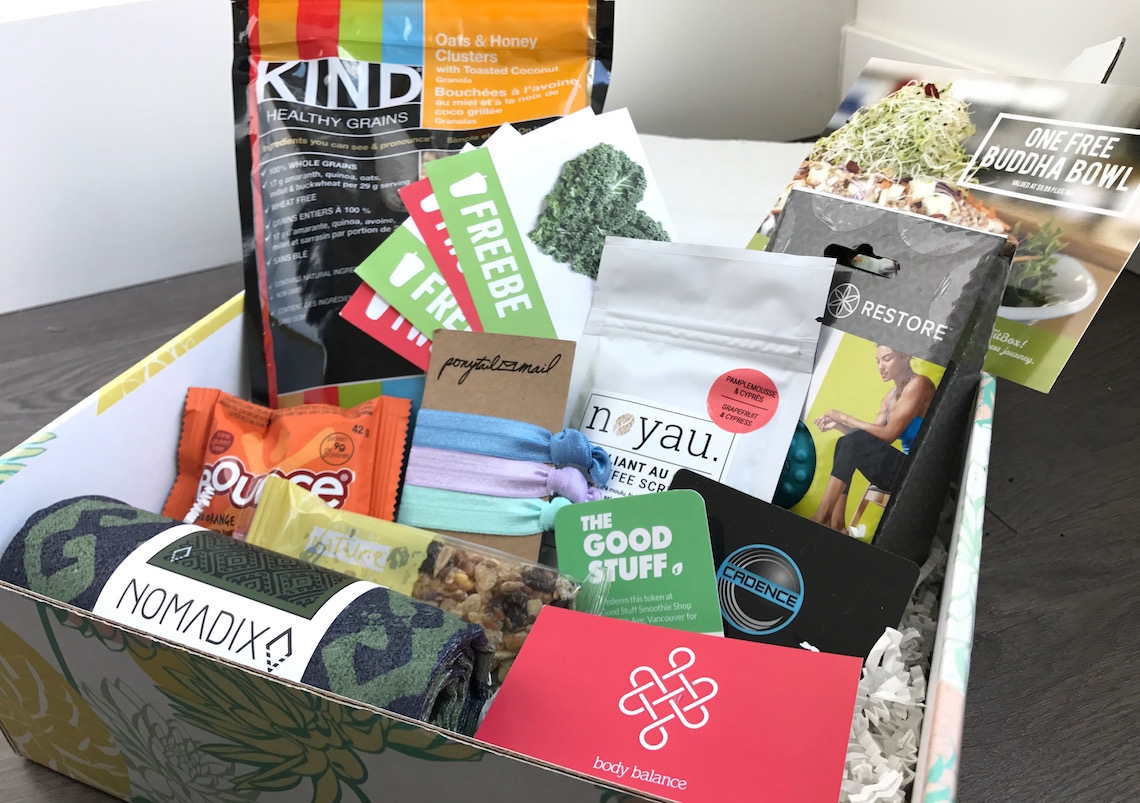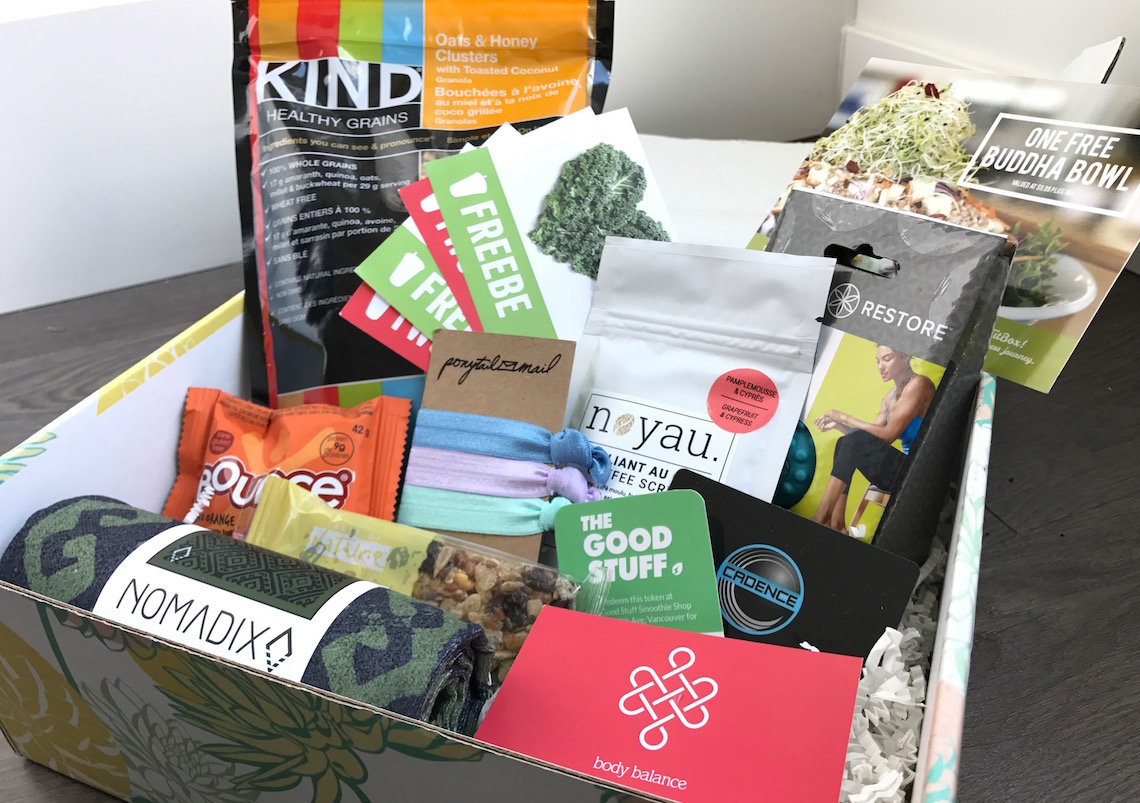 Here are some highlights from the Spring 2017 Fitbox:
KIND Snacks – Granola Oats & Honey Clusters with Toasted Coconut – Clusters of sweet honey and toasted coconut made with wholesome ingredients, including 5 super grains, perfect for eating with yogurt for breakfast!  I thought the inclusion of this full-sized product was great value in the subscription box, and granola is something I always like to have in stock.
Ponytail Mail – Based out of Toronto, this style of hair tie from Ponytail Mail won't make your hair crease.  I like the pastel colours of the elastics, they are great for the Spring season.
Nomadix Hand Towel – Made from 100% recycled plastic materials, this super absorbent towel from Nomadic can be used for yoga, cycling and the beach. I like the eco-friendly aspect of this product, but didn't prefer the masculine navy blue and green pattern on the towel.  There are multiple patterns of this towel available through Fitbox, but, like with all surprise subscription box services, the product styles you receive are random.
Gaiam Foot Massager –  Designed for releasing tension and relieving soreness in your feet, the mini-foot massager provides relief for sore spots in your feet.  Good for using after a workday in heels, or a long night out.
Noyau Coffee Scrub – Noyau is from Montreal and the scent received in my Spring Fitbox was a refreshing Grapefruit Cypress.
Also included were a couple of other snack-type items including: Bounce Energy Balls (Cacao Orange Protein Powder Energy Ball), a Taste of Nature Ginger Bar, and multiple coupons for a free juice or smoothie from any location of Jugo Juice.
Specific to the Vancouver box, there were some class passes and coupons for free food items or fitness classes at Yoga Root (North Vancouver), The Workshop Vegetarian Cafe (North Vancouver), a gift card to Cadence Cycles (Fairview), and a coupon for 3 ready to blend smoothies from The Good Stuff Co. (Point Grey).
April's Fitbox contained at least $150+ worth of products and services, which is great value for a $59 price tag.  However, if you want to get the full value out of Fitbox, you have to be prepared to commute around the city as the localized coupons in Fitbox's April Vancouver box ranged from Point Grey to North Vancouver.
For more information about Fitbox, visit: myfitboxlife.com.