Danes & Divas is a Vancouver-based line of trendy pet accessories that complements the individual styles and personalities of our pet best friends!  The small business was started in 2012 by Vancouverite Shalla Black, a veterinarian assistant at the time who started selling her designs at the pet clinic she worked at while taking custom orders on the side.  She eventually listed her pieces online for sale, and now, Danes & Divas has grown to be her full time gig.   With work and/or education experience in everything from retail visual merchandising to fashion design to veterinarian assistance, Shalla's path combines all her seemingly un-related experience into being an entrepreneur behind her pet accessories brand.
A pet-lover herself (Shelly has two Pit Bull Terrier rescues, a Pug Mix, and two rescue cats), Shalla continues to fuse her love of fashion design with her knowledge of pet and health wellness – and also contributes back to the community through several charitable causes.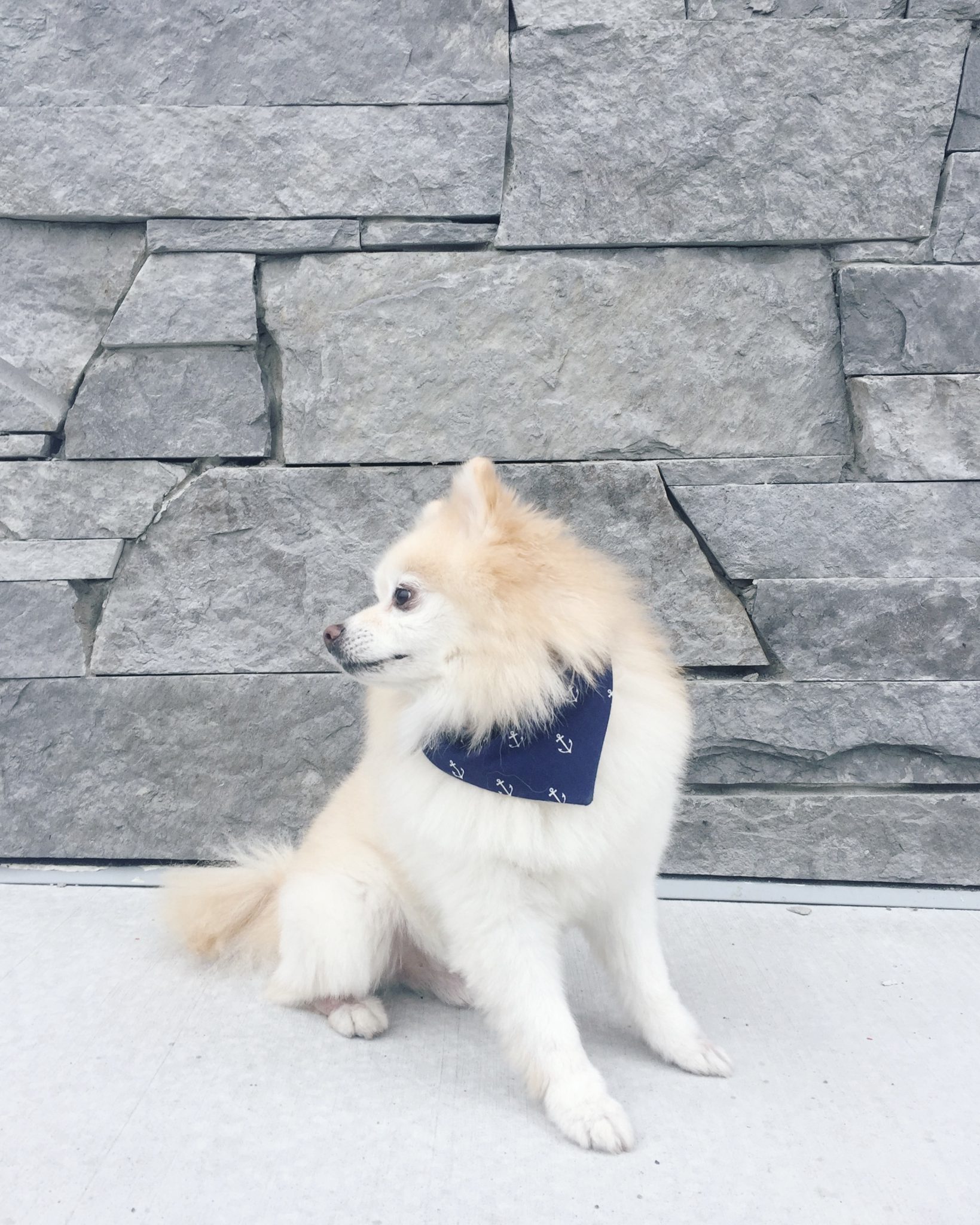 Read on for Modern Mix Vancouver's Q&A with Shalla Black of Danes & Divas.
Do you have a story behind the name Danes & Divas?
In 2011, I had a little fashion blog titled "In with the Diva." While it never took off, the name sort of stuck and I wanted to incorporate it into my business name. I decided on the name Danes & Divas as a nod to designing for all dogs, big and small.
What are some of the charitable causes you support?
Danes & Divas supports many different organizations throughout the year. Richmond and Langley Animal Protection Society are two that myself, my friends and family have all adopted from and they both do amazing work with providing the best care to their shelter animals, something we have seen first-hand.  In addition to these shelters, we do contribute to a few other non-pet related charitable organizations that are very close to our hearts such as the Arthritis Society, the Alzheimer's Association, Movember Canada and the Canadian Red Cross.
What are your top selling styles, patterns and/or products? 
Currently our top selling design is the
Buffalo Plaid harness
.  Now that we're headed into Spring, the Nautical
Chambray Fringe bandana
and
Robin's Egg Blue collar and bow
have also been popular.  Many of the textiles I use are designed and produced by popular US-based textile brands or designed and printed by other artisans. Some materials used in my designs are sourced in Canada, while others are only available in the US and abroad.
What are some designs unique to Danes & Divas?
In the last year, I have designed several patterns on both fabric and ribbon, notably the Foodie collection consisting of Tacos, Donuts and Pizza Slices, the Buffalo Plaid and the Frenchie print in both turquoise and rose.
How do you pick what designs or patterns to use next in your dog products?
I select or design prints that are not only in line with seasonal and runway trends but also ones that I can connect with personally.  I basically have three design criteria my products meet: I have to love the textiles I'm working with, the design needs to be cohesive with other products that I've designed that my customers have loved, and last, but certainly not least, I need to ensure that the textiles are durable enough for use in pet products.
Do you sell any unusual or out of the ordinary products for pets?
Beyond the traditional garb, you will find an extremely popular line of detachable collar bow ties and flowers, a large collection of
occasional wear for the dog of your wedding party
as well as personalized pieces such as the monogrammed bandana and buckle engraving in lieu of ID Tags.
===
To shop Danes & Divas online, visit: danesanddivas.com.