A modern and stylish tea cafe, Cha Le Tea Merchant Cafe + Shop, has opened in Yaletown on the corner of Hamilton and Davie.  The Cafe's name (pronounced chah-luh) translates to "Happy Tea", and  features a full-service tea cafe serving a rotating list of proprietary teas, blends, tea lattes, herbal infusions and a small bites menu.
While Cha Le teas are steeped in tradition, the Yaletown Cafe is not your typical Chinese teahouse. Gone are the antique teapots, replaced by futuristic-looking computer-controlled glass vacuum brewing systems (similar to a coffee siphon) that customizes temperature and brewing times for each individual tea to ensure optimal results. Unlike anything I've ever seen before in Vancouver for tea, most brews can be prepared and steeped to perfection within 90 seconds, less than the time it takes to make an espresso latte.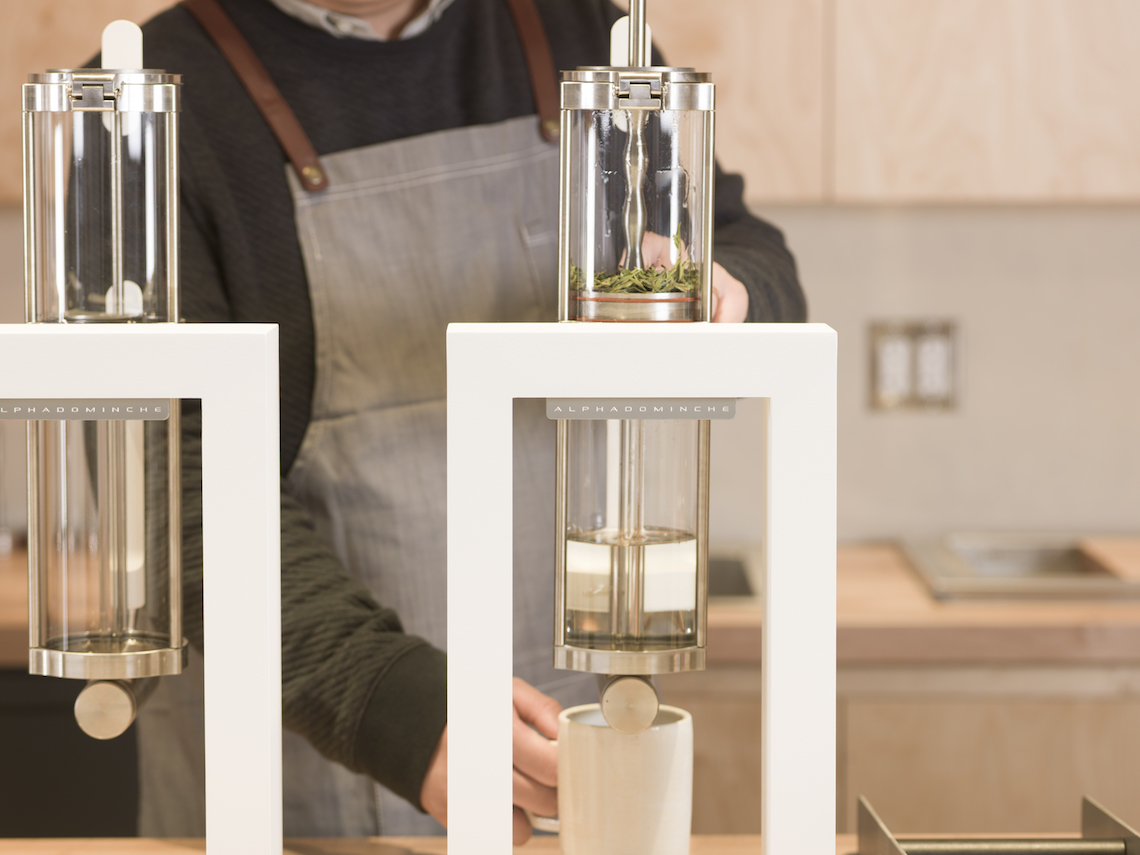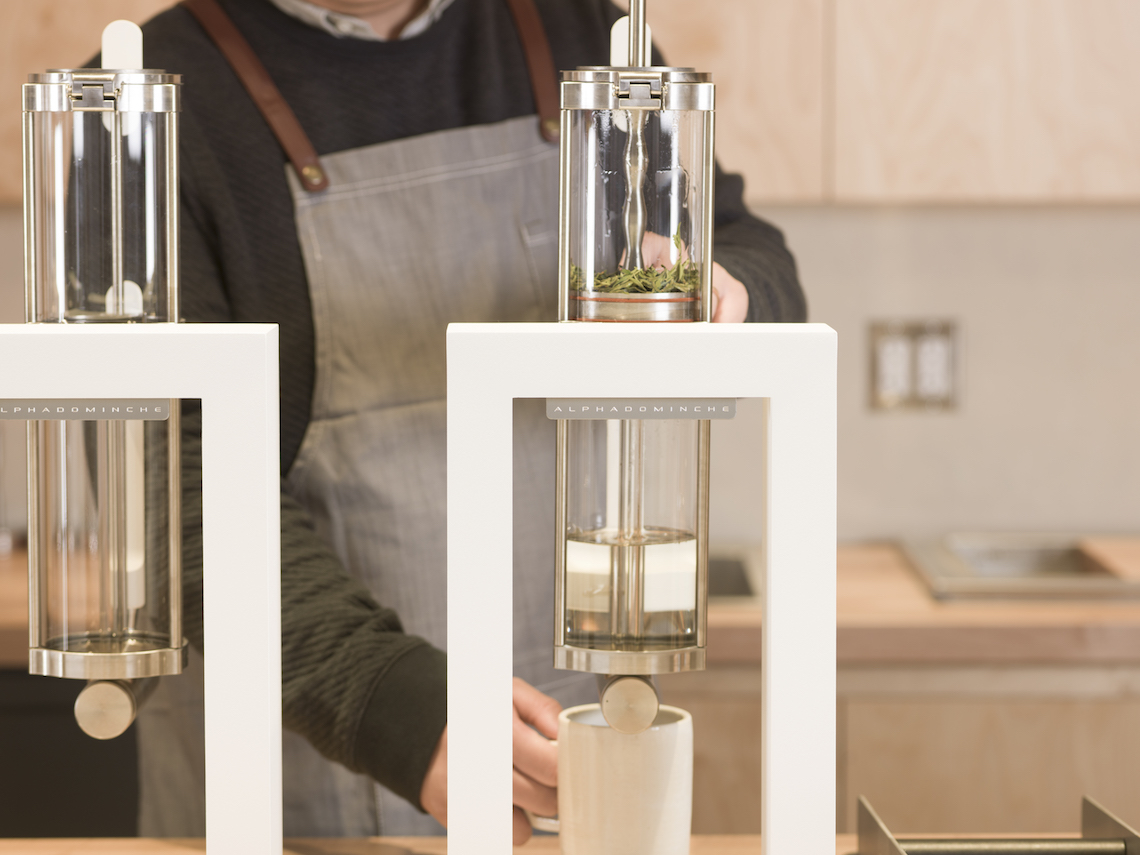 Designed by Leckie Studio Architecture + Design Inc., the 674 square-foot café space is maximized with full walls of custom millwork shelving and a central tea bar where customers can watch the show of their teas being brewed into ceramic mugs thrown by Vancouver Island-based ceramics artist Rachel Saunders.
Not long after Cha Le's opening, my friend and I spent a good three hours catching up (and people watching at a window seat) over tea and brunch.  Most of Cha Le's EAT menu consists of small dishes and items infused with tea.  Between the two of us, we ordered two savoury and one sweet toast to share: Hand Peeled Shrimp with Matcha Avocado and Shredded Nori ($7.25), Wild Smoked Salmon with Green Tea Cucumber, Radish Sprouts and Preserved Lemon Mascarpone ($7.50) and Truffled Ricotta & Hazelnuts with Sundried Tangerine & Pu'er Honey ($6.25).
Although the bread portion was small, the toast options were unique, the toppings were piled high, fresh, and healthy. The food took a while to make, but we were in no rush.   The vibe of Cha Le seems to be one of those places where you sit back and slowly enjoy your tea, and the aesthetics of your surroundings.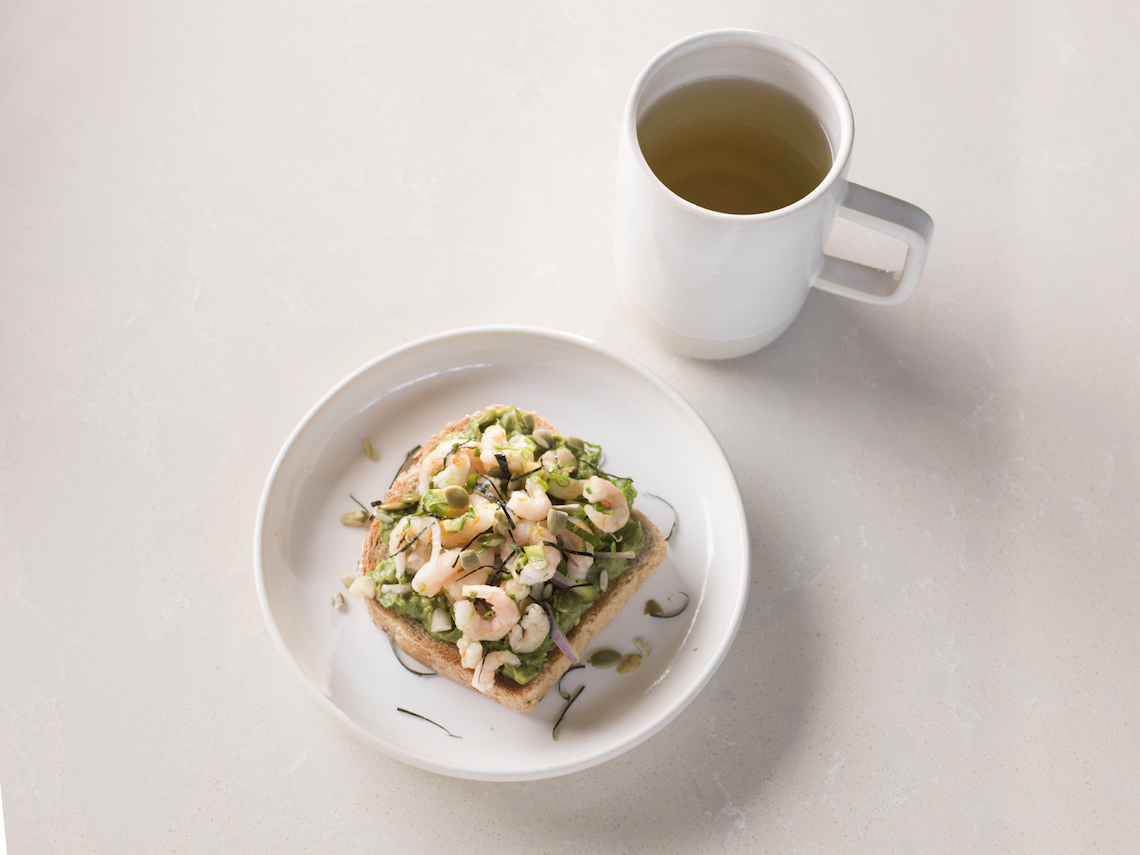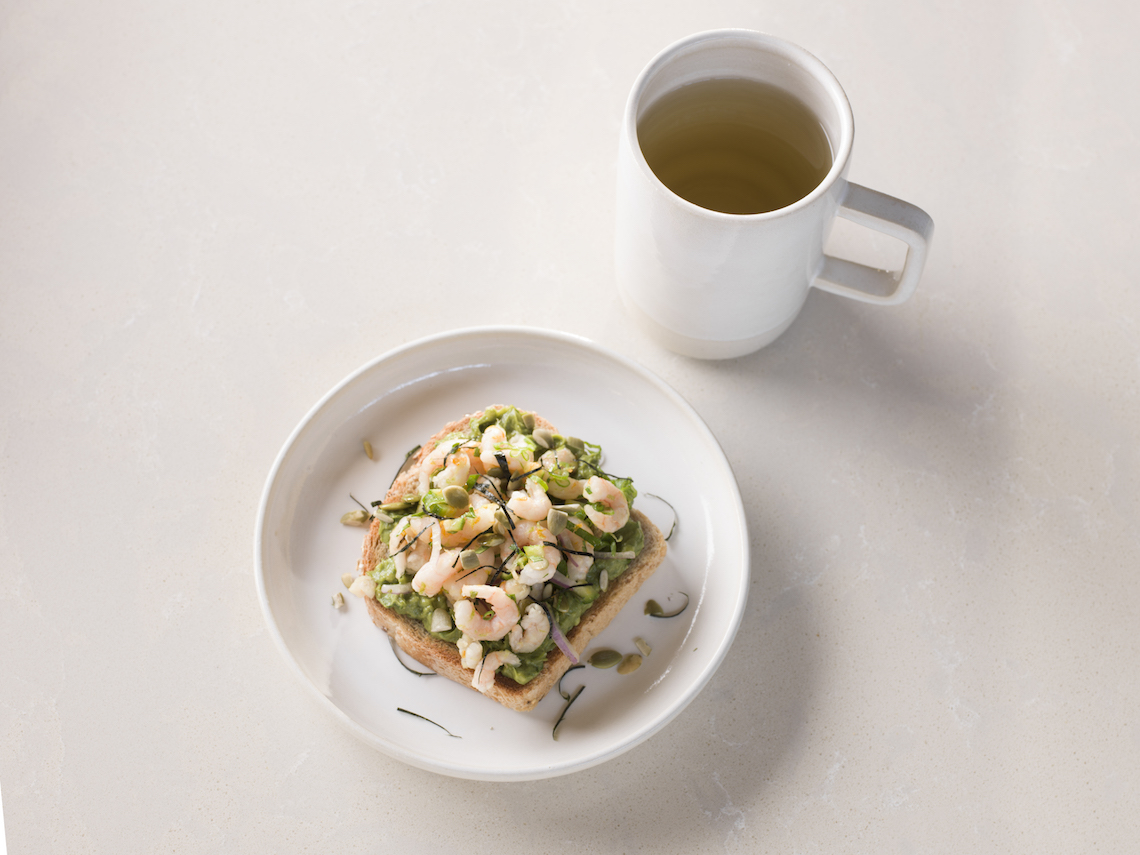 The drink menu is 100% tea-based, from hot brewed Chinese tea leaves (white, green, oolong, black, pu-er, herbal), to tea lattes (matcha, roasted oolong, etc.), and cold tea drinks including iced tea and kombucha.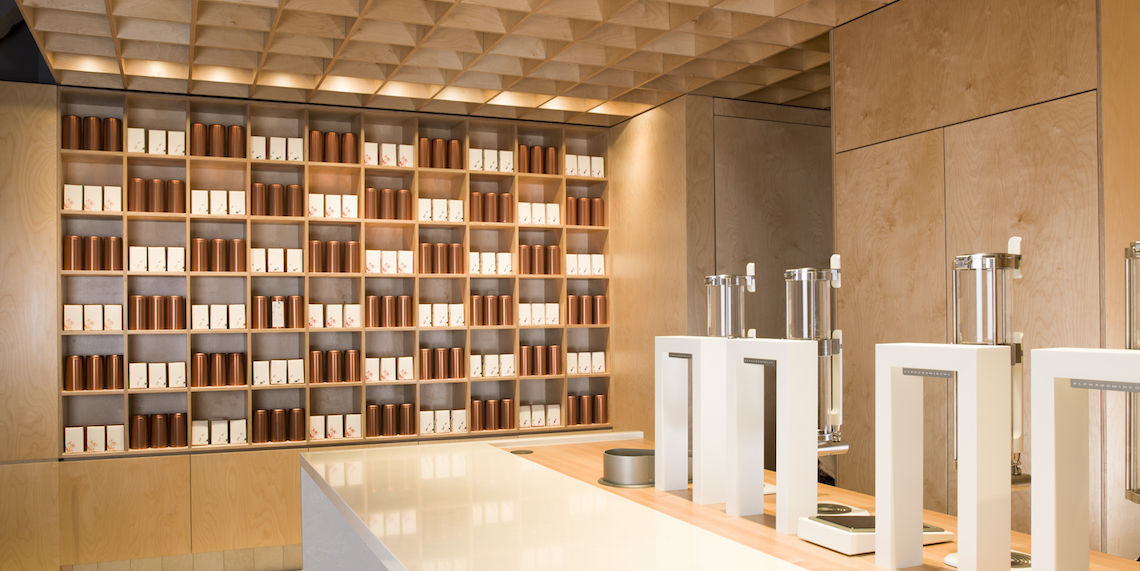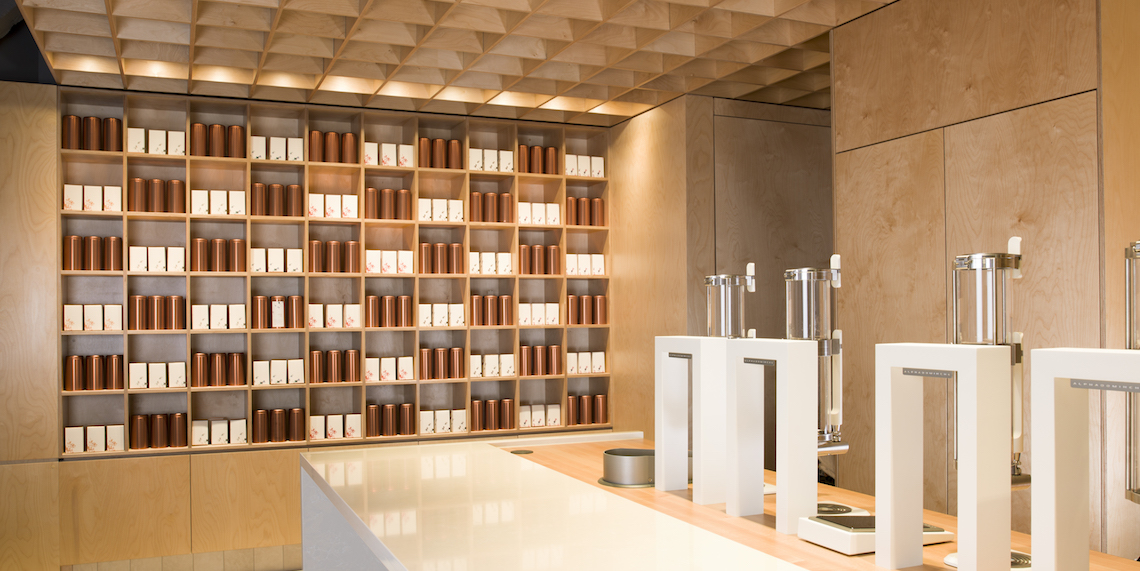 For those of you looking for tea to brew at home, Cha Le offers two dozen single origin teas, representative of the best of a given region.  An entire wall of the cafe carries upwards of 20 high-quality, handpicked teas imported directly from independent tea farms throughout China's tea-growing provinces, packaged for retail sale in large tins and small boxes.
Tea varieties include:
Edge of the City – A rare, smokey black tea grown from ancient trees by the owners' family friend high in the mountains of Chongqing.
Moonlight Beauty 2009 – This mellow, aged white tea from Simao in Yunnan Province that gets its name from its unique leaves, which are white and downy on one side, smooth and black on the other.
Maofeng – This internationally recognized green tea is cultivated on Anhui Province's Huangshan Mountain, a UNESCO World Heritage site. Cha Le's Maofeng is especially handpicked to deliver a sweet tea with no bitterness.
Cinnamon Rock – Tea Grown semi-wild in rock cracks high on a mountain in the Fujian Province, this woody oolong tea expresses a cinnamon-like flavour. Tea from the other side of the same mountain, Narcissus Rock Tea, has a floral flavour profile reminiscent of narcissus blossoms.
Aged Shou Pu'er Coin 2007 – Processed in 2007, this aged pu'er, (named after Pu'er City in Yunnan Province this fermentation technique was invented), uses top-grade golden buds pressed into mini cakes. The earthy flavour and aroma mellow and become silkier over time, much like wine.
Keeping its branding local, the beautiful copper packaging was designed by Vancouver-based branding firm Glasfurd & Walker who are also known for their work with other local Vancouver eateries and restaurants including Osteria Savio Volpe, Ask for Luigi, Bao Bei, Meat & Bread, Small Victory Cafe, The Juice Truck, and Burdock and Co.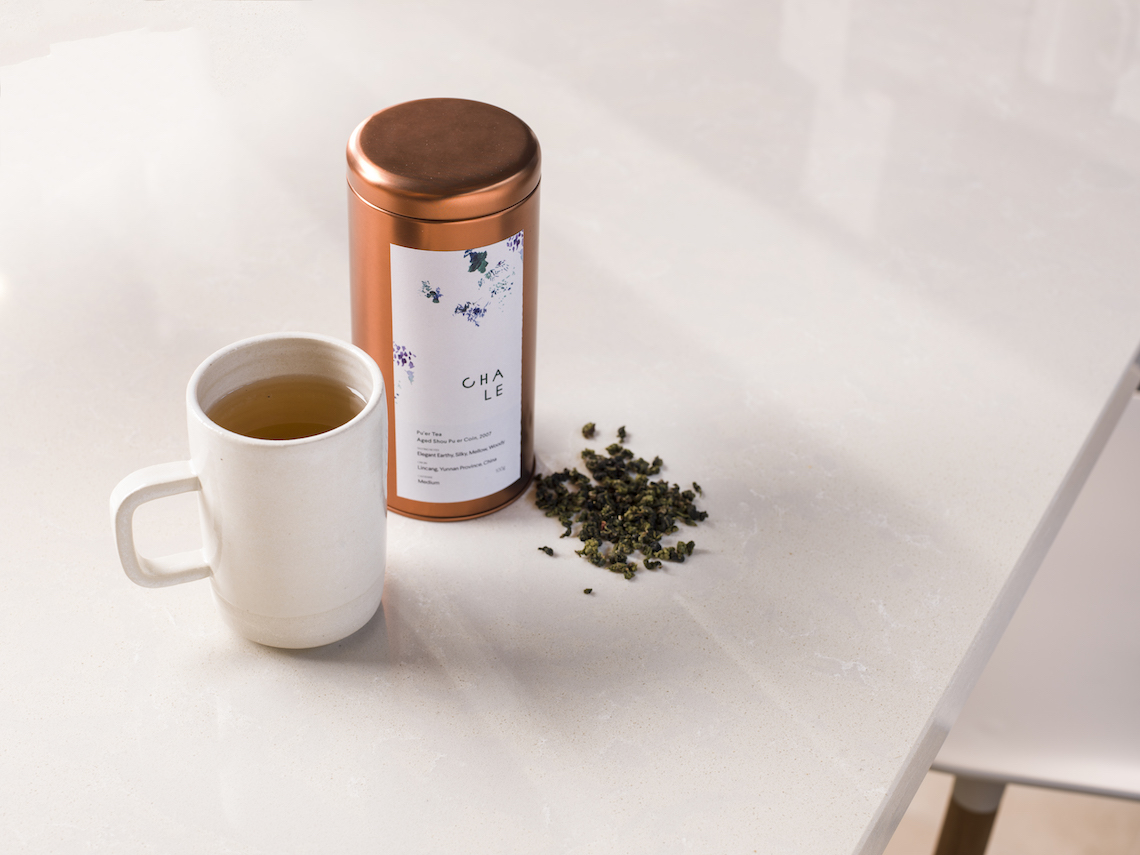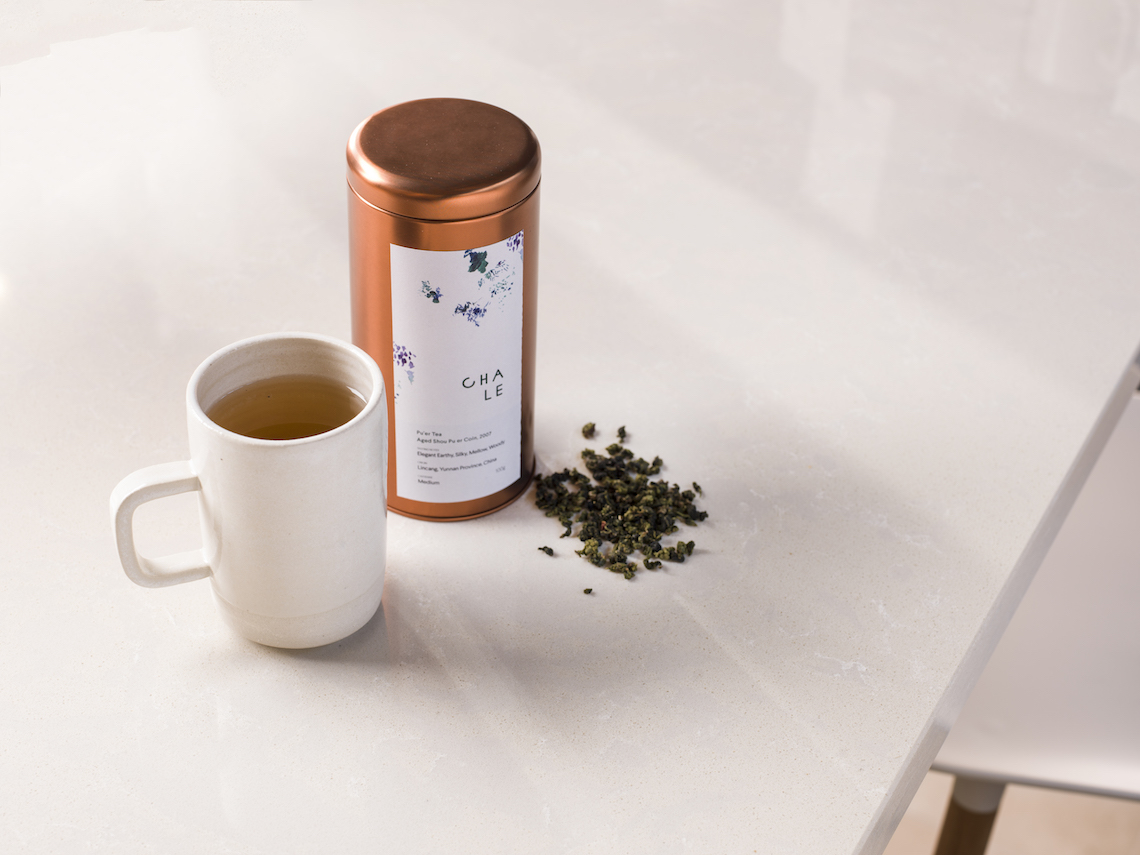 Cha Le is open seven days a week, 8am to 6pm Monday to Friday; 10am to 6pm Saturday and Sunday.  Visit them in person at 1207 Hamilton Street x Davie Street or online at chaletea.com.
==
Photo Credit: John Sherlock